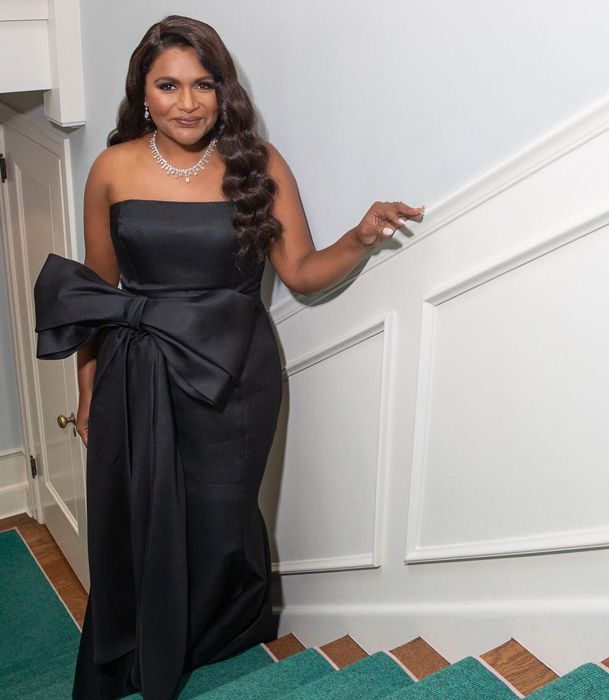 Mindy Kaling is not afraid to go all out when it comes to designing her home! The Never Have I Ever creator lives in a two-storey house with her two kids Katherine and Spencer in the exclusive Hancock Park neighbourhood of Los Angeles.
She purchased the property in 2017 and told Architectural Digest: "I found a house that wasn't listed—a pocket listing—and I came in over asking."
Mindy spent ten months renovating it with the help of designer Katie Ridder, who helped create a rainbow home that was "happy" and "warm". Katie added: "She didn't want bleached floors. She didn't want everything whitewashed or stripped down. She wanted a lot of layering."  Keep scrolling to see where The Morning Show star lives...
MORE: NCIS cast's unique homes: Pauley Perrette, Sean Murray, Wilmer Valderrama and more
As she prepared to attend the Emmy Awards, Mindy stood in her hallway which has mint green walls and bright blue carpets on the stairs.
WATCH: Mindy Kaling's strange addiction revealed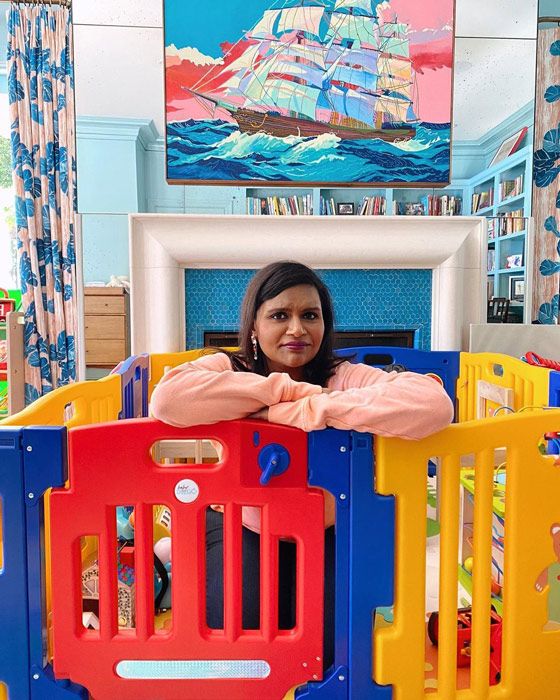 One of her living room areas is packed full of colour, with blue walls, pink curtains with a blue leaf print and a bright painting by Andy Dixon above the fireplace, surrounded by mirrors.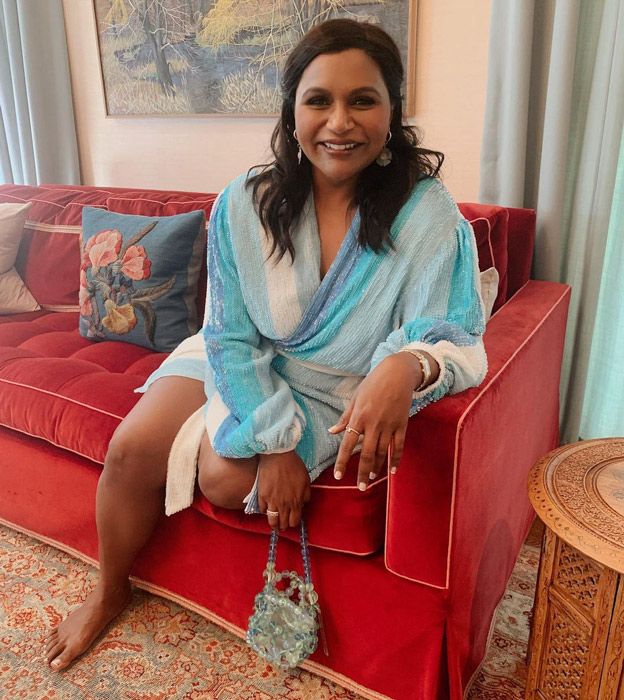 Another snap shows Mindy sitting on a red velvet sofa with a pink trim, while a cream, blue and red carpet sat underfoot, subtly tying in with the curtains.
PHOTOS: Inside Lady Gaga's $22.5m Malibu mansion – complete with bowling alley and horse stables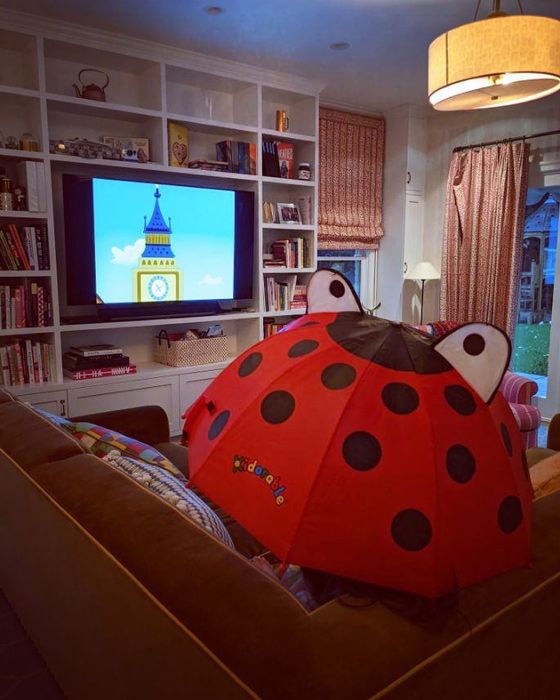 The actress also has a TV room where her kids have been pictured relaxing. The room features a brown corner sofa topped with colourful scatter cushions, a TV surrounded by bookshelves and red patterned curtains.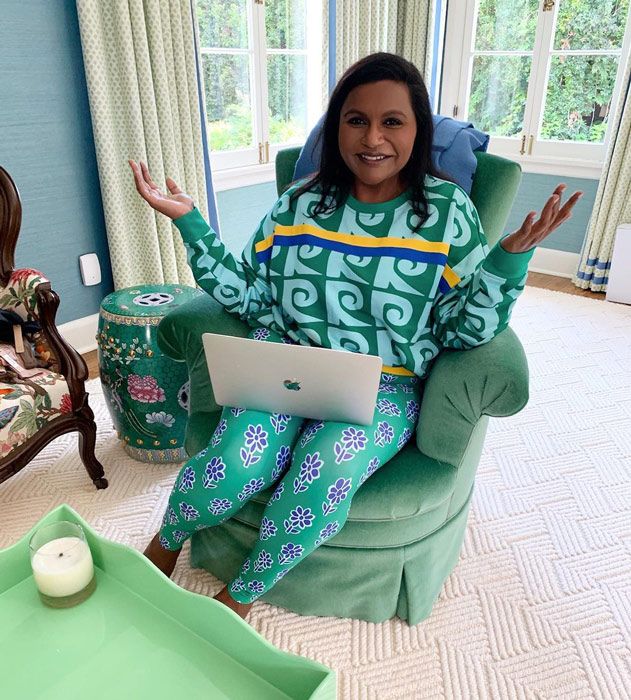 Mindy joked she had a very green work environment as she sat on a plush sage armchair next to a patterned floral side table. A cream rug on the floor, blue walls and pale green spotty curtains finished off the calming room.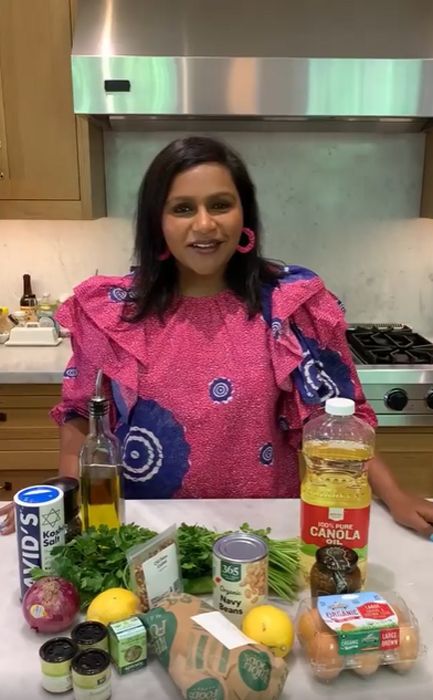 The kitchen follows a more neutral colour scheme with white work surfaces and wooden cabinets finished with gold handles. The island unit provides plenty of space for Mindy to film her cooking videos.
LOOK: 30 astounding celebrity kitchens: JLo, Amanda Holden, more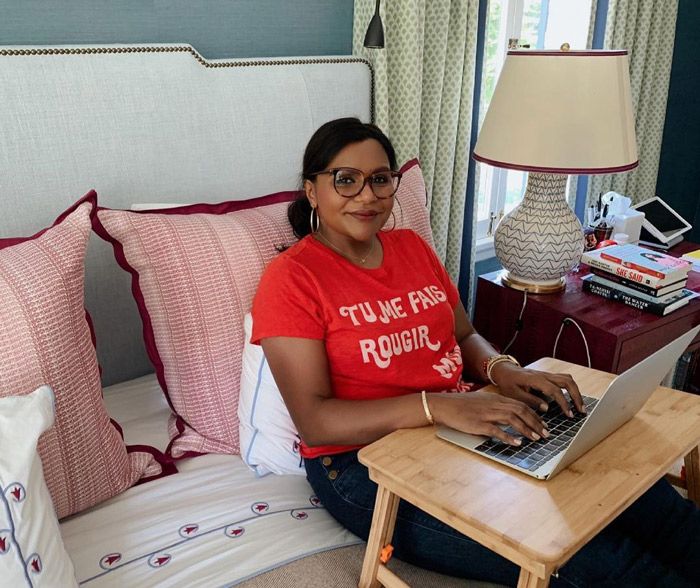 Spotty green curtains also feature in her bedroom, where she was pictured sitting on a bed with a grey headboard and red cushions. A wooden desk appears to be positioned next to her bed with books and a large lamp on top.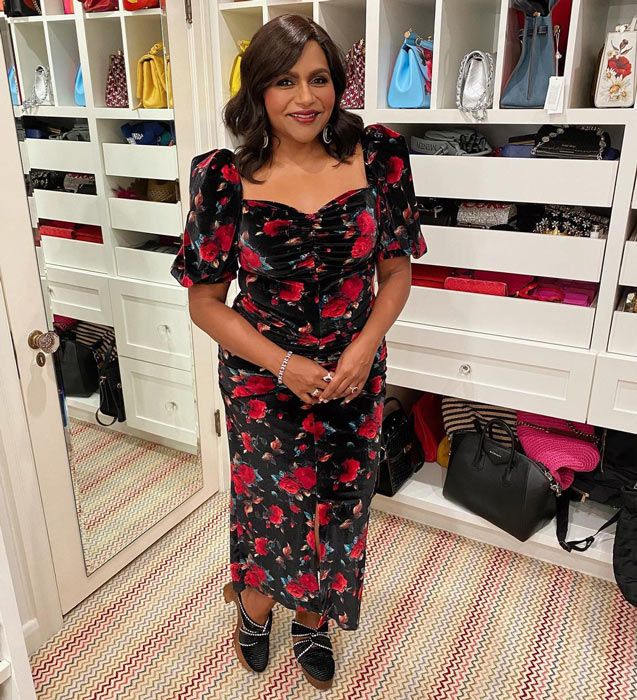 Mindy stood inside her closet with multi-coloured zig-zag carpets underfoot and white shelves holding her bags and purses. A full-length mirror on the back of the door offers Mindy the perfect spot to check her outfits before leaving the house.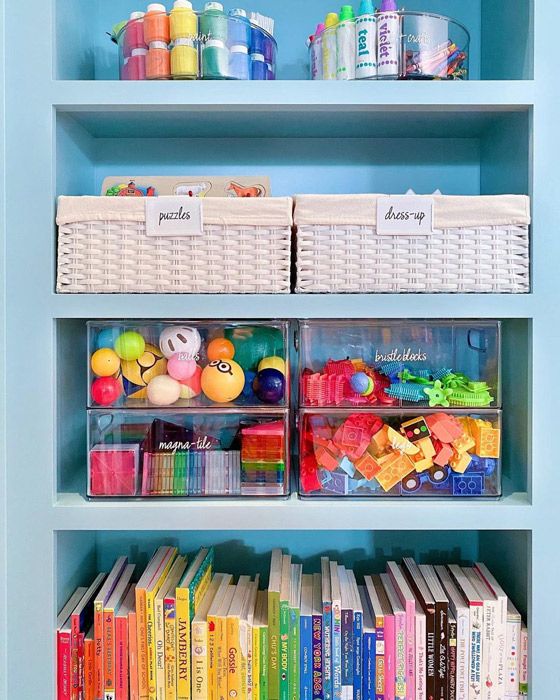 Back in 2020, Mindy thanked professional home organisers The Home Edit for helping put together one of her children's rooms. She shared a glimpse at their work on Instagram, showing blue shelves lined with colour co-ordinated books and labelled containers for their art supplies, lego, dressing up clothes and more.
MORE: Inside Succession star Kieran Culkin's one-bedroom apartment with his wife and two kids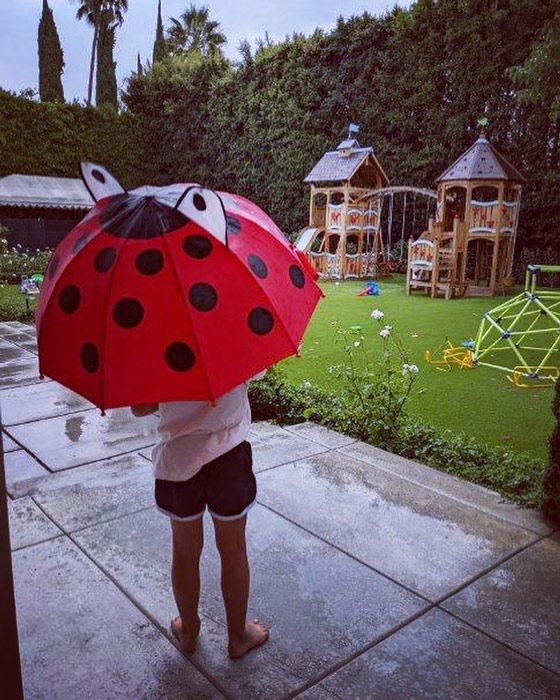 The doting mother-of-two took posted a snap of her daughter Katherine holding a red ladybird umbrella as she looked towards the adventure playground. It appears to be one of the Serendipity designs worth a whopping $22,475, and it features a slide and two turrets connected by a set of swings. The rest of Mindy's garden boasts a pristine lawn lined with plants, a patio area near the house and extra-tall trees shrouding the outdoor space in privacy.