The Queen found herself with something of a dilemma on Thursday, after being invited to two high-profile birthday celebrations on the same night. Her Majesty was expected to make an appearance at both ITV's 50th anniversary shindig, which was held in London's Guildhall, and Baroness Thatcher's 80th, which took place not far away at the Mandarin Oriental Hotel in Knightsbridge. Faced with such a social conundrum, the monarch decided to do what any sprightly party-goer might, and take in both functions. Her hectic evening out began at 6.45pm when she arrived for the Iron Lady's bash dressed in an understated cream-coloured gown with floral detailing.
The sovereign is not used to being kept waiting, even by Baroness Thatcher, but the former prime minister had a very good excuse for her ten-minute delay. "She is taking a call from the White House, from President Bush," explained the politician's private secretary Mark Worthington.
And when the birthday girl finally did arrive she wasted no time in charming her royal guest by offering a perfect curtsey. Among the other famous faces in attendance at the event were Dame Shirley Bassey, Joan Collins and Tony Blair.
The Queen didn't have too much time to mingle, though, because shortly afterwards she was whisked away to the Guildhall. She will no doubt have remembered attending the same venue back in September 1955 when Britain's main independent broadcaster was officially launched.
This time around she was joined by a roll-call of small screen favourites, including Sir Trevor McDonald, Carol Vorderman, Patsy Kensit and Natasha Kaplinsky. Also joining in the fun was TV veteran Cilla Black, who proved she can still set pulses racing at 62 by showing off her pins in a champagne-coloured gown slashed to the thigh.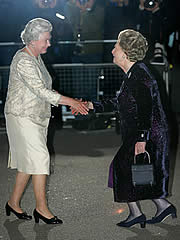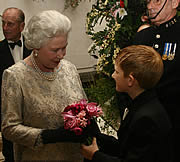 P