2 minutes with budding chef Tilly Ramsay
Gordon Ramsay's daughter talks Ella Walker through her foodie favourites.
Tilly Ramsay really is a chip off the old block. At just 15-years-old, the telly star is following in the footsteps of her sweary, Michelin-starred celebrity chef of a dad, Gordon Ramsay, but don't think that means her new cookbook is chock-full of fancy dishes. Tilly's Kitchen Takeover, her first recipe collection, brings together feel-good food (think chilli, baked chicken, rainbow cake and granola bars), all created by Tilly herself, as seen on her CBBC show, Matilda And The Ramsay Bunch.
We caught up with Tilly briefly to grill her on the truly important stuff…
Your ultimate death row, last-night-on-earth meal, would be… Let me think; my last meal would be homemade bolognese, made by my mum and dad.
Despite all your efforts in the kitchen, you still can't quite master… My dad's beef wellington
STORY: Gordon Ramsay shares his need-to-know tips for dining out
Your favourite store cupboard essential has to be… Tinned tomatoes or tomato sauce
The kitchen utensil you can't live without is… Spatula! Oh no! Knife!
If you get hungry late at night, the first snack you'll reach for is… Tea and toast
When it comes to diet or full fat, you'll drink… Ohh, I don't know. It depends what it is, because sometimes the diet one can have more sugar in
Preferably your eggs would be… Scrambled
Your favourite childhood dinner was always… Carbonara
Last night for dinner you tucked into… Lasagne
And your takeaway of choice is… Chinese – spring rolls and duck pancakes!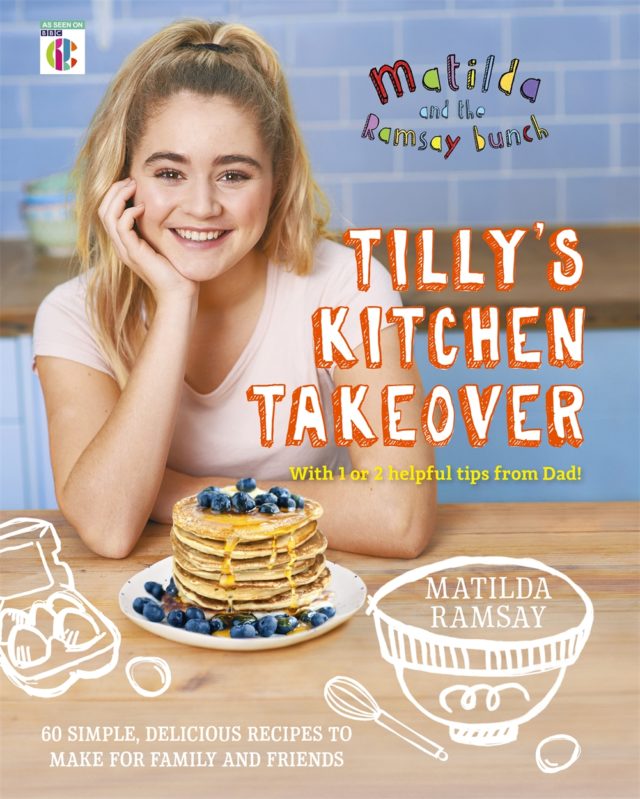 Tilly's Kitchen Takeover is packed with family-friendly recipes (Jemma Watts/PA)

Matilda & The Ramsay Bunch: Tilly's Kitchen Takeover by Tilly Ramsay is published in hardback by Hodder & Stoughton, priced £20. Available now. Pictures by Jemma Watts.
See the latest food features here.