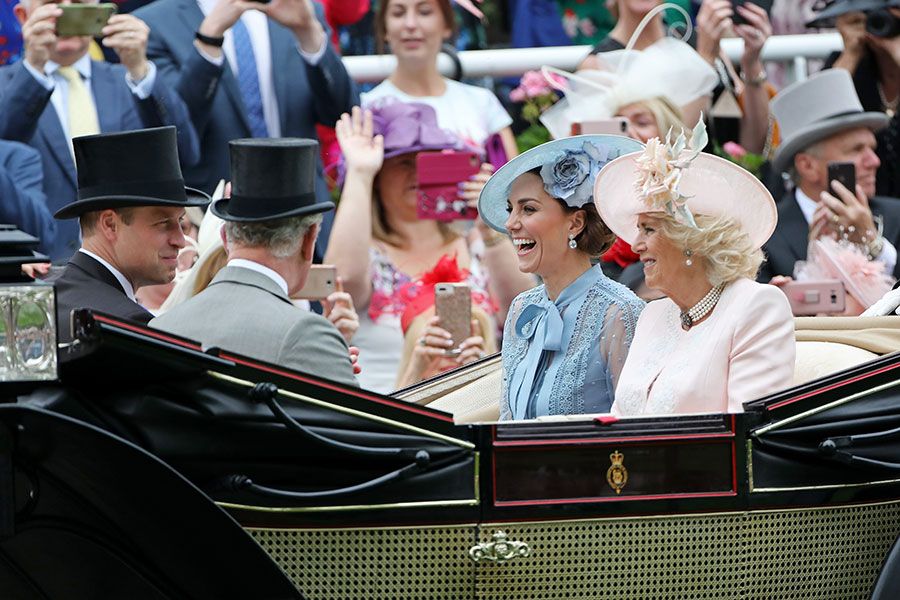 Laughter is one of the most important parts of Prince William and Kate Middleton's relationship; after all, it was what brought them together in the first place! During their interview after announcing their engagement, Prince William cheekily revealed that it was the Duchess's "naughty" sense of humour that helped them click, explaining: "She's got a really naughty sense of humor which really helps me because I've got a really dirty sense of humor so it was good fun, we had a really good laugh, and then things happened." 
Since the loved-up couple tied the knot in 2011, they have gone on to strengthen their their bond through laughter, and have found humours in all sorts of unusual situations during their official royal duties, from engagements to tours. Check out our favourite moments of the laughing couple... 
Royal Ascot 2019
The Duke and Duchess of Cambridge headed to one of the royal family's favourite events in June 2019, and seemed to be having a jolly good time with Prince Charles and the Duchess of Cornwall! While Kate was laughing at Prince William, her royal husband looked like he was trying to refrain a chuckle himself. Just a month earlier, the couple had celebrated their eighth wedding anniversary, and they look as much in love as ever! 
A happy family of five! While attending Trooping the Colour in 2019, which also marked Prince Louis' debut on the Buckingham Palace balcony, no doubt that Kate and William were in stitches thanks to their youngest son. Little Louis took up his royal role with gusto, and waved manically to the cheering crowds, leaving his parents very amused!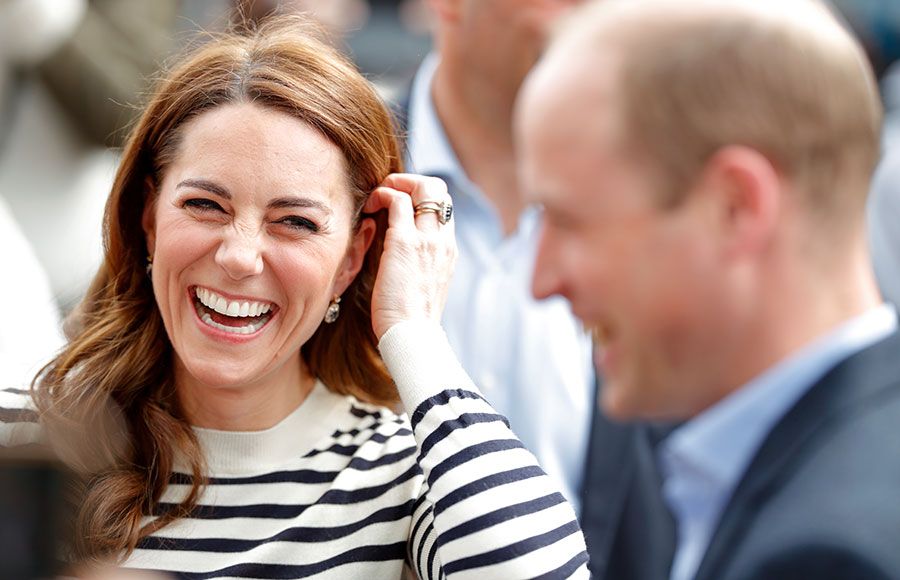 Kate and William visited the Cutty Sark in May 2019 to officially launch The King's Cup competition, which will take place on Friday 9 August. Dressed in a nautical striped jumper, Kate joined children and young people from a number of the pair's chosen charities as they took part in a simulated sailing race, before joining guests to unveil The King's Cup. Do we think the pair were already discussing who would win the sailing race? We think so!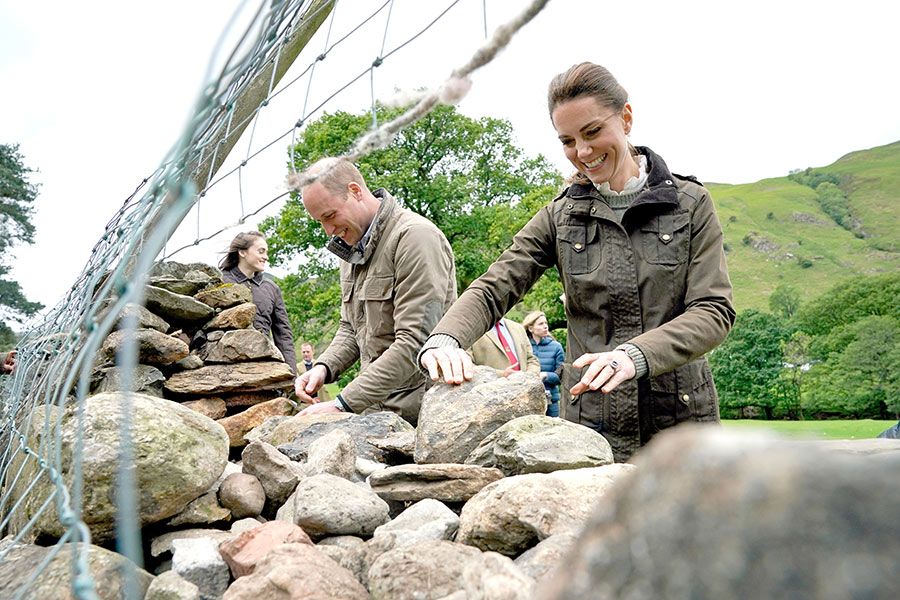 Getting down to country life! The Duke and Duchess had a very busy day at Deepdale Hall Farm in Patterdale, Cumbria in June, where they tried herding sheep, shearing sheep and as you can see from the picture, dry stone walling.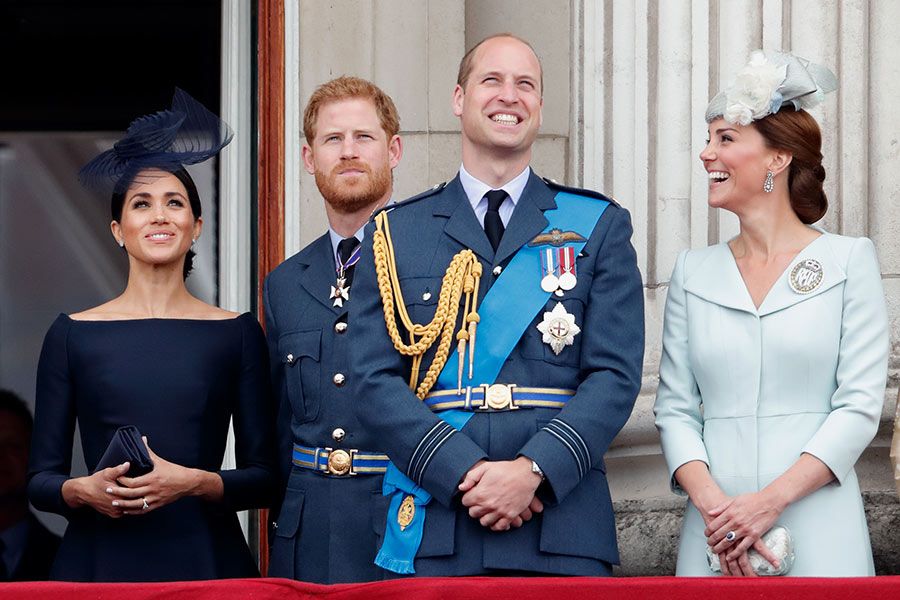 Kate was clearly happy to get back to business as usual as she took a surprise break from her maternity leave to join her husband on the Buckingham Palace balcony for the RAF 100 flypast. 
The Cambridges visited the 1st Battalion Irish Guards for St Patrick's Day back in March, and looked like they had a grand time!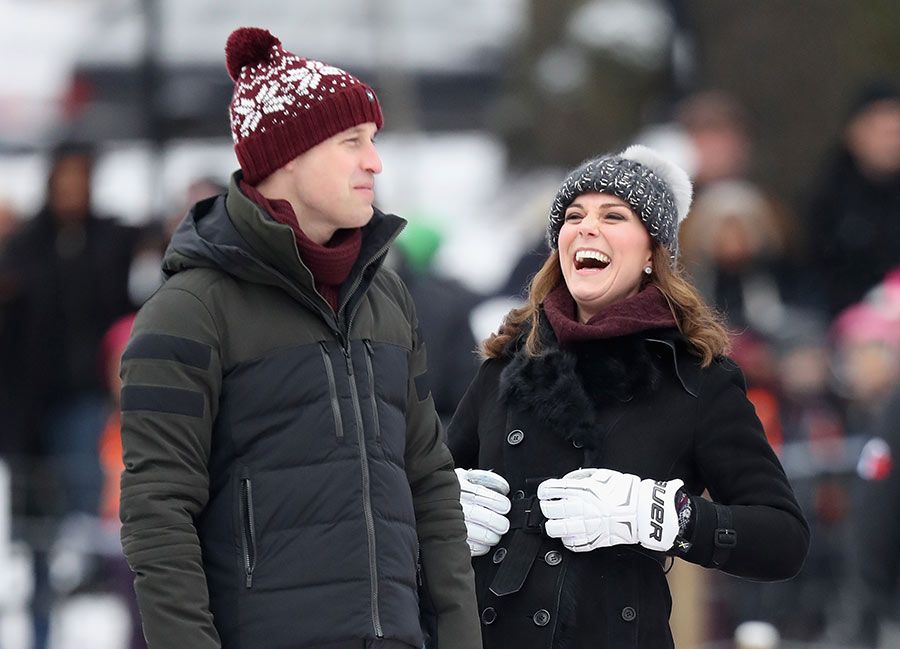 We have to admit, having a penalty shoot out with her husband in an outdoor skating rink does sound like A LOT of fun, and Kate was clearly having the time of her life while trying her hand at bandy hockey in Stockholm, especially since she scored! By the look on his face, William was less lucky!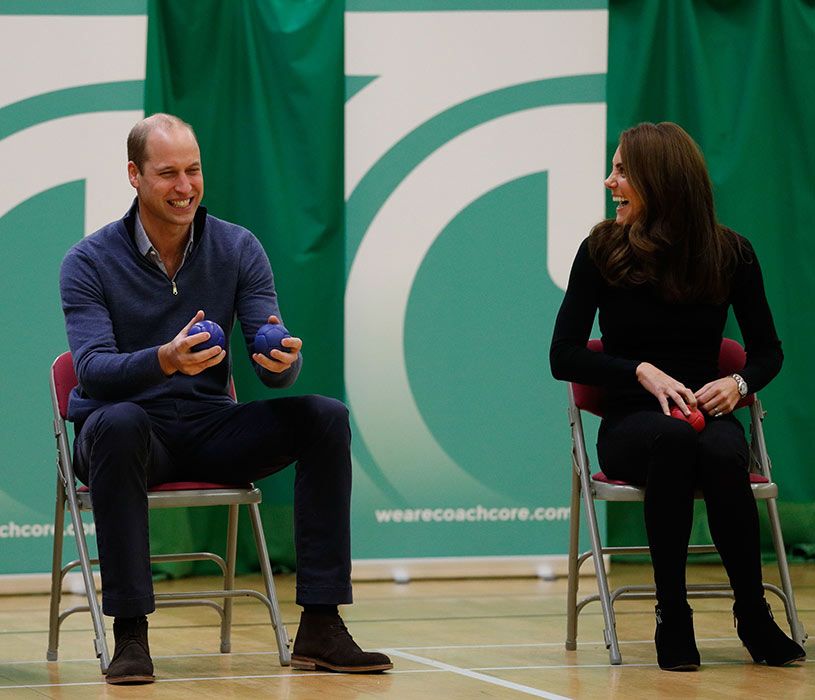 The pair had a great time while visiting the Royal Foundation's Coach Core programme in Essex back in October 2018. They played a game called boccia - where seated competitors throw a ball as close to a target as they can - and of course played on opposite teams - we'd expect nothing less!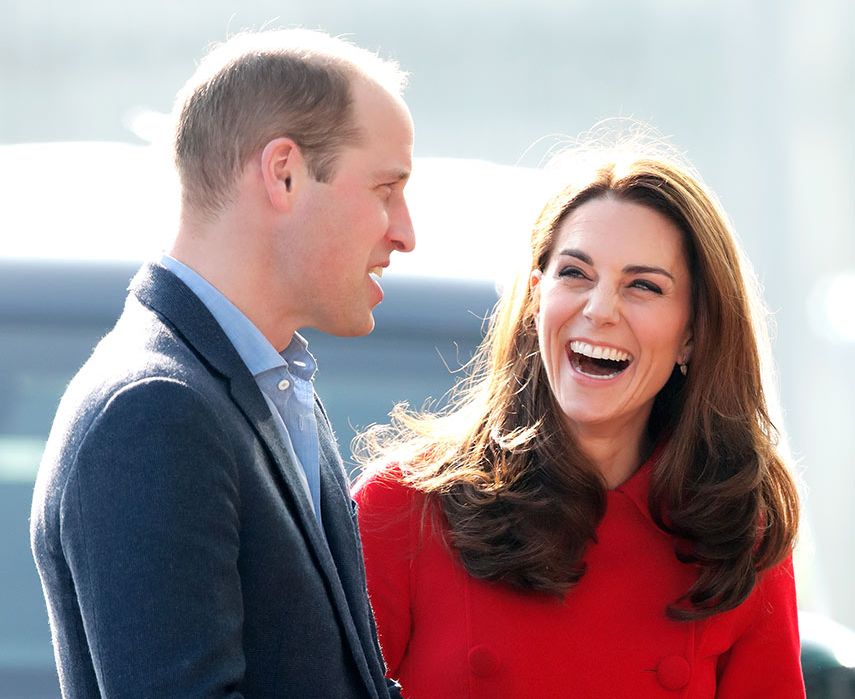 The Duke and Duchess of Cambridge had fun at Windsor Park during a visit to Belfast where they learned more about the Football for All campaign back in February 2019. The pair didn't hesitate to join in with a quick game of footy, with William warning the children: "Look out, she goes for the ankles!"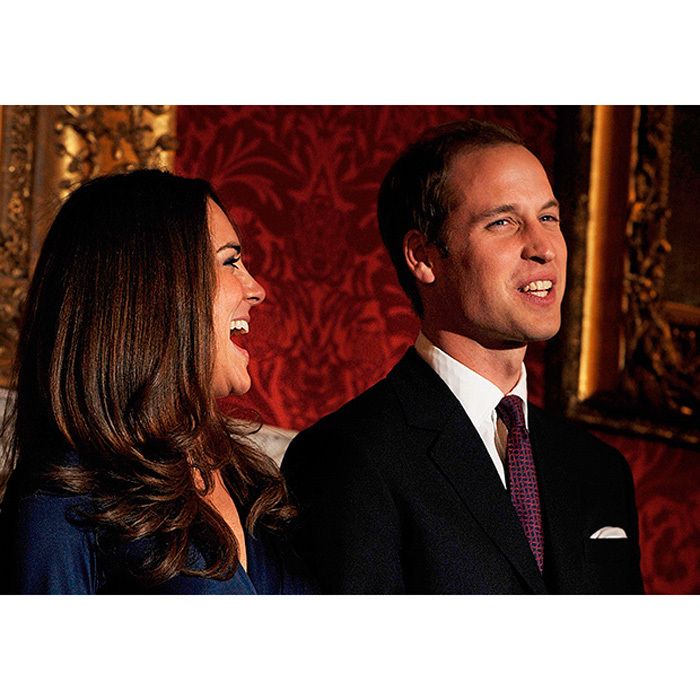 Back where it all began! The Duke and Duchess couldn't help but laugh at all of the attention during their engagement photocall, where Kate showed off her engagement ring for the first time as the pair answered questions from the photographers. When Prince George's parents announced their engagement back in 2010, William joked that Kate was with him because he's "very funny". It must be true!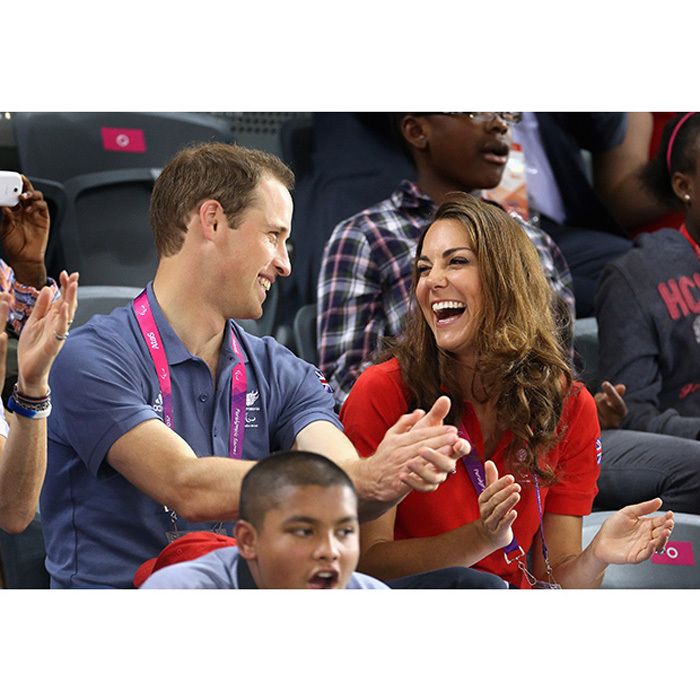 The royal couple love attending sporting events together, and indeed showed a rare spot of PDA while attending the 2012 Summer Olympic Games together in London. Of course, when they weren't cheering on England they were enjoying a life, and were snapped making each other laugh during one of the sporting events.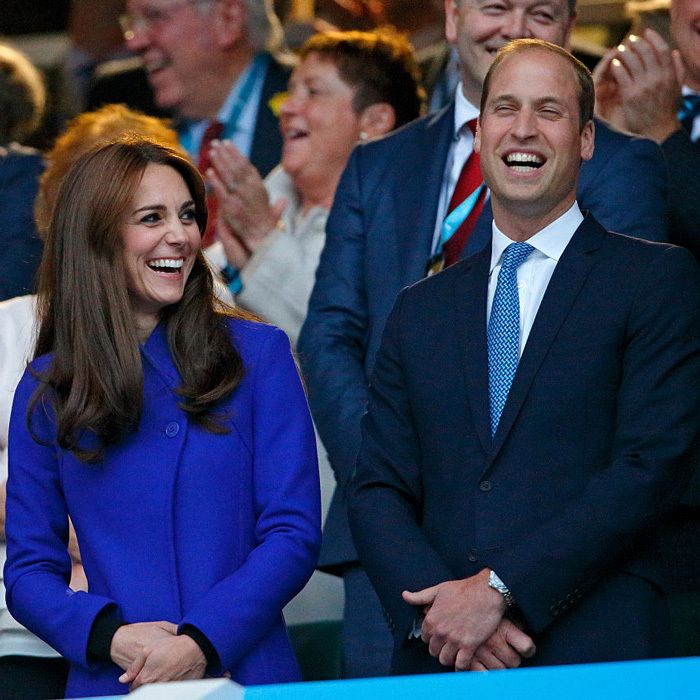 This sporty pair love attending competitive events, and so it's hardly surprising to spot the laid-back pair cracking up during the 2015 Opening Ceremony of the Rugby World Cup.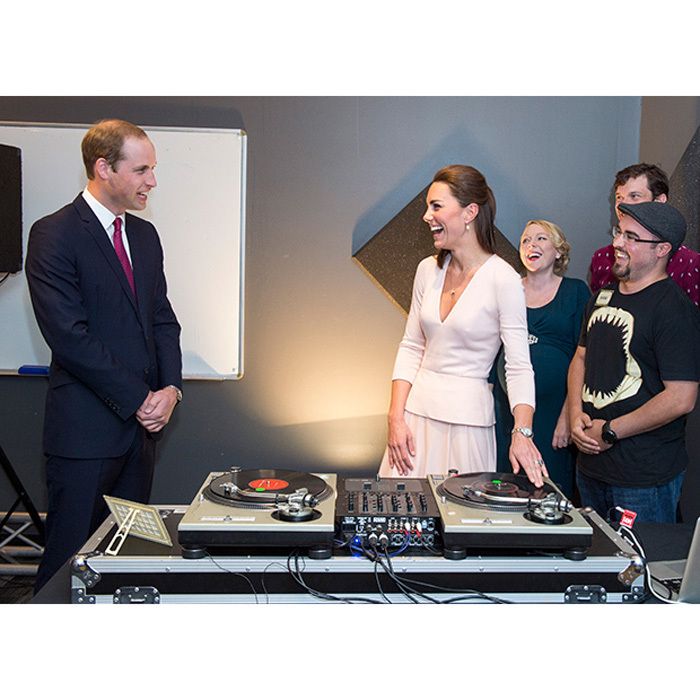 During their royal tour of Australia back in 2014, the couple took part in DJ'ing! The royal pair took turns in scratching with DJ Shane Peterer, who said Kate was "fantastic" and decided to go first. He told reporters: "She was fantastic but he can fly a helicopter. So horses for courses." The pair also might have been giggling over William's music taste, as during his visit he explained: "I like house music, I still like a bit of rock and roll and the classics and a bit of R&B. I'm not a big heavy metal fan. I'd like to be but I'm not." 
Prince William had Kate laughing as he held on to a medical test mannequin at the University of Calgary's Ward of the 21st Century in Canada. The couple performed CPR on the computerised dummy, nicknamed Stan, who thanked the Duke for saving his life, leading William to reply: "You're welcome, Stan." No wonder Kate got the giggles!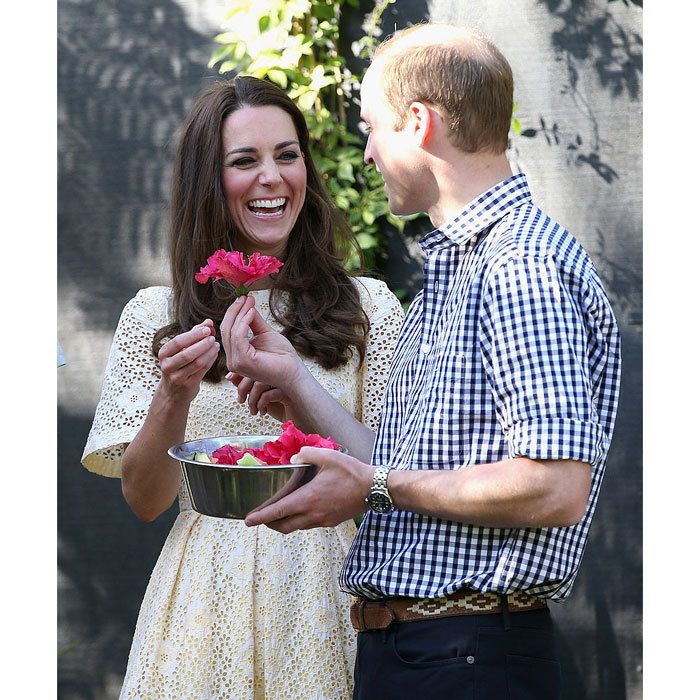 A flower for his funny lady! Kate laughed as her husband presented her with a flower at the Taronga Zoo in Sydney, Australia, adorable! We hope he's given her some better bouquets than that before!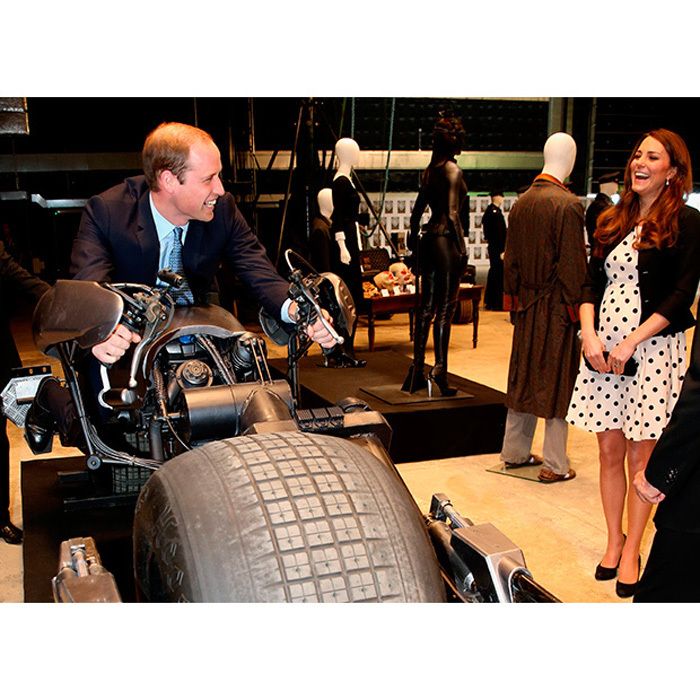 "He's the hero Gotham deserves, but not the one it needs right now." Kate let out a laugh as her husband channeled his inner Batman and had a go on the Batmobile during a visit to Warner Bros Studios in London - you can just tell that the Prince is having the time of his life!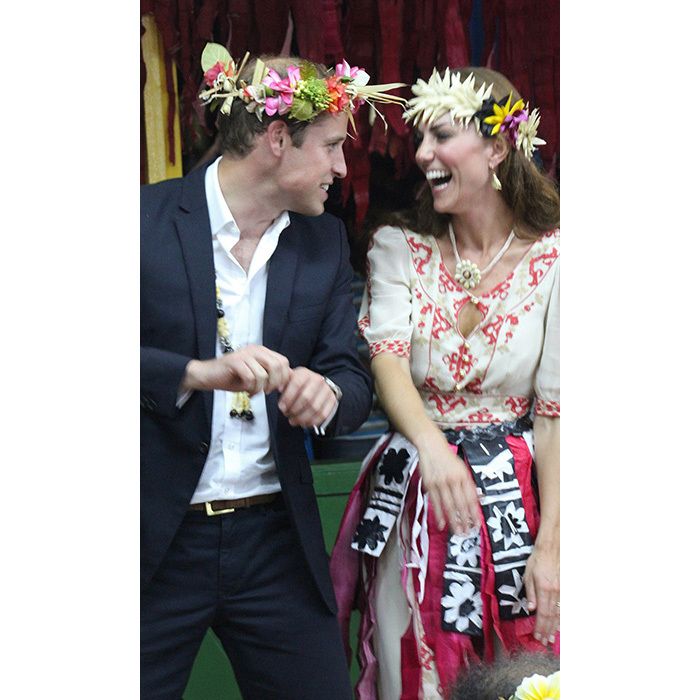 They've got the moves and the giggles! William and Kate laughed it up as they danced together in 2012, while visiting the Pacific Island of Tuvalu. To be fair, we don't blame Kate for laughing at William's dad dance moves!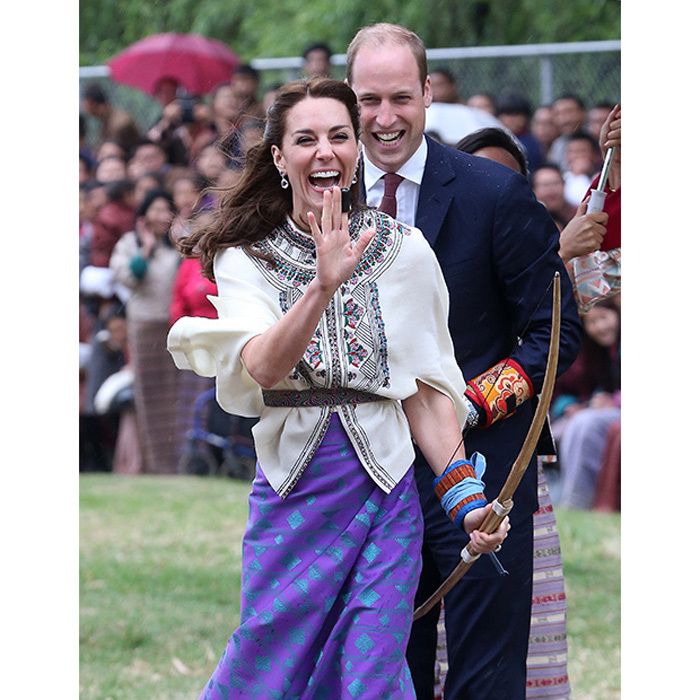 The Duke and the Duchess couldn't contain their laughter as Kate had a go at archery during their 2016 tour of Bhutan, apparently because she wasn't very good! Having a go at firing the bow, poor Kate only managed about 20 yards. Her second arrow missed too, while William's overshot the target! He joked: "Did that clear the bank? Because it looked like it did. I don't want to cause a crash. I hope I haven't killed a driver or that man on the bridge!"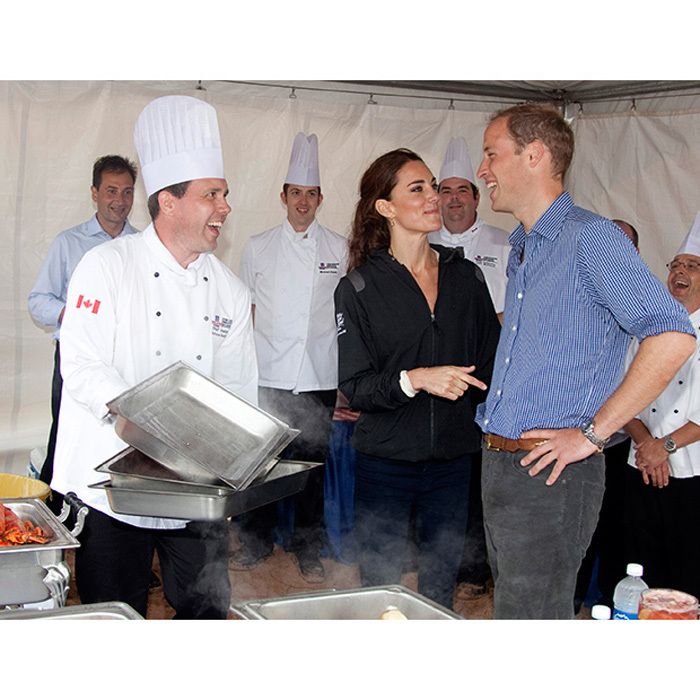 She got him! William laughed while trying local delicacies in Canada with Kate. They may well have been joking about Kate's own cooking skills, as she previously quipped that he has to "put up" with her making dinner, to which he replied: "It's the reason I'm so skinny!"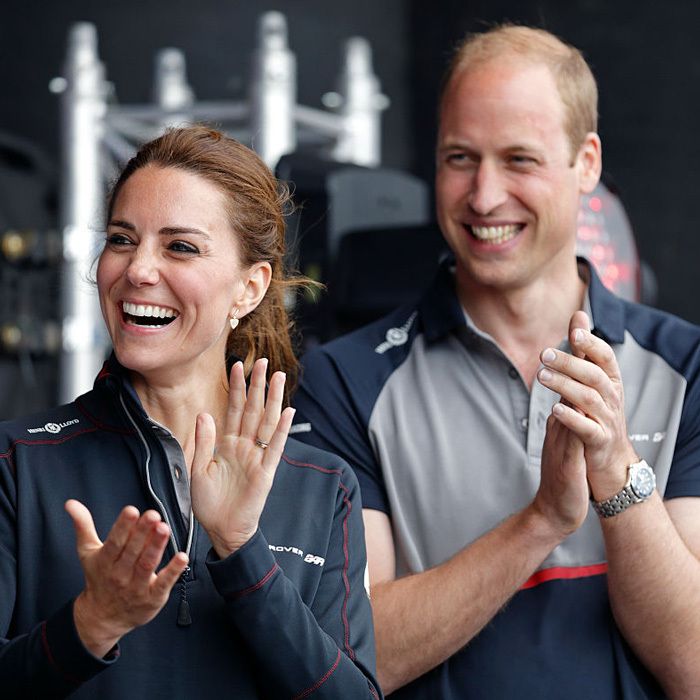 Needless to say, the pair has proven that a couple that laughs together, stays together!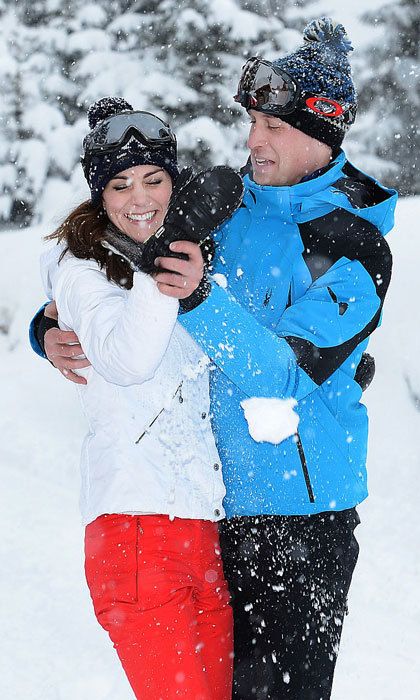 Not only are Prince William and Kate husband and wife, they are also extremely competitive with one another, so it seems hardly surprising that a sweet photocall during a ski trip turned into a snowball fight! Luckily, it looks like both William and Kate saw the funny side of being pelted with snow while in France with their two children at the time, George and Charlotte.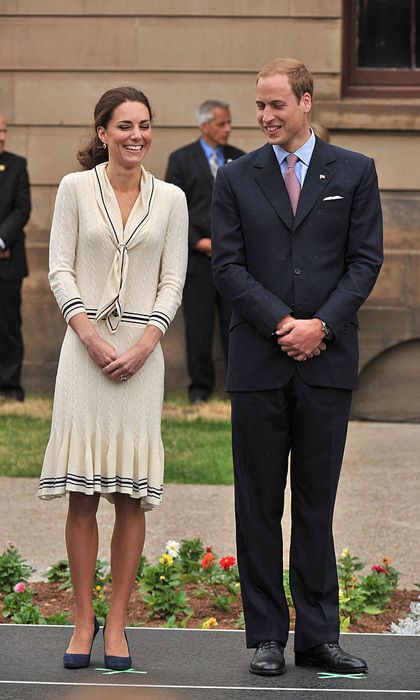 The Duke and Duchess of Cambridge came down with a case of the giggles while visiting the Province House during their royal tour of Canada. We wonder what they were laughing about?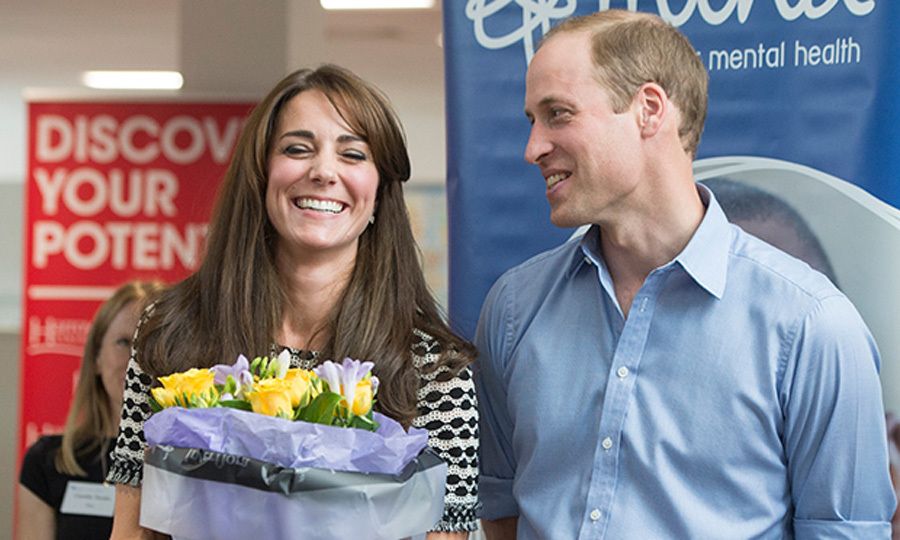 The royal couple have to take on all sorts of engagements together, and they can clearly find humour in most situations! In this snap, Prince William had his beautiful wife in stitches during an official visit together - but let's hope she kept a handle on those beautiful flowers!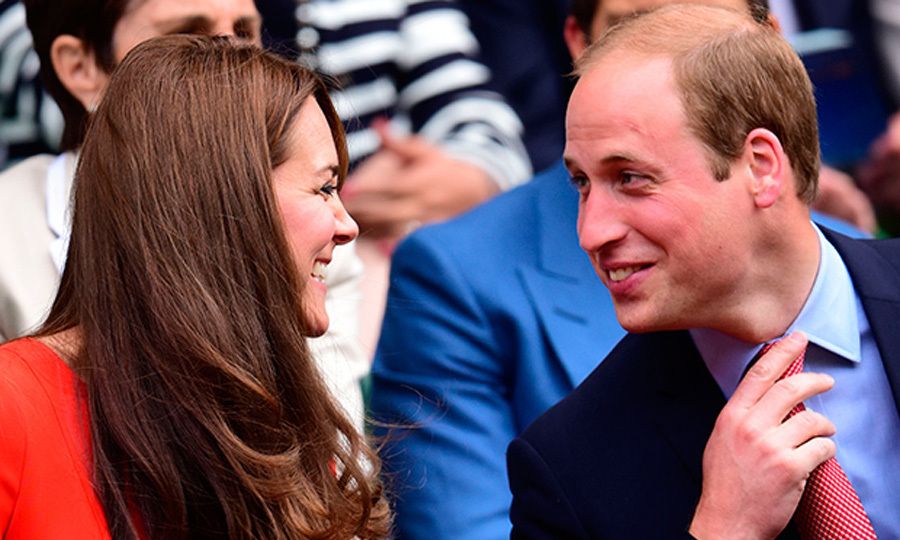 Serving up the laughs! The royal couple giggled together in the stands of Wimbledon. The sporting event is one of Kate's happy places, and she previously opened up about going to Wimbledon as a teenager in a BBC documentary, explaining: "The atmosphere there is incredible... It's hugely special and I was very fortunate that I did get through, it was quite late in the day I'm not going to lie!" No wonder she was having a laugh with her husband in the best seats in the house!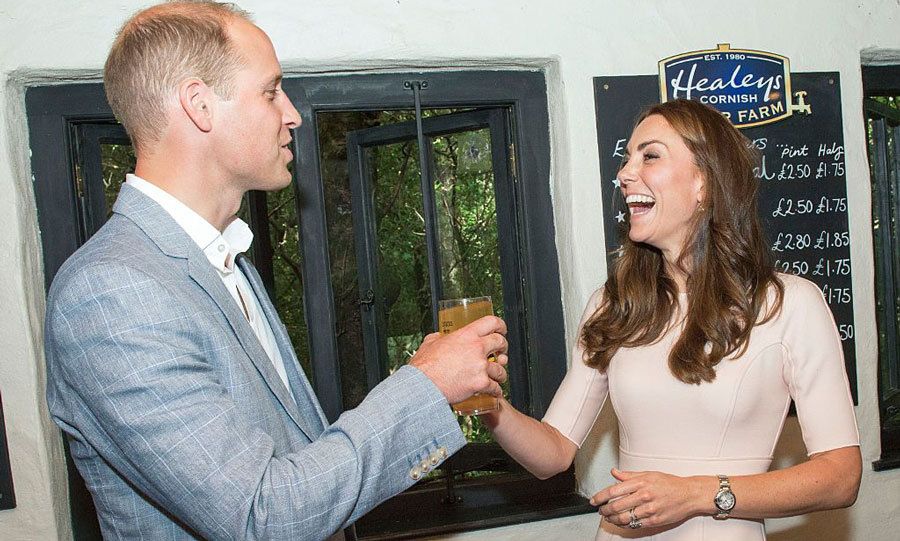 Kate laughed as she presented her husband with a pint of cider at Healey's Cornish Cider Farm. After drinking the cider, which the Duchess poured, William said it tasted "just like it does in the pub". Praise indeed!