Can't get a ticket, can't stand the mud or the crowds? No worries. Set the stage at home with festival decor – and a little help from Jo Whiley. A familiar face at all the major events on the festival calendar in her roles as DJ and TV presenter, she's opened the doors to her home to reveal that she loves living the style.
"Our house is literally party-central where the door's always open, with people coming around constantly, as well as our animals running around. We're always either leading up to a festival, clearing up after a festival, or planning or having a party," says Jo. The 51-year-old lives in a barn conversion in Northamptonshire with her music executive husband Steve Morton and their four children, India, 25, Jude, 18, Cassius, 16 and Coco, eight, plus their two dogs and two cats.
STORY: Your need-to-know guide and advice for festival season
"Our kitchen's where everyone gets together and we have music on tap, with the radio or CDs playing, and people spontaneously sing, dance and perform – not necessarily very well." Jo, who's teamed up with Hillarys to show how to bring festival style into your home, gives us her tips for bringing the Glastonbury vibe into your own home.
Get rustic with hay bales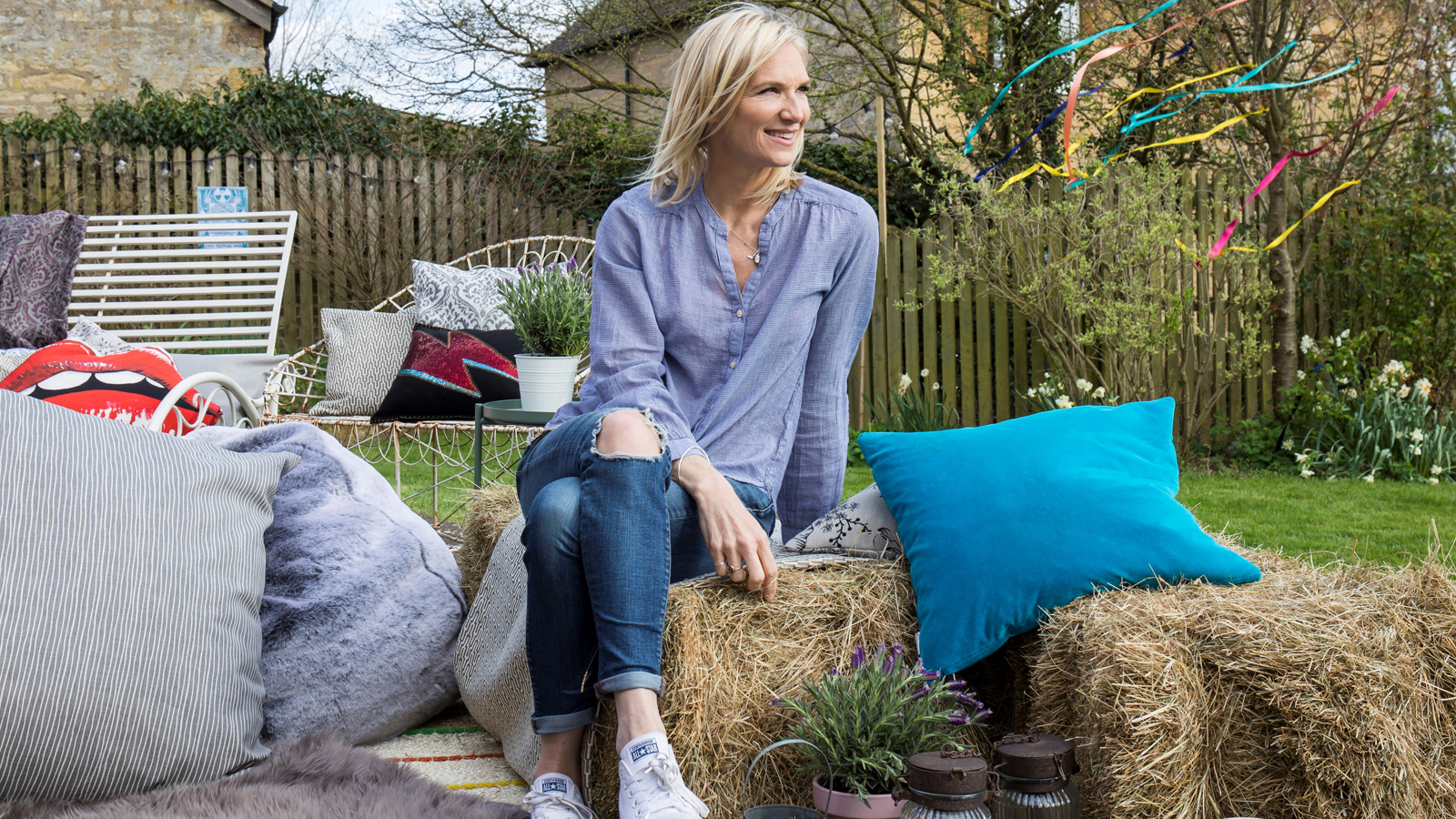 Jo Whiley in her garden with hay bales, cushions and benches (PA/Hillarys)
£If you think you might be short on seating space, source some old crates or ask a local farmer for hay bales and simply cover them with cool fabrics or rugs. Add cushions and beanbags and group them in a big pile for a slouching, lounging area."
Go to town on lighting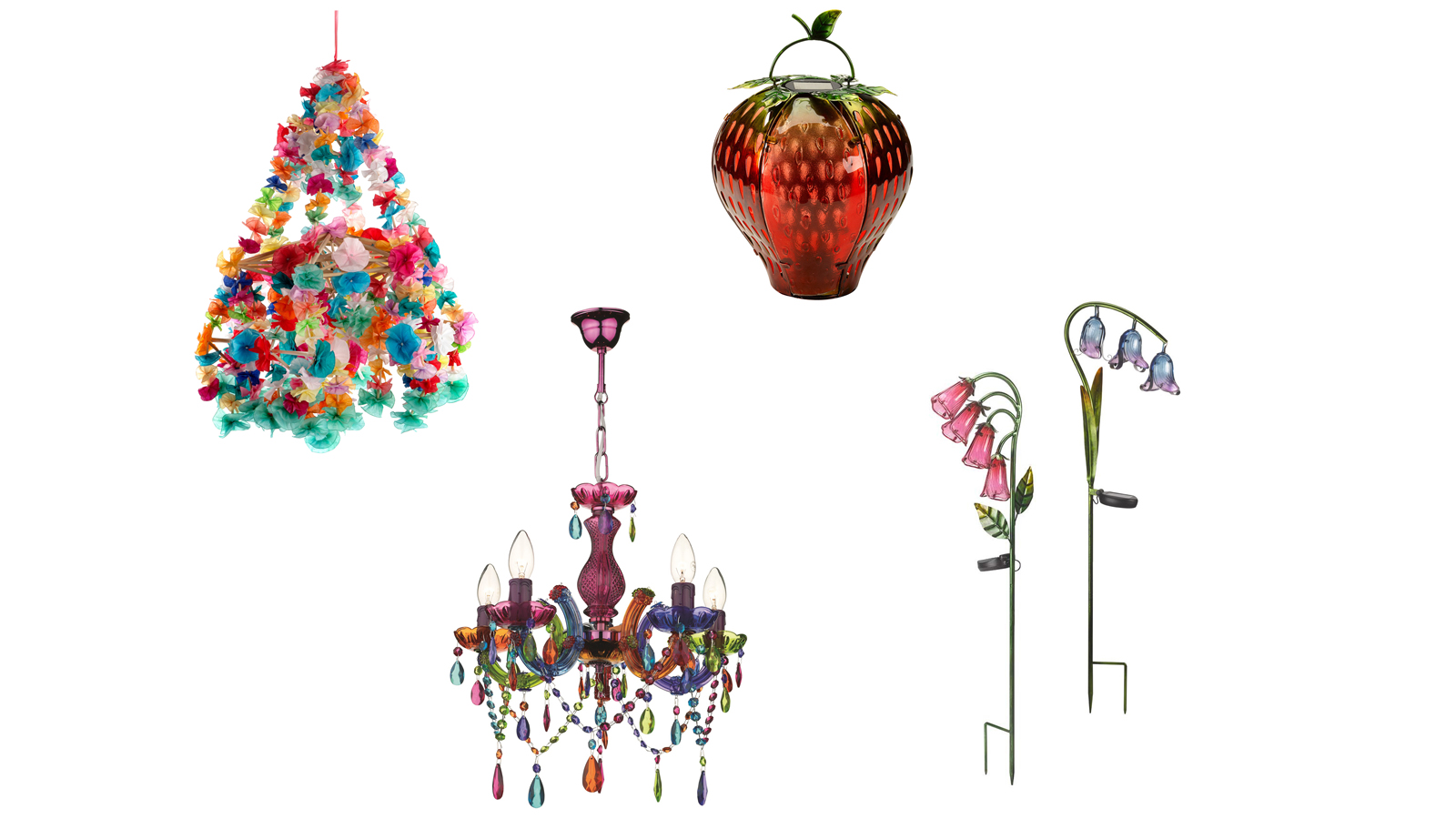 (Clockwise from left) Raj Tent Club; The Glow Company; The Glow Company; Dar Lighting/PA
"I love fairy lights – they make a home feel magical. Make your home come to life at night by displaying as many fairy lights, lanterns and candles as possible. Hang delicate strings or bigger festoons, anywhere and everywhere, and wrap them around trees and tables or focal points. Ramp up the atmosphere with scented candles."
Get the look
Pajaki Paper Chandelier, from £150, Raj Tent Club; Solar Funky Fruit Strawberry Lantern, £25, and Solar Iris Stake Lights, fuschia, £34.99 each, The Glow Company; Souk 5 Light Multi Coloured Chandelier, £129.99, Dar Lighting
Bring out your quirky side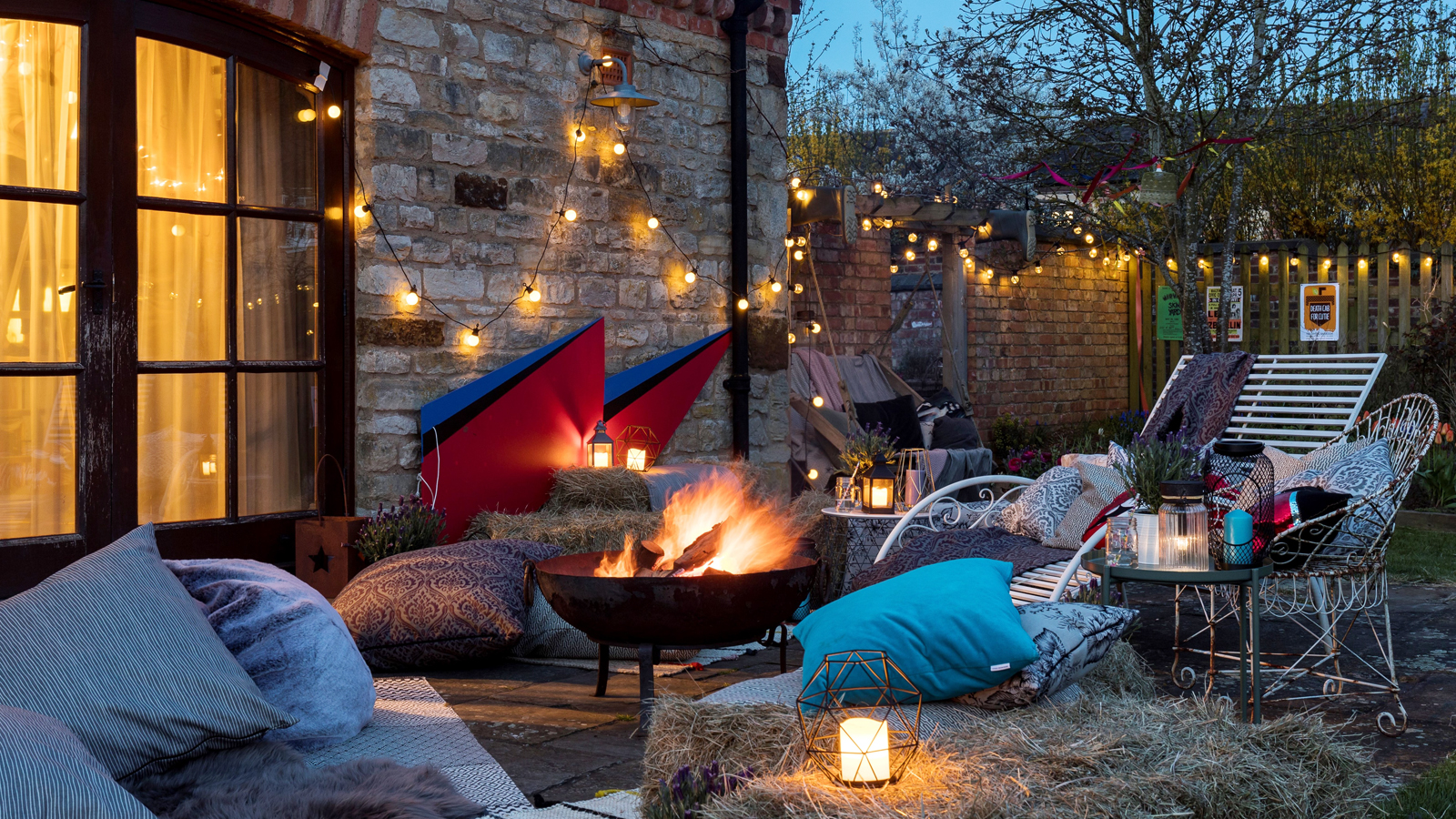 Jo Whiley's garden, decorated in festival style with a home-made Ziggy Stardust lighting sign, fairy lights, a fire pit, and casual seating (Hillarys/PA)
Decorate fences or walls with favourite band or concert posters. String colourful ribbons from chairs and trees and let summer breezes bring them to life. Introduce boho style with brightly patterned accessories – from cushions to wall hangings and pouffes. Avoid anything matchy-matchy; this look is about showing personality."
STORY: Get home decor inspiration from Amanda Holden, Holly Willoughby and more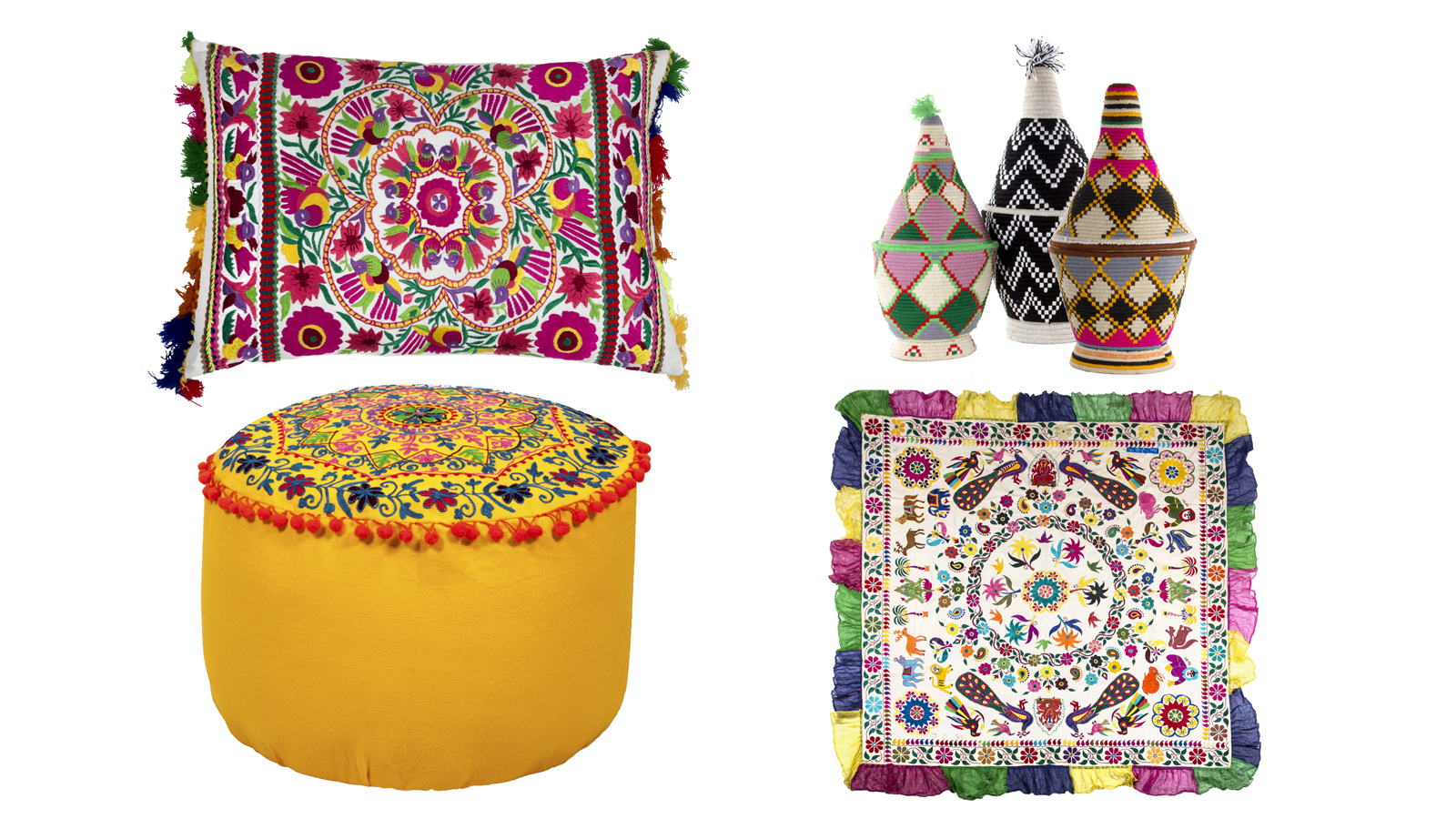 (Clockwise from left) Raj Tent Club; Boutique Camping; Raj Tent Club; Raj Tent Club/PA
"Throw in balloons and a glitter ball or two if you happen to have one lying around, like we did in the garage. Making your own decorations is effective and fun to do with children. We created a huge Ziggy Stardust lightning bolt sign out of MDF. Think out-of-the box and do what suits your style – anything goes at a festival."
Get the look
Carnival Cushion, £50; Shamiana Vintage Tent Ceiling or Throw, £125; Ouazarzate Baskets, from £45 each, all Raj Tent Club; Embroidered Suzani Pouf Seat Cushion, yellow, £29.95, Boutique Camping.
Embrace the mismatched look
Jo Whiley's festival-themed table (Hillarys/PA)
"When you're planning an outdoor event, remember, everyone might end up inside if it rains. Cover a kitchen table with layers of different fabrics in clashing prints or bold colours, and use empty jam jars as tea-light holders. I use mismatched crockery and large Mason jars for drinks on tap. And a must-have for every festival table has to be giant marshmallows. A firepit, great for toasting them, adds a sense of ritual and midsummer-night magic."
Go overboard with plants and flowers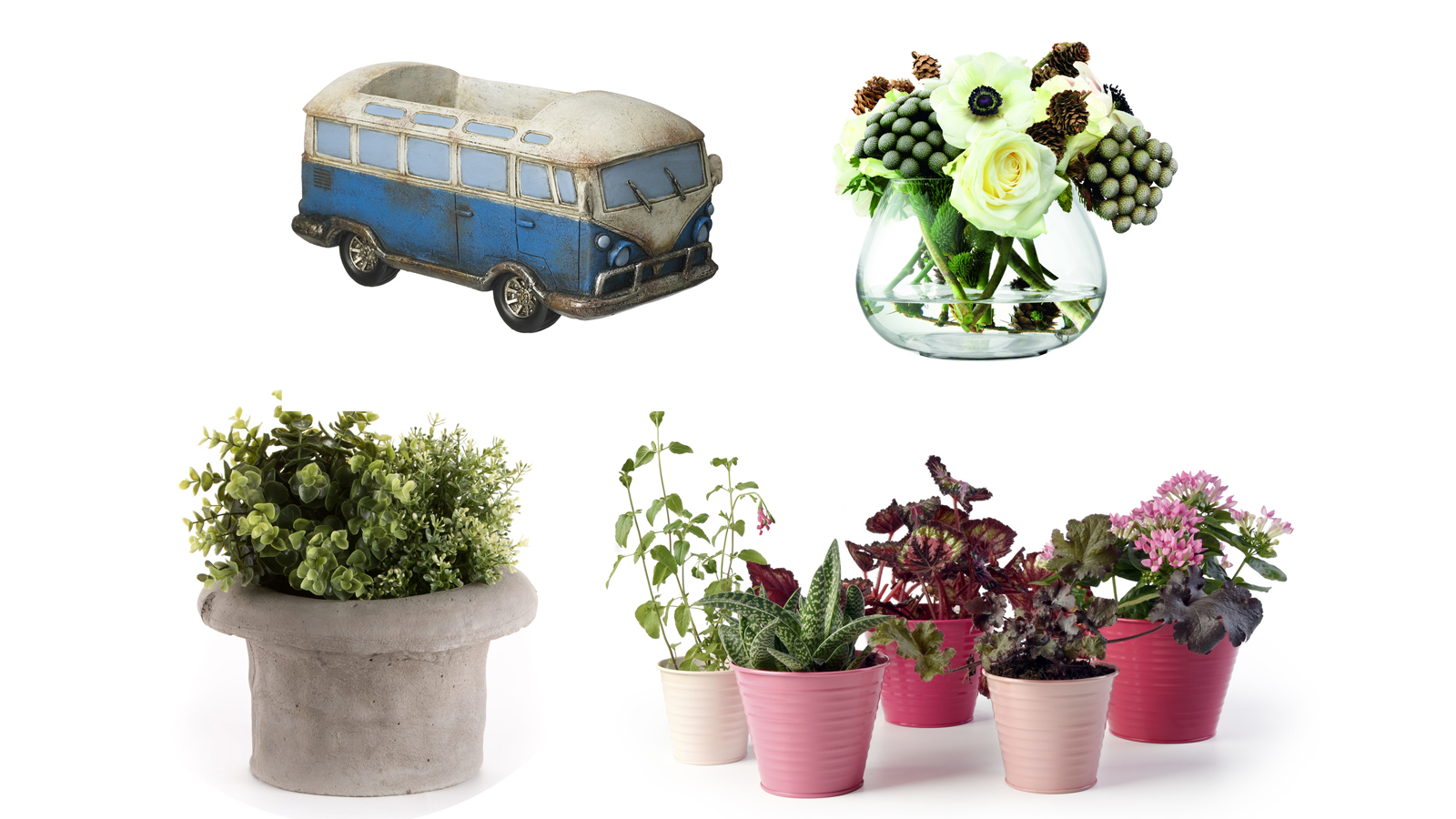 (Clockwise from the left) Magical story; Annabel James; Smithers of Stamford; Annabel James/PA)
"Surround yourself with flowers and plants, in buckets, wooden crates, tin baths, wellies, basically whatever you like and have handy. Reclamation yards and car boot sales are great hunting grounds for all sorts of unusual, quirky containers."
Get the look
Camper Van Plant Pot, £15.99, Magical Story; Table Arrangement Vase, £14.95; Ombre Pots designed by Sophie Conran, £18.95, Annabel James; Top Hat, Seletti, £60, Smithers of Stamford.
Jo Whiley will host The Big Feastival 2017 at Alex James' Cotswolds Farm, August 25-27, 2017. Hillarys is offering readers the chance to win two adult weekend festival camping tickets. The winners will also enjoy guest passes for Friday night, with access to an exclusive VIP lounge. For more information on how to enter, visit Hillarys.
See more celebrity homes here.