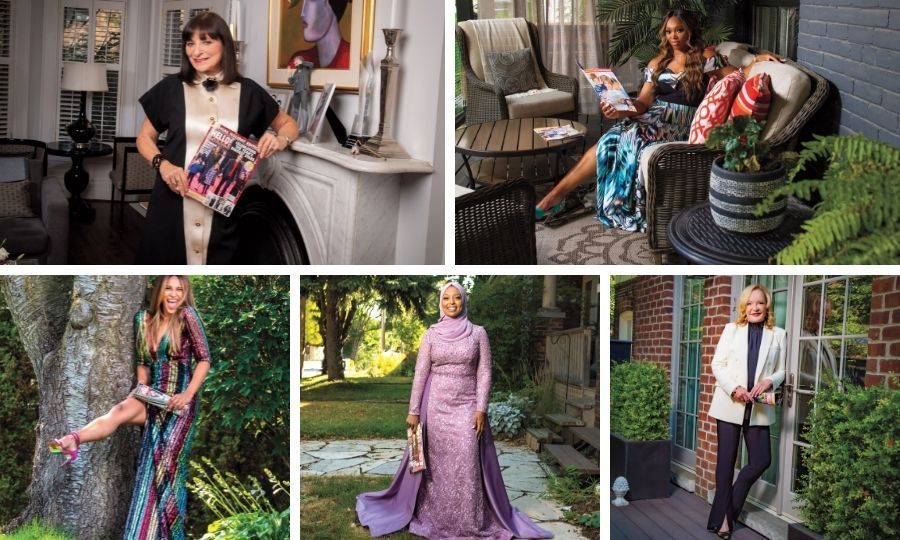 This piece originally appeared in Issue 784/785 of HELLO! Canada
A lot can change in 15 years, but what hasn't changed is the women in Canadian television, who continue to impress and inspire us. That's why we invited 15 of them to help ring in HELLO! Canada's milestone anniversary.
From the comfort (and safety) of their own homes, women from the worlds of entertainment, fashion, current affairs and sports took part in a fun photoshoot to mark the magazine's 15th birthday.
Reflecting the mix of stars featured every week in HELLO!, some are familiar favourites, while others are newer faces you'll love to learn more about. As well as showing their lighter sides through the lens of celebrity photographer George Pimentel, these ladies share their own "15" highlights, including greatest achievements in the past decade-and-a-half, favourite moment from 2006 and who they'd most like to spend 15 minutes with.
We couldn't be more thrilled to kick off our special anniversary celebration with the help of these 15 very special women!
Scroll through the gallery – or click through, if you're on desktop – to read about their milestones, achievements and much more!
Photos: © George Pimentel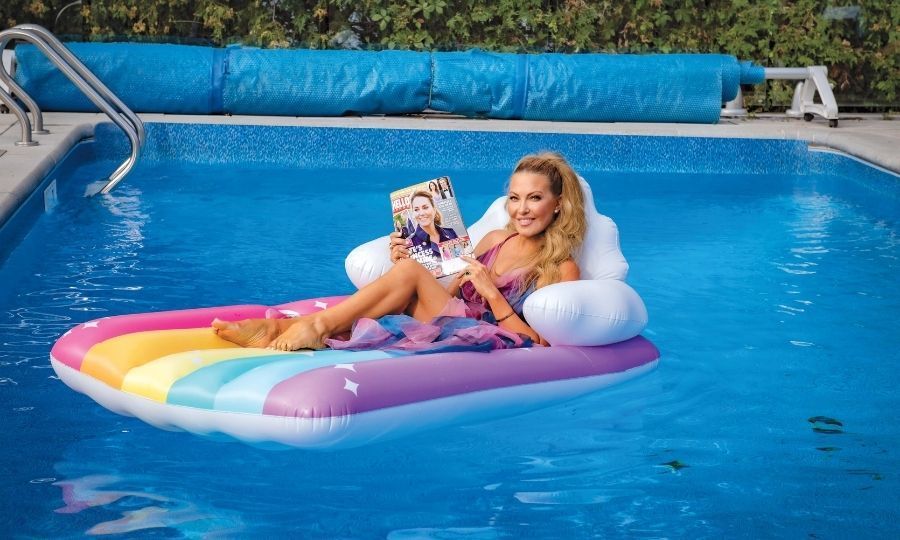 Cheryl Hickey, ET Canada
Photographed in her backyard pool in a vintage M Boutique dress, Cheryl describes the vibe of this image as "joyful, whimsical and full of light." Fun fact: Cheryl is an original cast member of ET Canada, which debuted in 2005.
15 minutes with... For the Owen Sound, Ont.-born mom of two, nothing is more important than family – she would forego 15 minutes with a celebrity in favour of a much more precious idol.
"My father has a rare brain disease that has caused dementia and since having COVID last year, he hasn't been able to talk," she says. "A conversation with my dad is one I'd love to have."
HELLO! memories: "My first feature with HELLO! was my honeymoon with my husband, Kevin, in Hawaii in 2008," she says. "There's a picture where he wrote my name in the sand, but he spelled it wrong! No one realized until it was in print. Maybe HELLO! can come along when we renew our vows."
Photo: © George Pimentel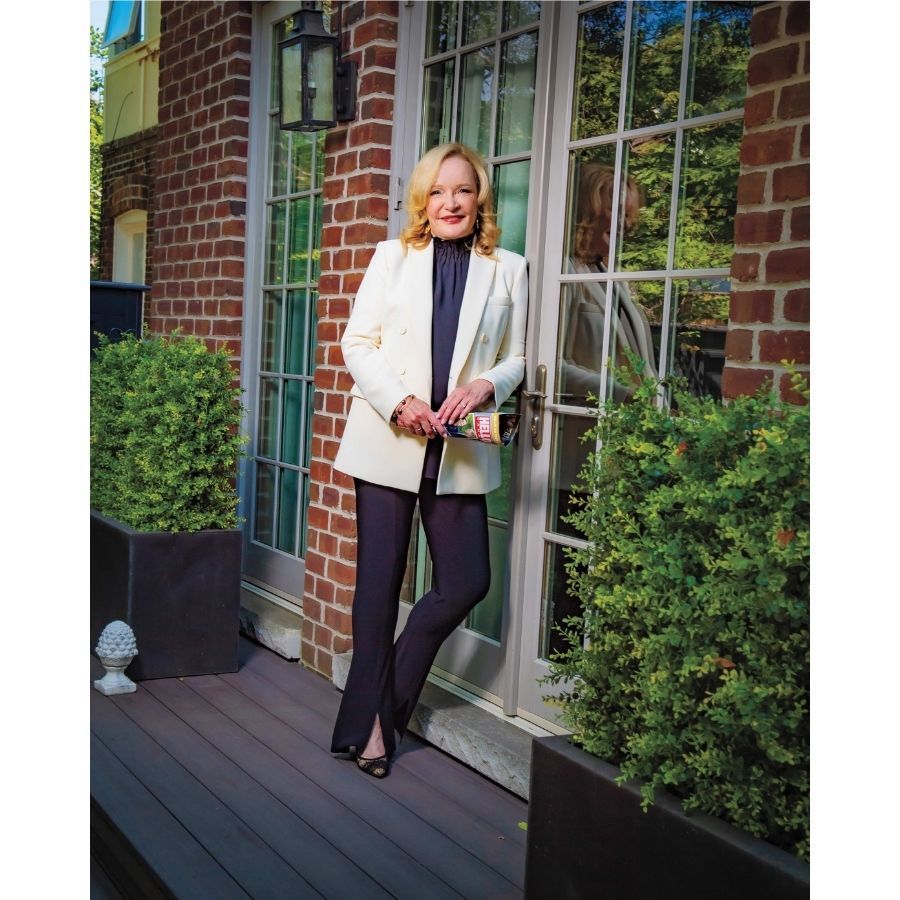 Marilyn Dennis, The Marilyn Denis Show
The no-nonsense TV and radio star sums up her smart, tailored ensemble as "exactly how I love to dress for black tie."
Career Highlight: Andrea Martin and Jane Fonda top the list of career highlights for Marilyn, who has hosted her eponymous talk show since 2011.
Greatest Achievement in 15 Years: Having grown up in Pittsburgh, Pa., with a crush on her high-school prom date, the Canadian icon and mom of one can't believe her luck that she and Jim Helman reconnected decades later, tying the knot in June 2018.
"Is getting married considered an achievement?" she says. "Because I consider it my biggest one."
Photo: © George Pimentel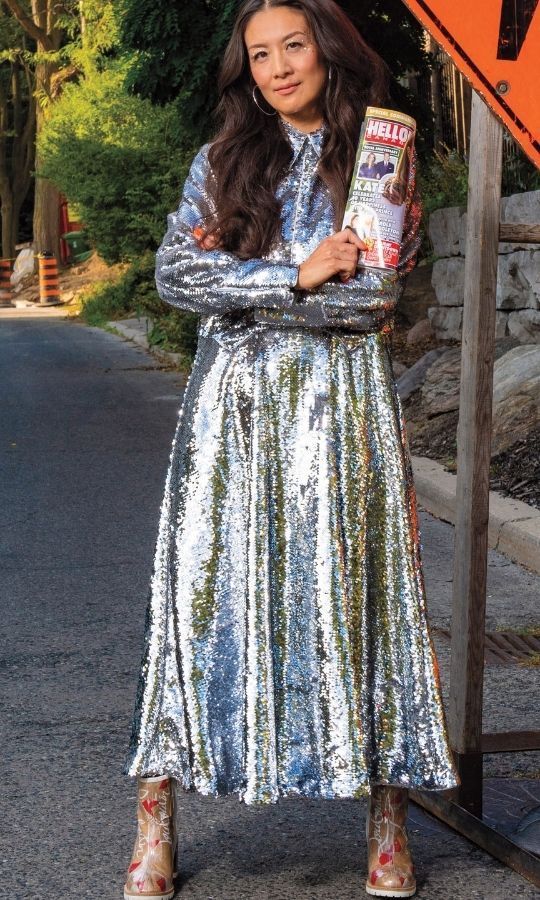 Lainey Lui, The Social
Though Canadian audiences have grown accustomed to Elaine "Lainey" Lui's humour and wit through her gossip site and as a co-host on The Social and anchor on etalk, she shared a new side in her memoir, Listen to the Squawking Chicken. A candid look into the TVhost's relationship with her mother, it is, she says, her crowning achievement of the past 15 years and she's already looking forward to writing another.
Lainey (in a Ganni silver gown to the left) also celebrates a 15th anniversary this year!
"2006 was the year I became a full time reporter on talk," she tells HELLO! Canada. "No one could have predicted that Ben Affleck and Jennifer Lopez would be back together!"
HELLO! memories: "This is probably conceited, but I'll always remember being on HELLO!'s Best Dressed list in 2016," Lainey says. "The photo chosen was from that year's Toronto International Film Festival. I had a huge bump on my lower eyelid, which was mortifying, but I made it work!"
Photo: © George Pimentel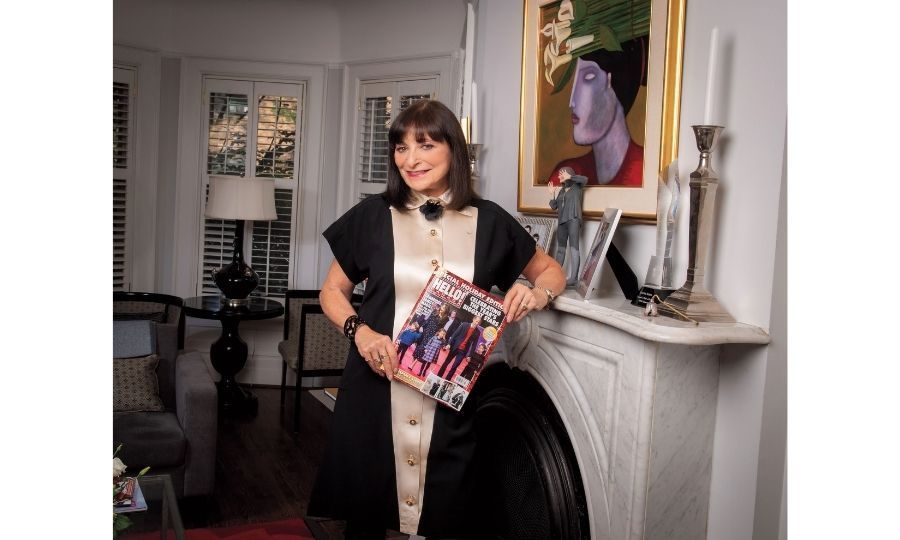 Jeanne Bekker, Style Matters With Jeanne Beker
Wearing a Chanel dress gifted to her in 1989 by Karl Lagerfeld himself, Jeanne is a treasure trove of unbelievable fashion memories.
"I sat next to Alexander McQueen at a dinner in 2006," she recalls. "He shared incredibly intimate things about his life. I really got such a feeling for the tender side of him."
Having made her mark with the groundbreaking FashionTelevision, (which ran from 1985 to 2012), Jeanne, who now hosts TSC's Style Matters With Jeanne Beker, is paving the way for future fashionistas.
"I want to make sure that archives are saved and made accessible to fashion and design schools and museums around the world," Jeanne says.
Receiving the Order of Canada and "finding true love" with partner Iain MacInnes are her biggest triumphs in 15 years, she says.
As for her favourite HELLO! memories?
"Hello!'s holiday issue celebrating Christmas and Hanukkah with my family was nothing short of heart-swelling," she says.
Photo: © George Pimentel
Rocking this Fantasia Gown by Gemy Maalouf, Carolyn describes her look as "Dreamy. Romantic. Summer. Feminine. And maybe a little Sarah Jessica Parker-esque."
Family Matters: When it comes to naming her greatest achievement of the past 15 years, Global TV's Morning Show co-host doesn't hesitate: raising daughter Kate, 13, and 10-year-old son Matt, with husband Chris is what she is most proud of.
"While at times challenging and frustrating," she admits, "it's a job neither of us take for granted."
The Next 15 Years: While she wouldn't' trade the excitement – and the early hours – of her show for anything, Carolyn admits she'd love a bit more time for travel and hobbies.
"I'd maybe like to be less driven by the clock and schedules with more downtime for myself."
Photo: © George Pimentel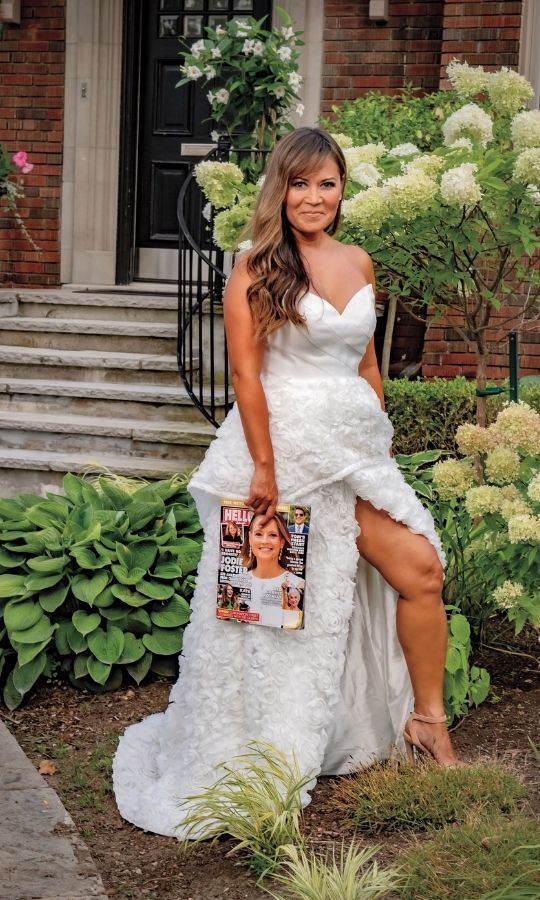 Hazel Mae, Sportsnet
My 15-Year-Old Self: "I played volleyball, basketball, tennis, softball and soccer. But I never dreamed of a TV career in sports," says the award-winning broadcaster, who currently covers the Toronto Blue Jays. "I knew I had the passion for competition, but didn't think it was possible as a person of colour in a male-dominated field."
Though she's often in the company of professional athletes, Hazel had an A-list encounter in 2008 when she was cast as an extra in Ghosts of Girlfriends Past. "I got to meet Matthew McConaughey and Jennifer Garner!"
HELLO! Memories: "I was honoured to be included on the Most Beautiful list in 2012," says she Philippines-born mom of one. "I was four months pregnant at the time and even though I had put on some weight, it was probably the most beautiful I felt in my life."
Photo: © George Pimentel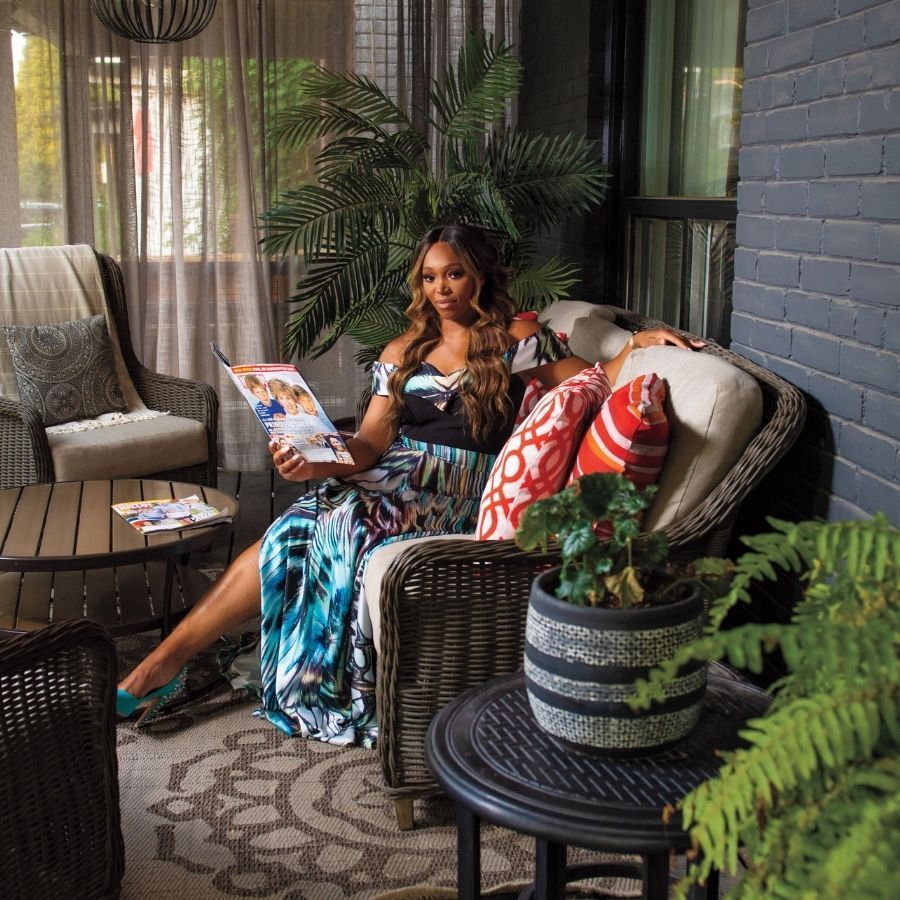 Tracy Moore, Cityline
The year that HELLO! Canada launched is the same year Tracy said "I do" to her husband, Lio Perron. After a "lit" dance party, the happy couple embarked on "an epic greek island-hopping honeymoon cruise."
Since that day, Tracy has accomplished so much.
"I pushed out two kids and landed Cityline as a full-time gig," she tells us. "If the next 15 years held more of the same – stable family relationships and a solid career – I would be thrilled and honoured."
Tracy says she'd love to spend 15 minutes with Maya Angelou.
"Her words are a guide for how to live and her face reminds me of my mother's," she says. "I'd love to talk to her about all the iterations of her life – and then I'd just want to hug."
Photo: © George Pimentel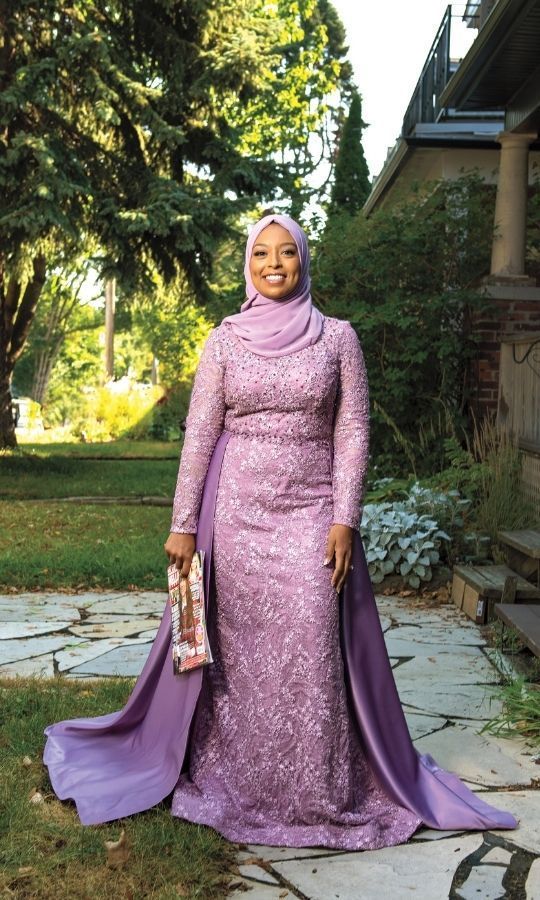 Ginella Massa, Canada Tonight
"As a Muslim woman who covers, it can be nearly impossible to find a long-sleeve gown without a plunging neckline, thigh-high slit or see-through lace," says she Panama-born, Toronto-raised reporter. "I got this stunning dress from Modest Wear Canada, and it's in my favourite colour!"
Ginella never shied away from using her voice.
"I was involved in school plays, speech competitions, morning announcements as well as a short-lived lunch-time radio show. I knew I needed a career where I could talk for a living."
Ginella has had that – and become the country's first hijab-wearing TV news reporter.
15 Minutes With...: "It's a cliché, but I would pick Oprah. I would love to know more about her journey through broadcast news as a Black woman. We also share a birthday."
Photo: © George Pimentel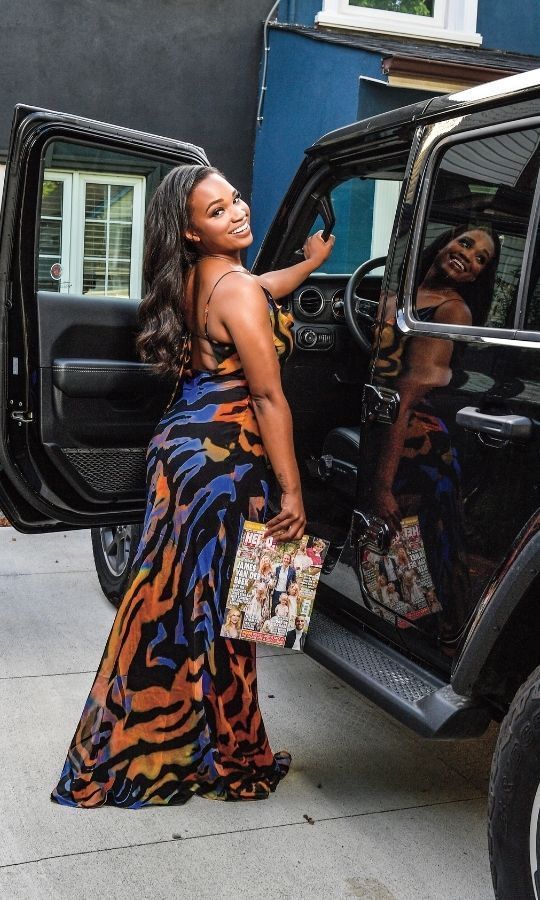 Kayla Grey, Sportscentre
Wearing a dress from Rat & Boa, the award-winning journalist and TSN anchor admits the colourful print may seem a bit intimidating, but "once it's on, it's poppin'."
The Toronto native struggled through adolescence and was even kicked out of school.
"Sometimes I cringe," she says about her 15-year-old self. "But I try to look back with some grace and kindness because she, like everyone else, was just human."
On a 15-Year Roll: "So much good has come my way," says the mother of one. "I bought my home, started a family, covered a Raptors championship and travelled across Canada. The best part is I walked my own path and did it the way I wanted to."
Photo: © George Pimentel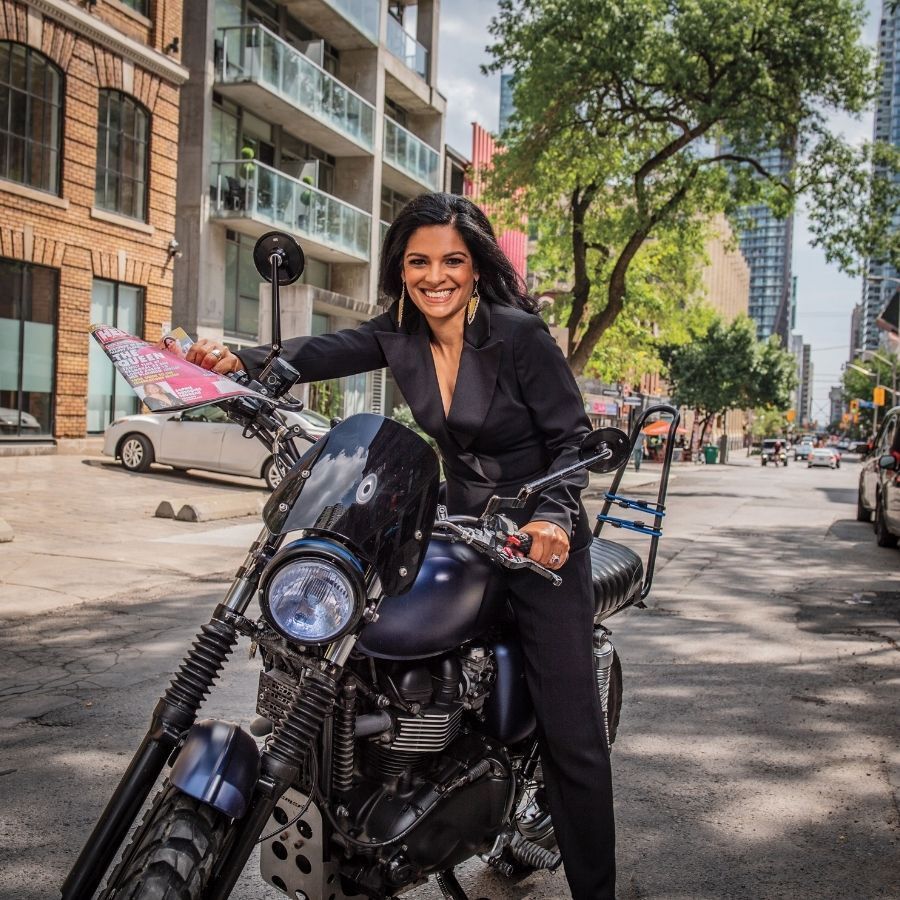 Anne-Marie Mediwake, Your Morning
When recalling a favourite memory of the past 15 years, Anne-Marie need look no further than teh day she and her husband, Darryl Konynenbelt, welcomed triplets (daughters Annabel and Libby, and son Maxim) in 2007.
It turns out enjoying an issue of HELLO! is a Mediwake family tradition.
"Reading the magazine with my sisters and a latte is a ritual," Anne-Marie tells us. "Give me all the royal content! I even have a categorized library of HELLO! royal issues for, let's call it, research purposes."
15 Minutes With... Michelle Obama and Mindy Kaling.
"I admire how both of these women made space and held their place as women of colour in political life and the entertainment world," she says.
Photo: © George Pimentel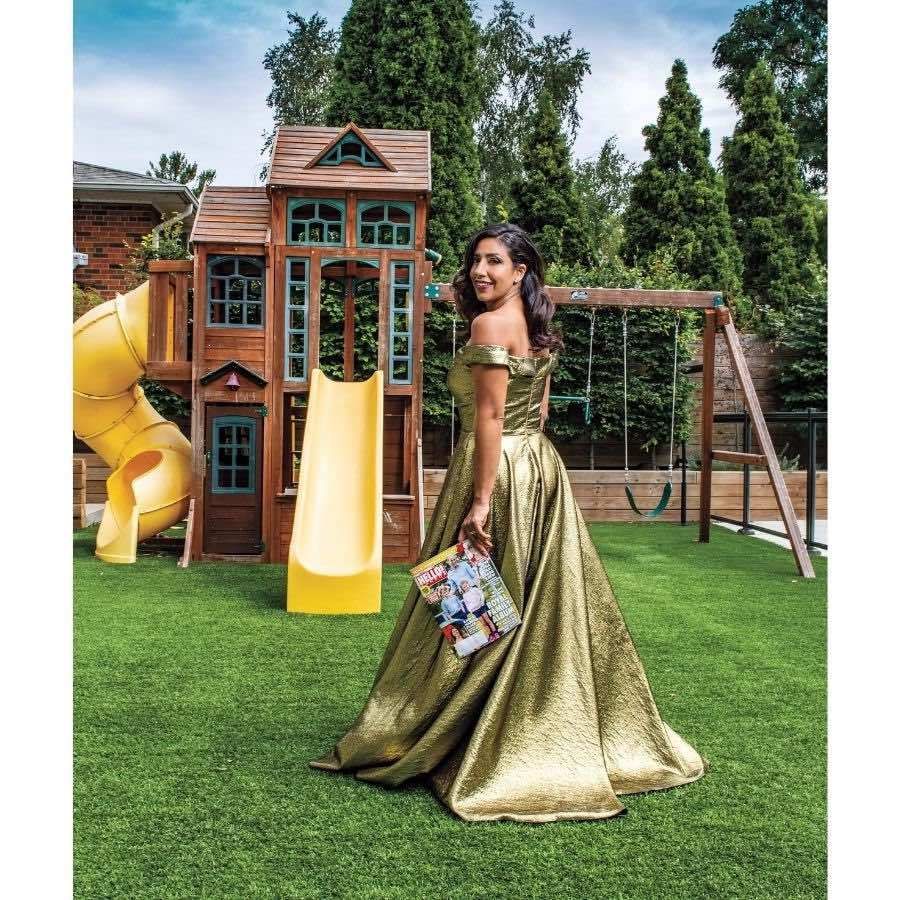 Farah Nasser, Global News
"My mom loves HELLO! Canada, but I haven't told her that I'm going to be in this issue. Surprise!" says Farah, from Mississauga, Ont.
The award-winning journalist learned at a young age that to be part of the action you had to bend a few rules.
"I'd tell my parents I was going to the library, but really I'd go to the movies with friends!"
Greatest Achievement in 15 Years: While her job as a news anchor has her reporting on events around the world, Farah finds her happiness in her two young children.
"Even more than my career, my family is the thing I wanted most," she says. "The intensity of motherhood is unlike anything I've ever experienced, love so raw it hurts."
Photo: © George Pimentel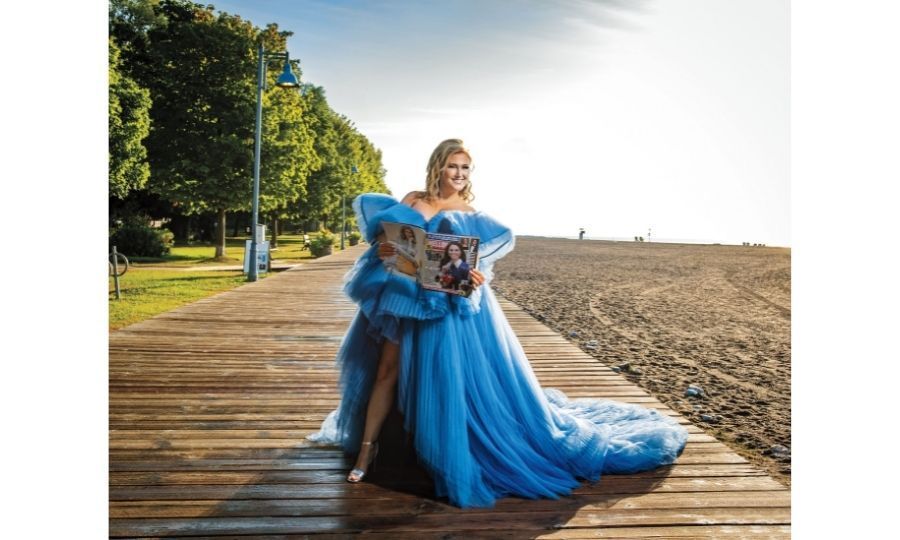 Jennifer Valentyne
Wearing a frothy blue gown from RVNG Couture, the former BT Toronto personality admits she's a little out of her comfort zone.
"I've always played it safe," she says, "and this dress is anything but. It's strong and makes a statement."
As a teen, Jennifer was most likely to be found at her neighbourhood video arcade.
"I always wore a jean jacket with band buttons pinned to the pockets," she says. "Led Zeppelin, Prince, Bon Jovi and AC/DC were a few of my favourites."
15 Minutes With...: "I would love to meet Goldie Hawn. She lights up the screen and is an inspiration for all women," says the mom of two, who co-hosts the podcast Mother Daughter Date. "She's beautiful on the inside and out, and her fun-loving spirit keeps her forever young."
Photo: © George Pimentel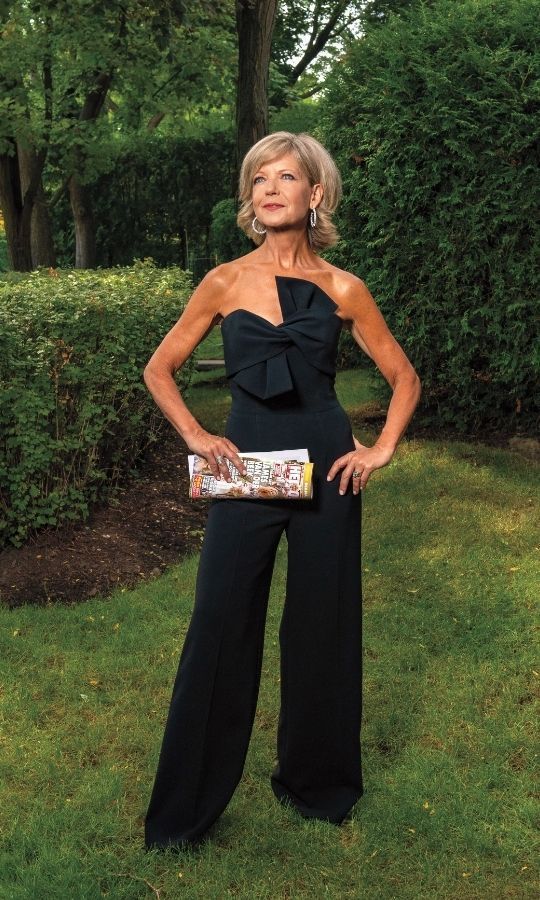 Heather Hiscox, Morning Live
Wearing a jumpsuit from Canadian designer Lucian Matis, Heather describes the look as her "trademark" style: "Sleek, sophisticated, elegant, minimalist and black."
Celebrating her 16th year hosting CBC's morning news show, Heather hasn't lost her early-bird enthusiasm.
"I still happily spring out of bed at 2:30 a.m.," she says, "privileged to share a daily conversation with our Canadian viewers."
HELLO! Memories: "In 2018, I hosted the Governor General's Performing Arts Awards and HELLO! Canada covered the gala. There was a photo of me in a white Lucian Matis gown (again!). Jennifer Aniston was on the cover, which might explain why so many people told me afterward they saw my photo."
Photo: © George Pimentel