The Princess of Wales enjoyed a fun-filled morning with children on Wednesday as she took part in a sensory class at a local specialist centre. 
Kate paid a visit to the Orchards Centre in Sittingbourne, Kent where she met youngsters with special educational needs and disabilities as well as their families. 
The purpose of Kate's visit was to learn about the work of the National Portage Association, a home-visiting educational service for children from birth up until pre-school age across England and Wales.
Take a look at the best photos from Kate's day out…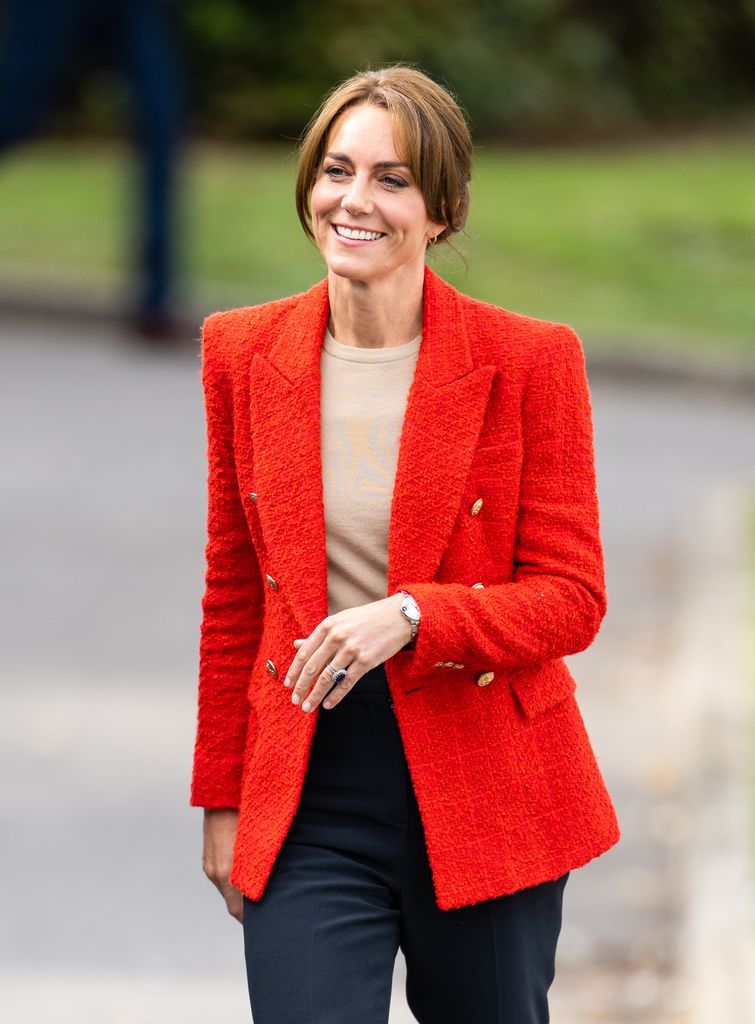 Princess Kate was given a warm welcome from staff as she arrived shortly before lunchtime on Wednesday.
Looking as elegant as always, the mother of Prince George, Princess Charlotte and Prince Louis wore a red blazer, black trousers and a cream top for her playdate.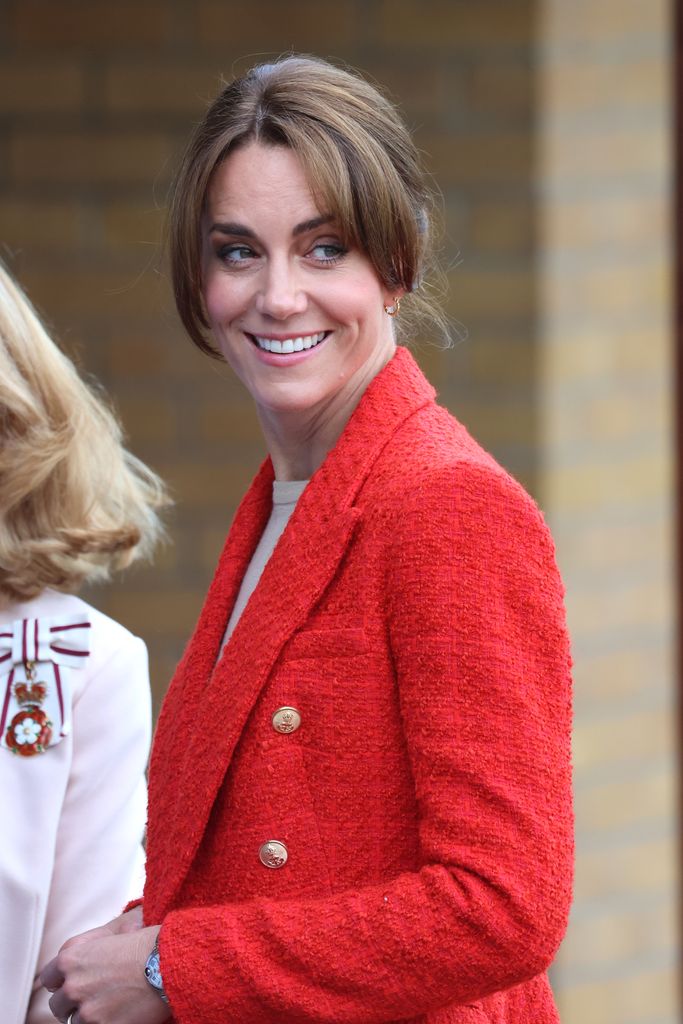 She tied her long tresses up into a bun and kept her accessories simple with gold hoops.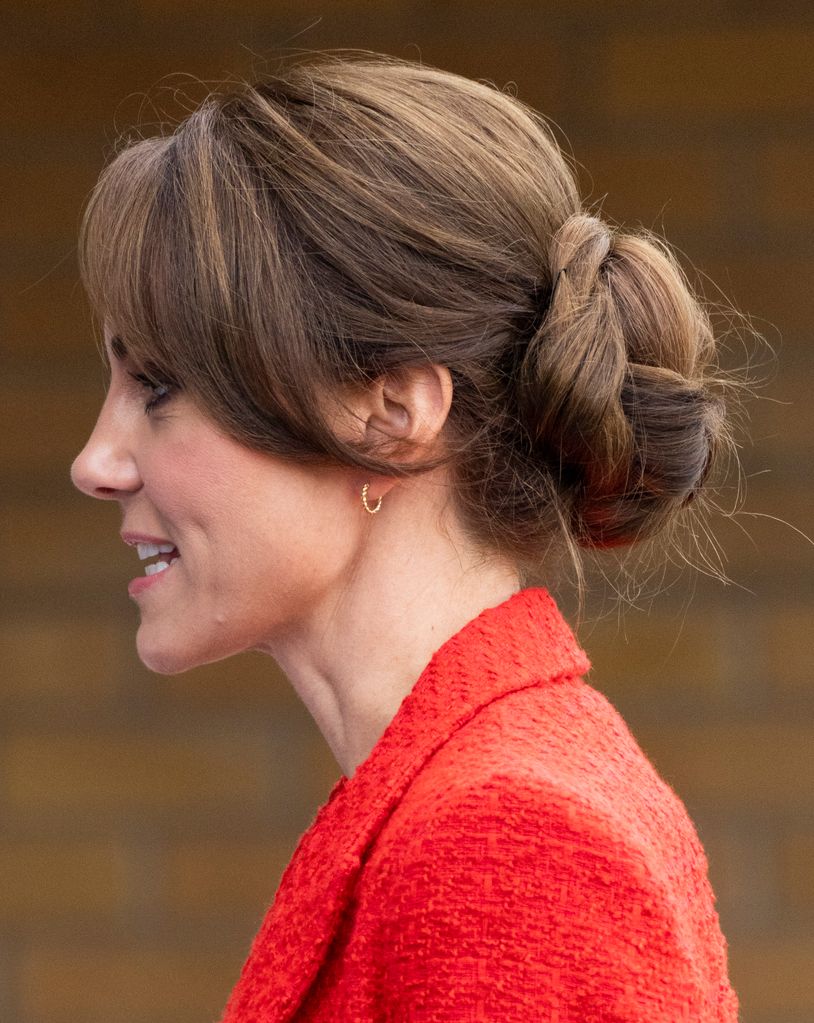 A closer look at Kate's elegant updo.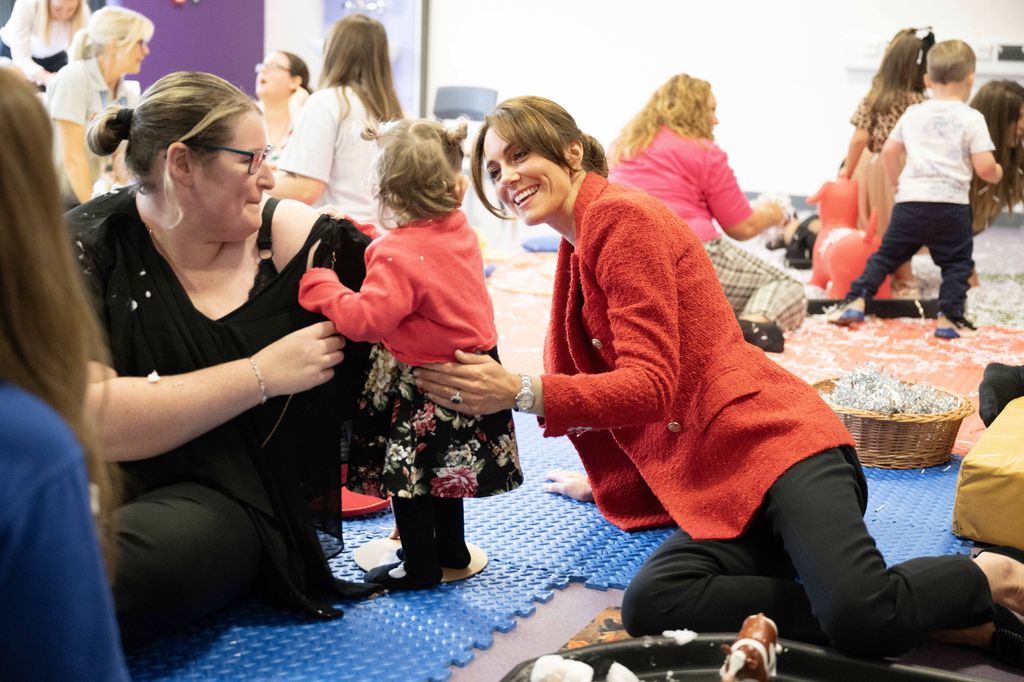 Kate met a group of children with a range of needs and conditions, including social communications difficulties, autism, complex needs and Down Syndrome.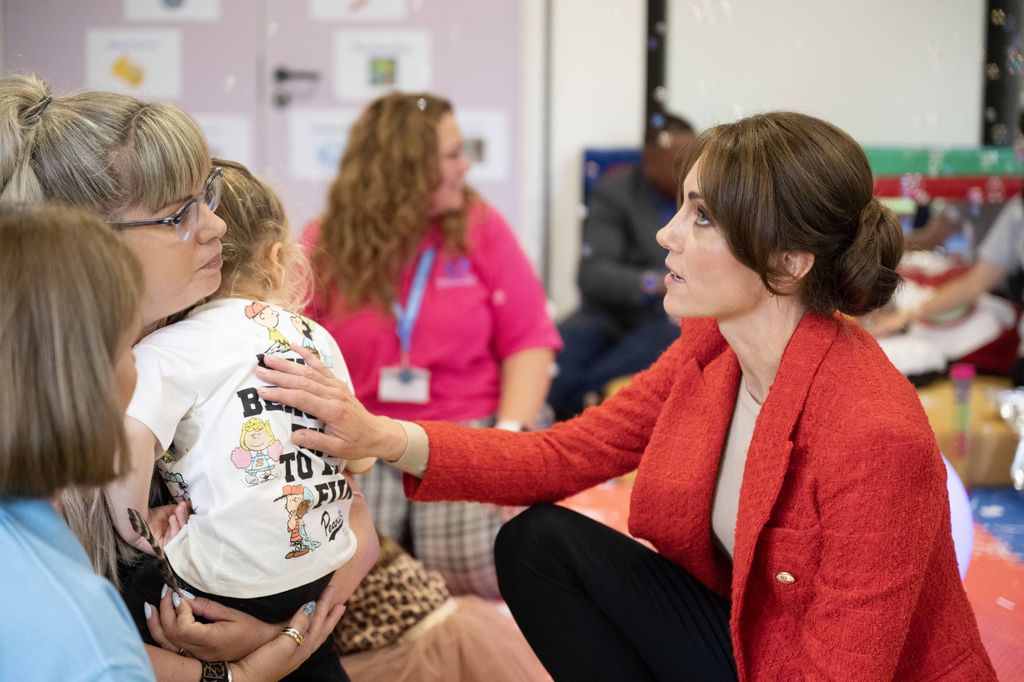 She enhanced her reputation as the children's princess, rubbing toddlers' backs and tickling their tummies while taking part in messy play with them. She happily got stuck in, throwing tinsel and shredded paper around.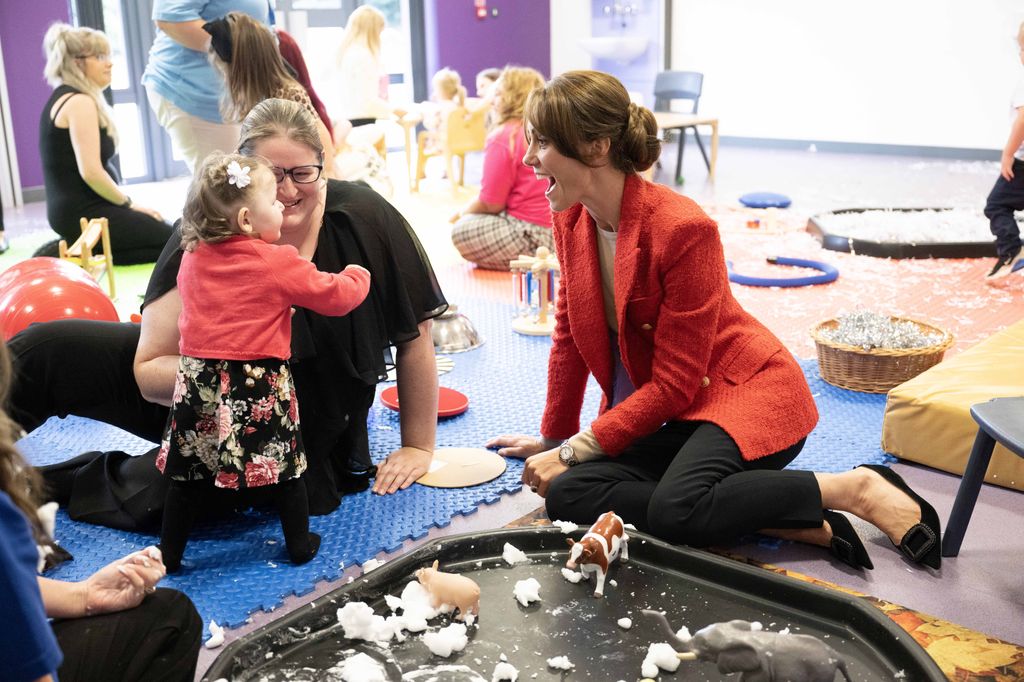 "She is very sweet," Kate said of one little girl Skylar, who is almost two and was spreading foam over herself. 
Janet Rickman, Chair of the National Portage Association, later told HELLO!: "You could see she was really engaged with the families and playing with the children."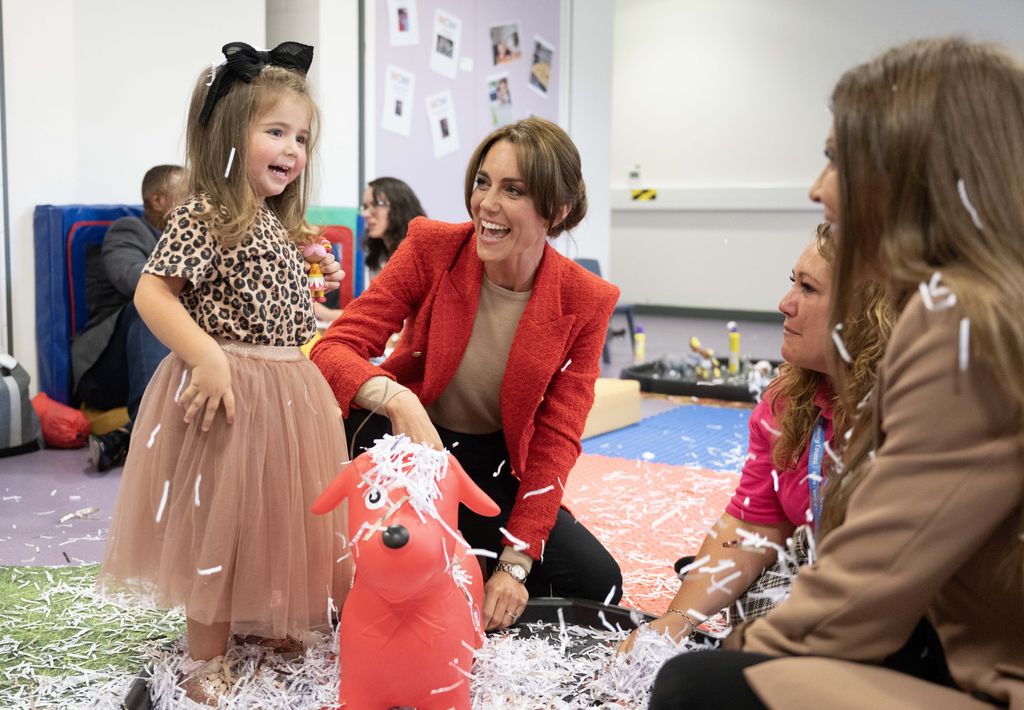 Kate laughed as one little girl, Beatrice, three, squealed with delight at all the shredded paper.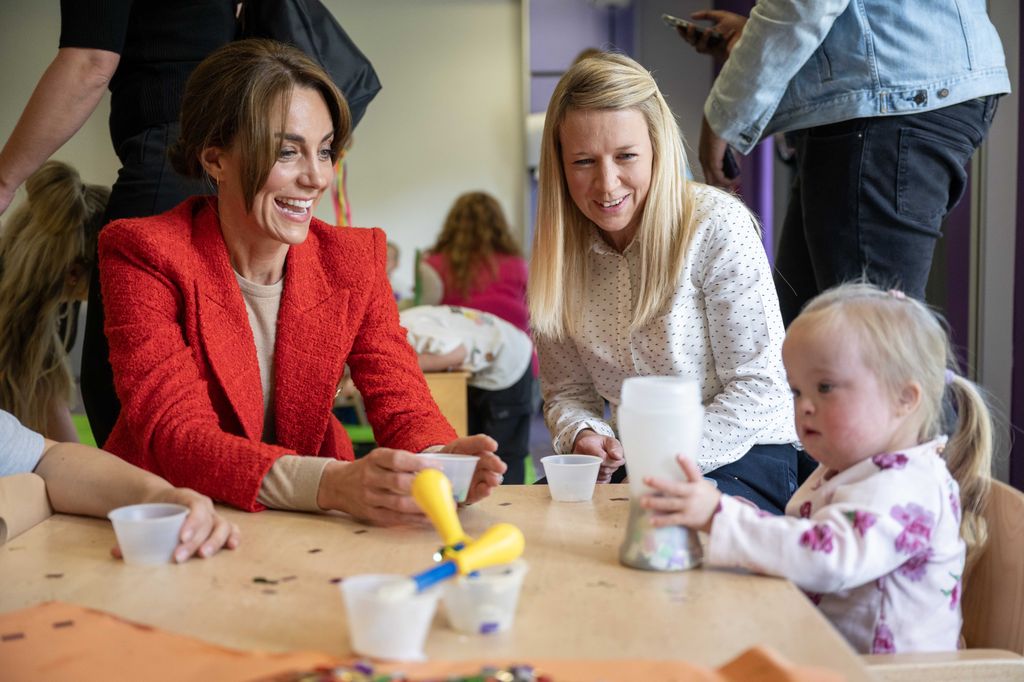 She also praised Darcie, three, with Down syndrome, who was pouring brightly coloured squares of paper into a cup. 
"Well done," the Princess said, telling her: "Louis' got a Darcie in his class."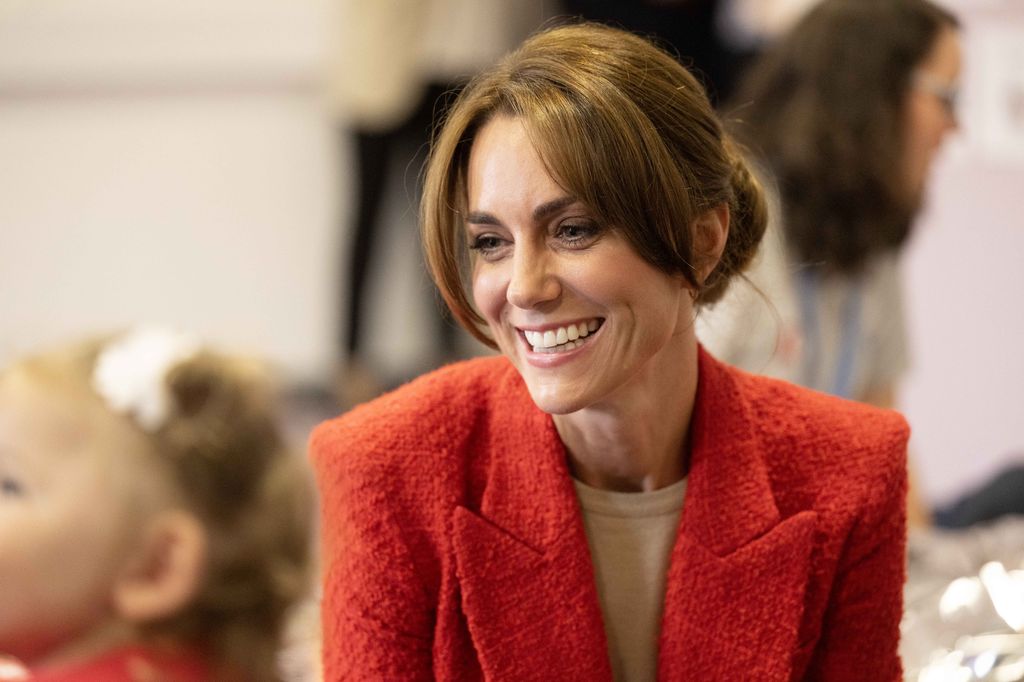 The royal mum also spoke to father-of-four Steve Ikebuwa from Gravesend, whose youngest child Nathan, 11 months, has profound learning difficulties. Mr Ikebuwa confided that his wife also suffered from hyperemesis gravidarum during her pregnancy, a condition that Kate had in all three of her pregnancies.
"When I said to the Princess that my wife had hyperemesis gravidarum (severe morning sickness) she connected. She said, 'I went through that and I know what it feels like,'" Mr Ikebuwa told HELLO! 
Praising the impact the service has had on his family, he told HELLO!: "You see [the practitioners] doing the job with their hearts and you can see the support there."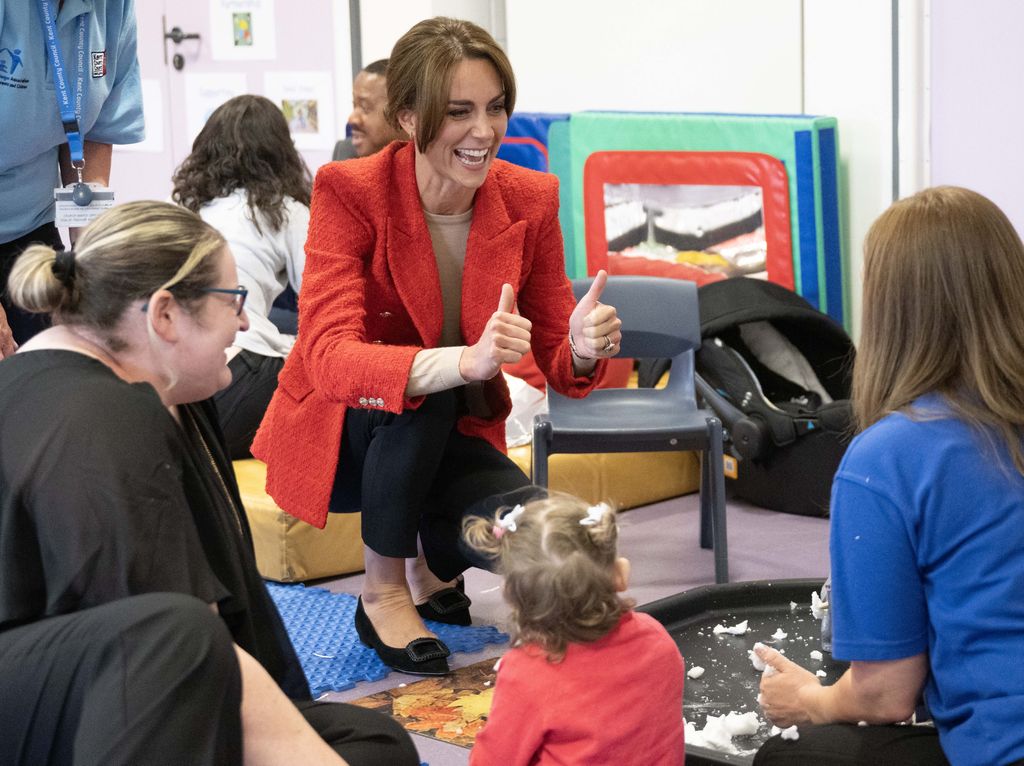 The Princess also met some of the front-line practitioners delivering the service to understand more about Portage and how it supports families on a day-to-day basis. 
Portage provides home learning sessions in the community where specially trained practitioners work with families and their children to learn together, play together and participate in their community.
The National Portage Association, which celebrates its 40th anniversary this year, works with over 100 Portage services, providing a quality framework and training for Portage Practitioners and parents.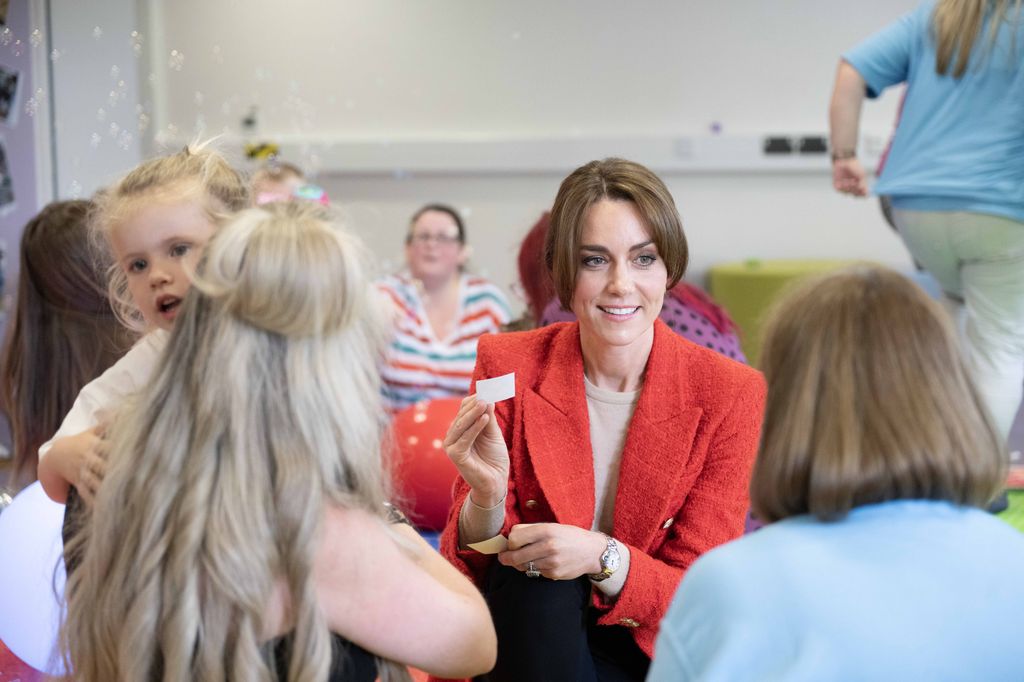 Kate spent several minutes before and after her engagement speaking with staff and practitioners.
Janet Rickman, Chair of the National Portage Association, told HELLO!: "She wanted to know more about how Portage is organised, how it's funded. Is there enough?
"She obviously understood the impact that Portage makes on the children, especially in the first five years. The first five years are crucial for any child, but for a child with additional needs and their family, it's even more crucial."
Janet added: "We're hoping that [Kate's visit] is going to be life changing. We really hope that it will showcase what we do and the impact that we have as British practitioners on children's lives and the lives of their families."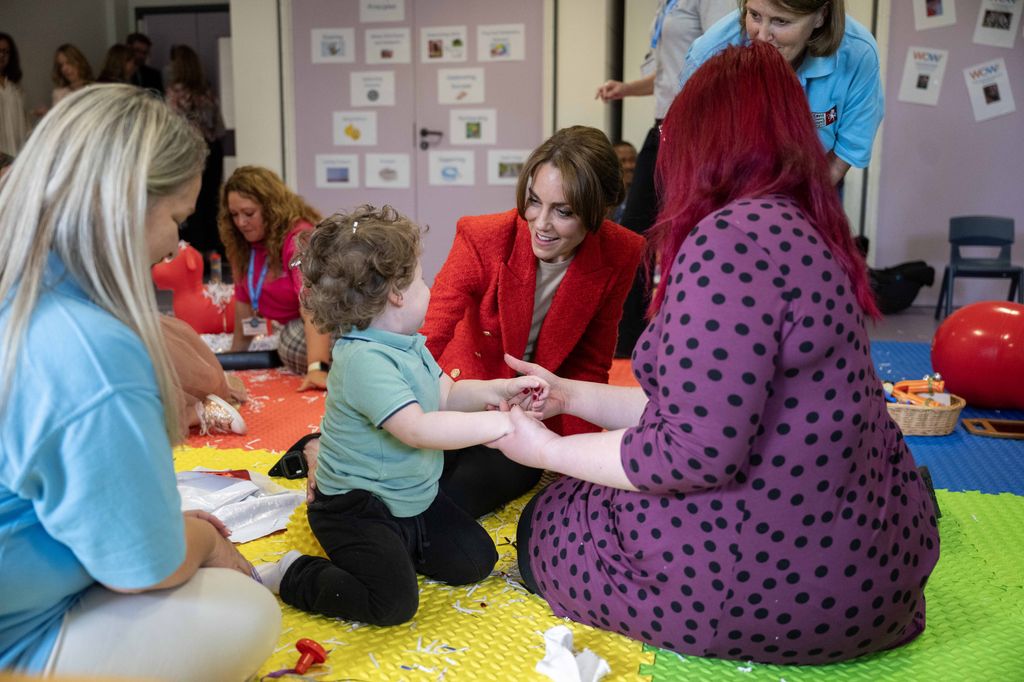 Naomi Nice, a portage practitioner in Kent, told HELLO! that awareness of portage services is "so important".
"If you just talk to the general public, people won't know who we are," she said. "No one will know who we are unless you know somebody who's had that service. And actually when you talk to the parents who have received Portage, they talk about that lifeline. 
"Actually we're someone who's coming in from really early days, a lot of the time we get to know the family on a really personal basis, we're that port of call for them. So to highlight that awareness to the country of what it is that we're doing is vital to keep our services going at a time where services are being cut. And so when parents feel that we're their lifeline, that lifeline needs to stay."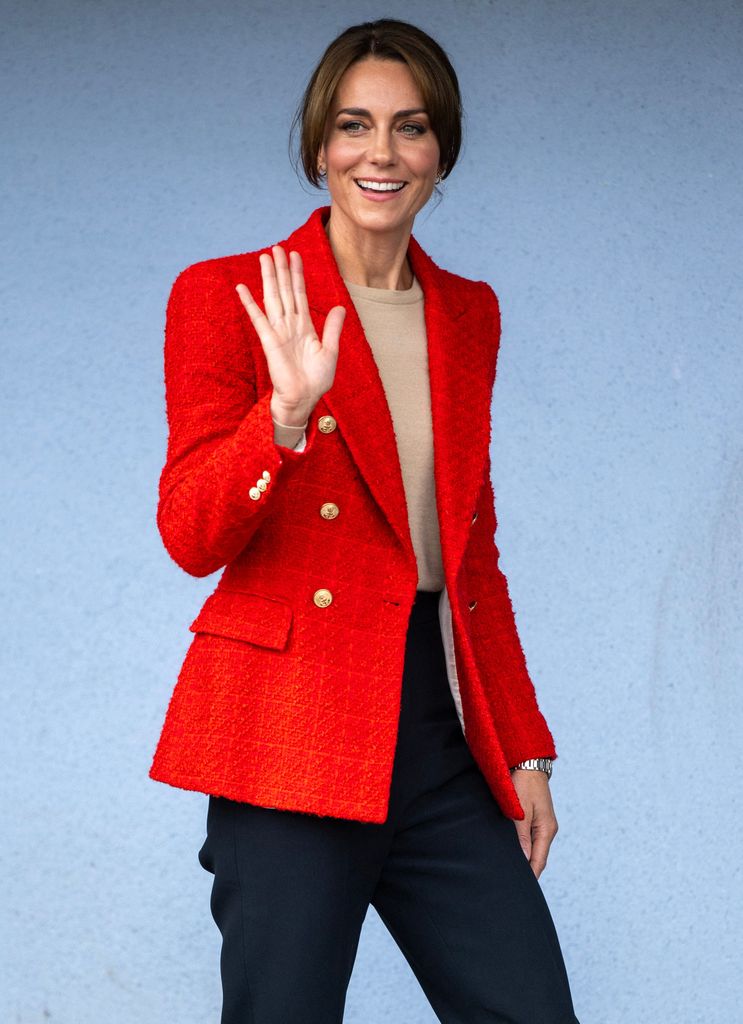 Kate's visit was the first in a series of Shaping Us engagements that will run from now until Christmas, with the focus being on children and families. It is part of her "life's work" on the early years. 
Kate launched the Shaping Us campaign in January, highlighting how essential it is to provide strong support for children, parents and carers during the earliest years and how it can have a life-changing impact. 
LISTEN: Why Prince George, Princess Charlotte and Prince Louis go to school on Saturdays