The Princess of Wales carried out very personal engagements on Tuesday as she visited textile manufacturers in Leeds and Lancaster, and even revealed her daughter Princess Charlotte's love of dancing - just like her late grandmother, Diana. 
Kate's first port of call was to textile mill, AW Hainsworth, in Leeds which has a special connection to her ancestors. 
Kate's paternal ancestors were the owners of the woollen manufacturer and merchant William Lupton & Co, and in 1958, her great-great grandfather sold the family business to AW Hainsworth.
Prince William's wife has long been passionate about the importance of the textile industry and was able to learn more about it during her tour. Take a look at the best photos from Kate's day out...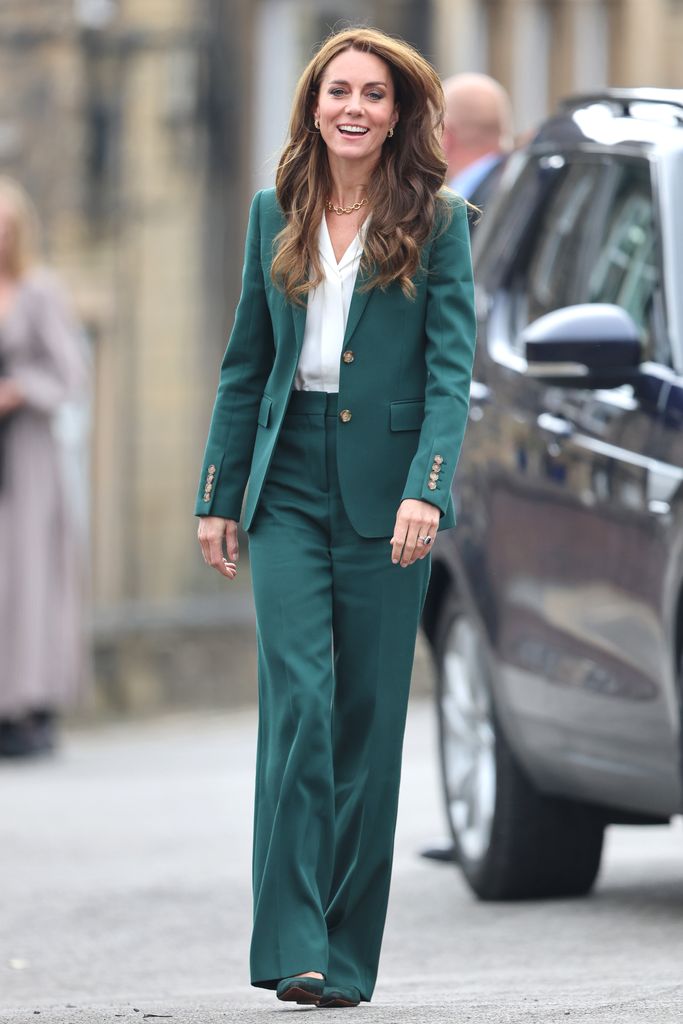 Princess Kate rocked an olive green Burberry power suit as she arrived at the textile mill. 
The corporate yet chic style is fast becoming her signature look. We spoke to royal style expert Miranda Holder about why Kate is suddenly only stepping out in suits. 
Find out what she had to say here.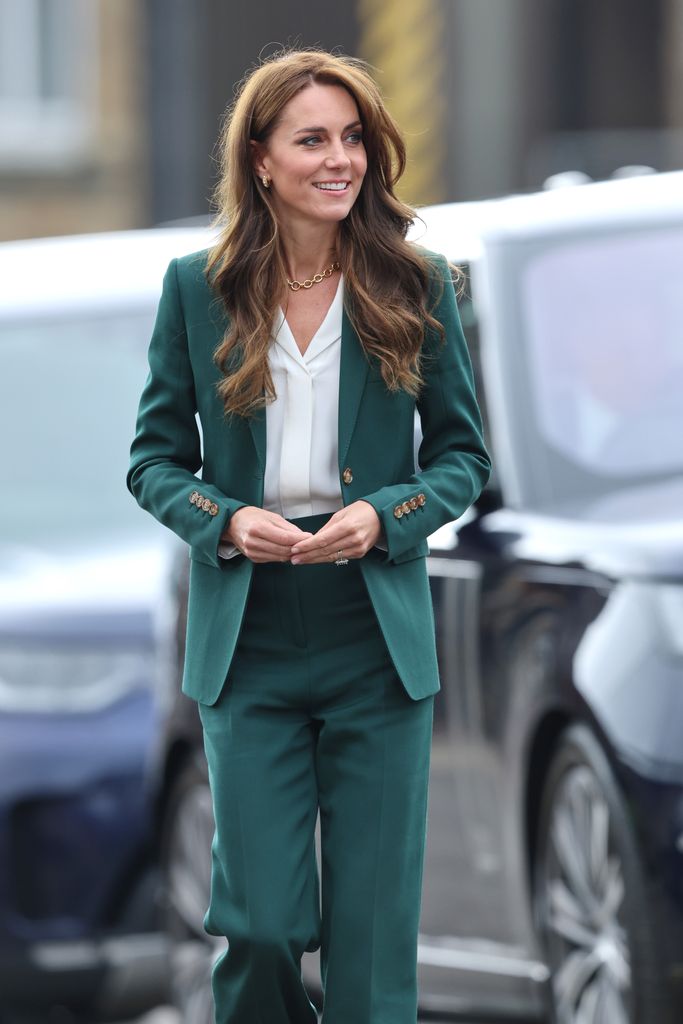 The royal mum accessorised with gold hoop earrings and a gold chain necklace.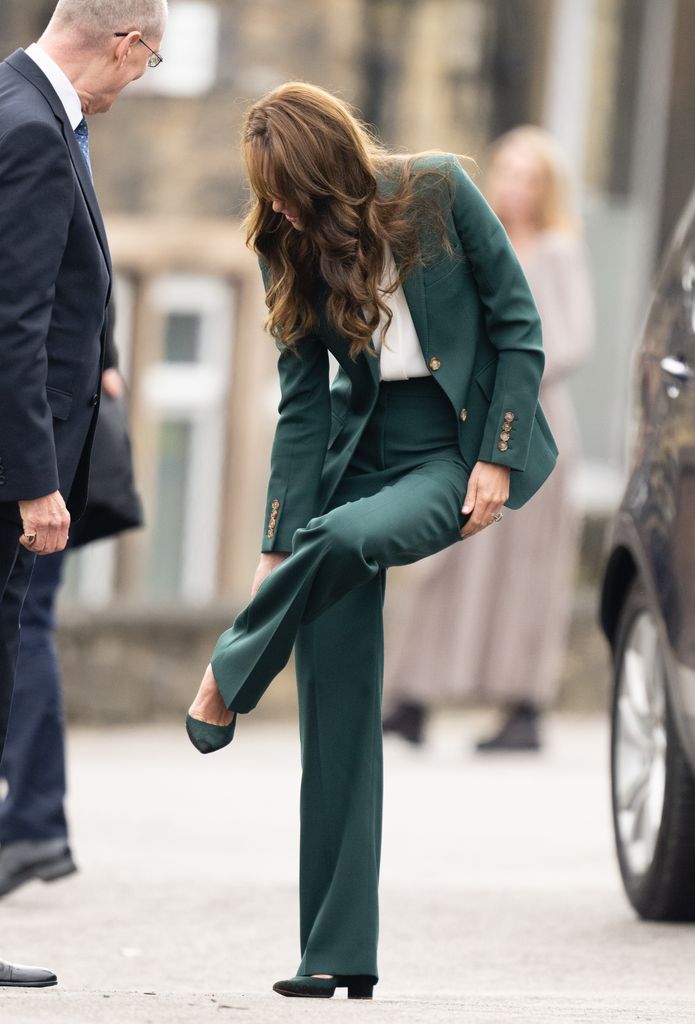 She had an awkward moment as she stopped to adjust her shoe, before meeting her welcome party.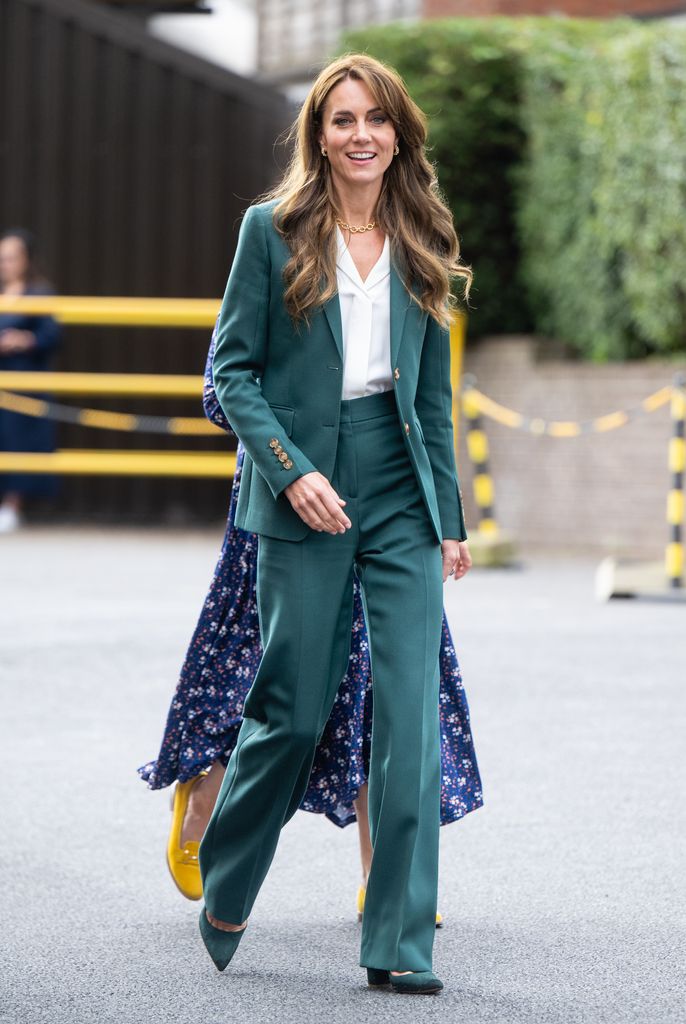 Kate laughed off the moment and headed into the textile mill, which was first established in 1738.
Her great-grandfather Noel Middleton was a director of the mill. He was married to Kate's great-grandmother Olive Lupton and the couple had three sons: Christopher, Anthony and Peter, the latter being Kate's paternal grandfather, the father of Michael Middleton.
Noel and his descendants were involved in the sale of William Lupton & Co. to AW Hainsworth.
Rachel Hainsworth, a seventh generation of the family-run business who sits on AW Hainsworth's family council, chatted to Kate about her family history. 
She said about Kate: "She knows about the history, her parents have been talking to her about it," and she was interested to hear how the Lupton company specialised in "collar Melton" a piece of woollen cloth used to give body and definition to a jacket collar.
To this day, AW Hainsworth remains a heritage textile mill that produces British woollen cloth and fabrics to a wide range of customers – from fashion and homeware brands to the Armed Forces.
Its fabrics were also on display during King Charles' coronation earlier this May, as well as Queen Elizabeth II's coronation in 1953.
Kate, who has long been passionate about the importance of the textiles industry, was given a tour of the mill and shown the traditional machinery and techniques still in use today.
During her visit, the royal grabbed handfuls of freshly-woven Merino wool fabric and declared: "I love the feel of it and the smell of it!"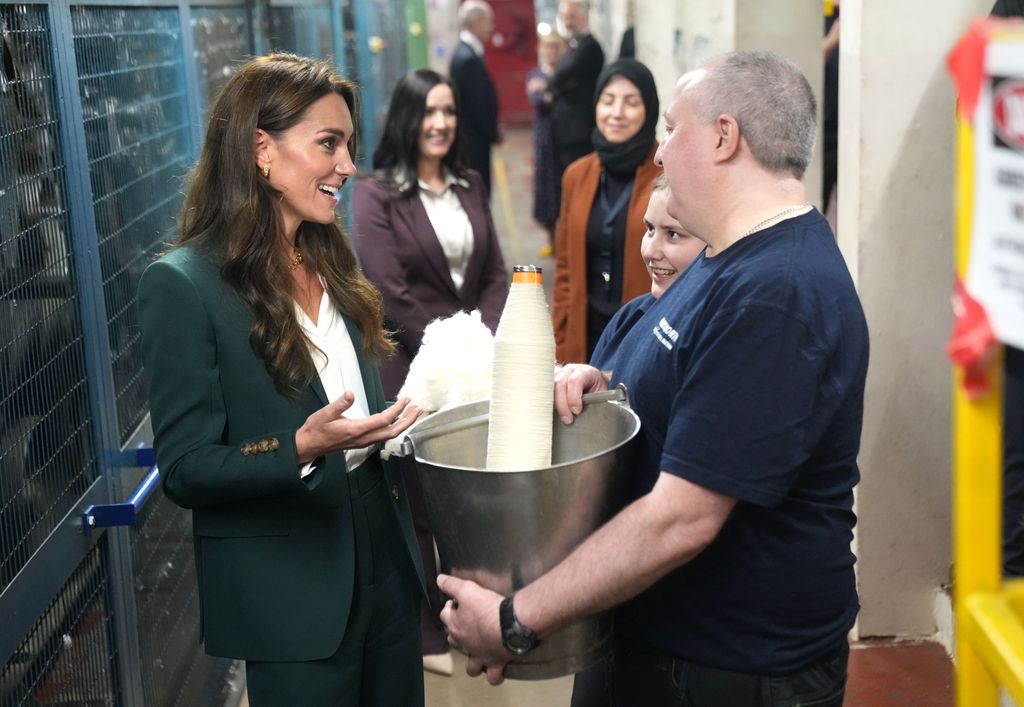 She met a number of the company's apprentices, alongside their mentors, who are learning specialist skills. 
The Princess also visited the weaving section where she spent several minutes pouring over the giant looms, as well as the dyeing area where fabric was being turned red for Buckingham Palace military uniforms.
And at one point, her eye was also caught by a group of ladies packing cream blankets with a distinctive colourful stripe for Canadian firm Hudson Bay.
"I really recognise this," she said. "I think we were given one on tour to Canada as a gift. So I've still got it. It's in a box. I'll take photograph and send it to you. I use it for the children all the time. I am going to double check when I get home and look at the label."
She added: "Is this a nice environment to work? There seems like a real family essence to the place, which is really lovely. It most be great to see the whole process."
Chairman Andrew Wright explained: "I think the fact we start with the machining and move right the way through to treating [pointing to the blanket]. I think there is maybe only one other place in the country that does that. And we have more breadth."
Kate added: "As a consumer it is so nice to be able to tell that story to understand where the produce comes from."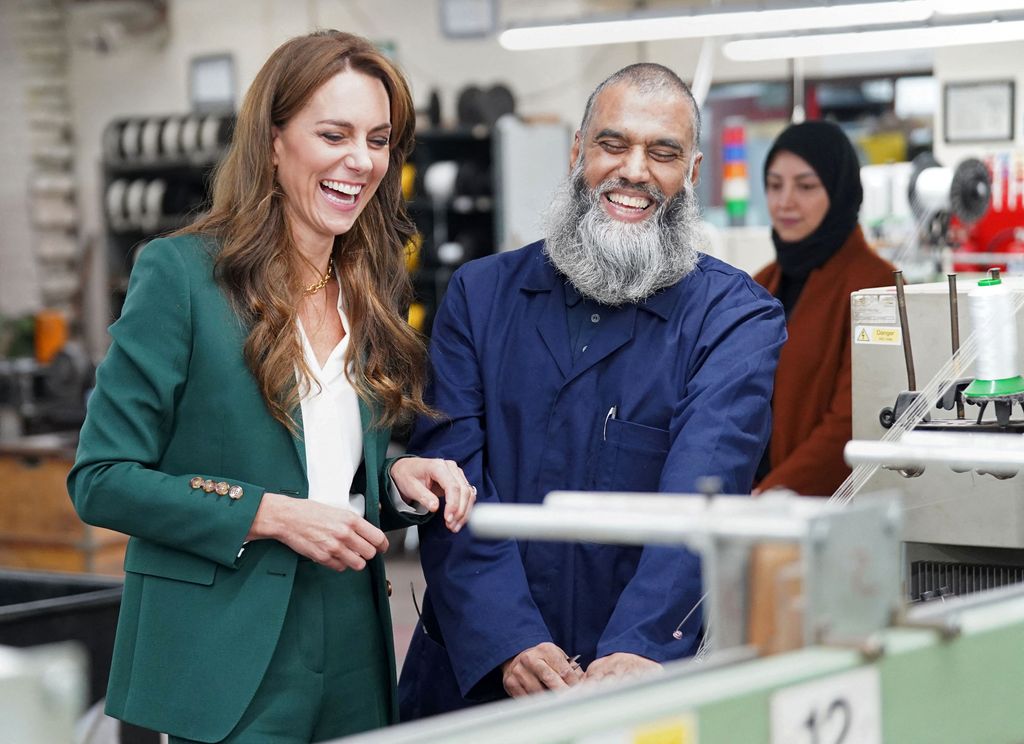 The royal appeared to greatly enjoy her visit to the textile mill, chatting and laughing with staff during her tour.
Zeb Akhtar, senior weaver trainer who talked the princess through some of the process, said afterwards: "She was very interested in the process and I talked her through how we made the cloth for the Guards on the somet loom. She had a good background knowledge. The princess wanted to know how it would stop if anything happened and as we were talking a thread snapped and it stopped automatically. We can make a hundred yards in an eight-hour shift.
"It was such a pleasure to have her, very good. We feel very proud at being a royal warrant holder. We work hard and look after the royal family whenever they call upon us."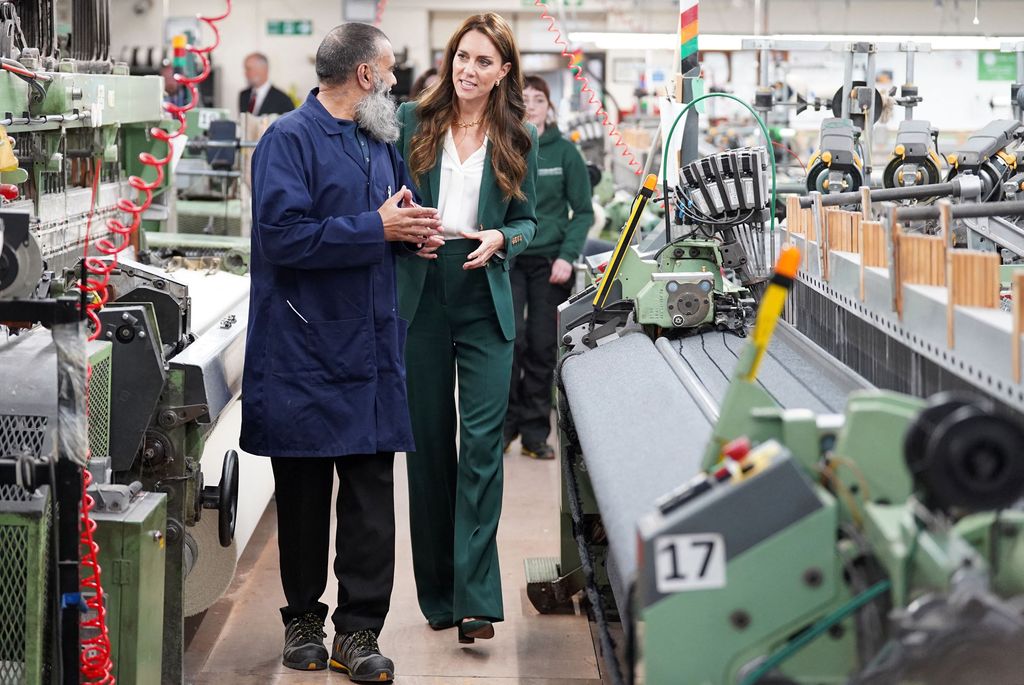 Kate was told the vital importance of the textile sector to the UK economy, and how it is constantly evolving to put an emphasis on sustainable practices.
She also visited the new state-of-the-art on-site laboratory responsible for product development.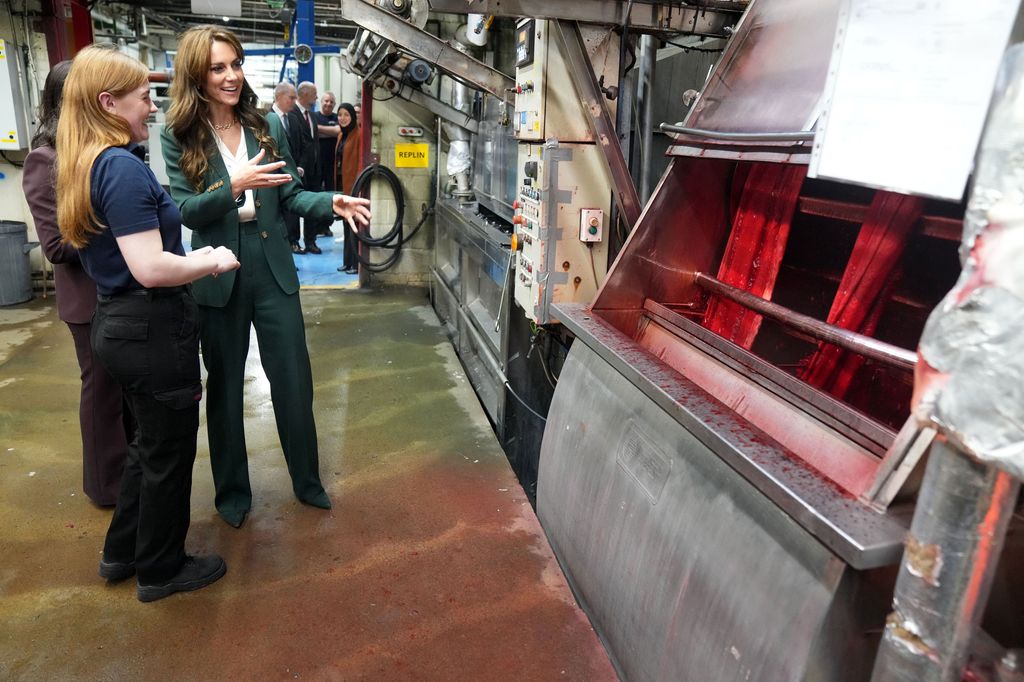 The royal was her engaging and chatty self during the visit.
At the end of her visit, she was introduced to Oliver the mannequin, who was dressed in an outfit Kate will have seen a number of times in person - a royal guardsman. 
"It's amazing to see it actually made up," she smiled.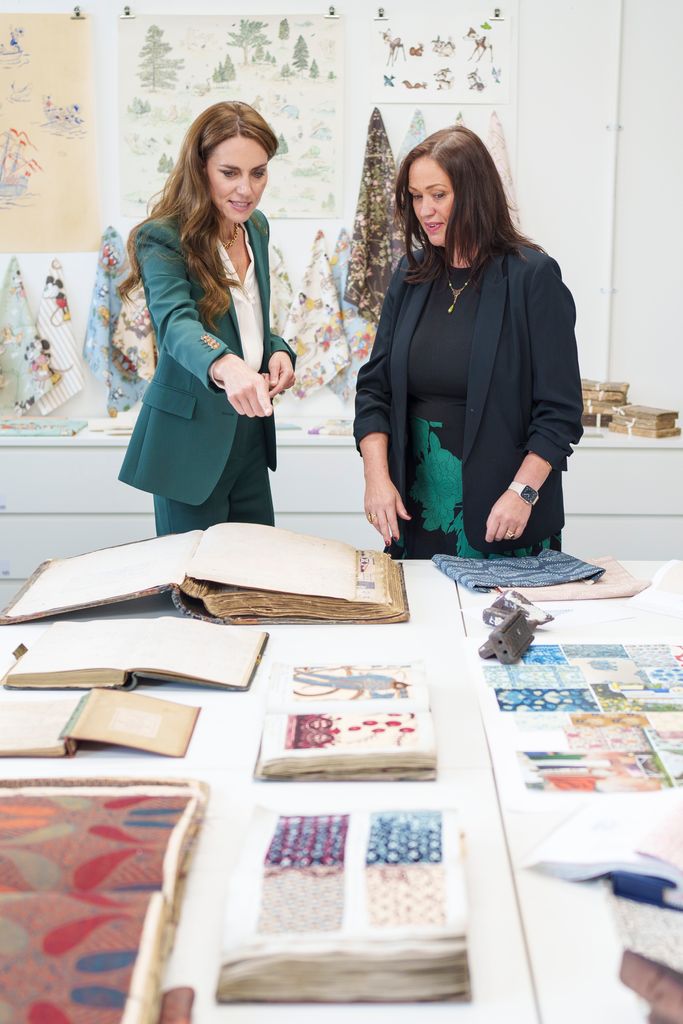 Later in the day, the mother-of-three travelled to Lancaster where she visited Standfast & Barracks, a printworks factory dating back to 1924. The printworks employs both traditional and digital processes, the latter of which uses approximately 80 litres less water than the traditional processes.
Emma Douglas, Creative Director, who showed the princess round the factory, said Kate was fascinated by the history of the designs.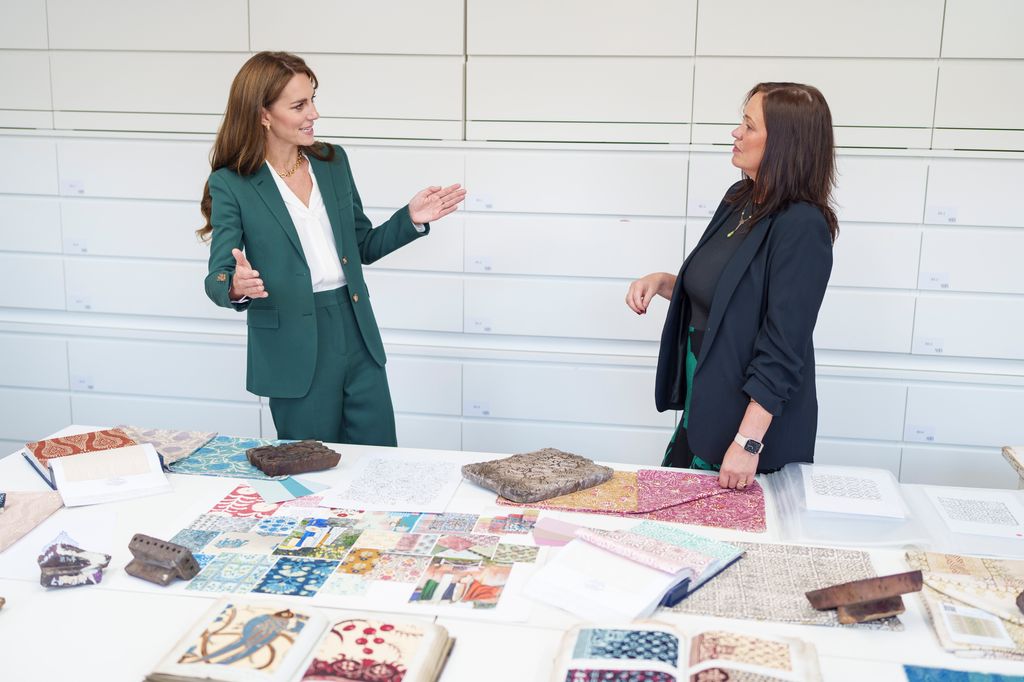 During the tour, Kate met young apprentices who Standfast & Barracks are training as part of their commitment to education and skills development.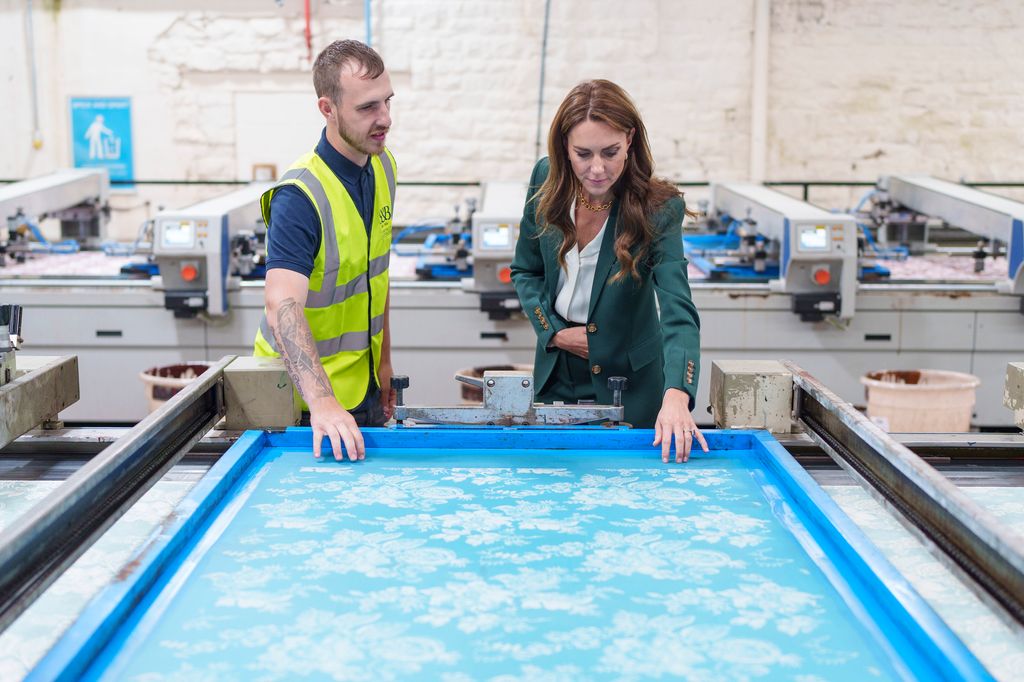 She also met the founders of British interiors brand House of Hackney, Frieda Gormley, and Javvy M Royle. 
They are now collaborating with Standfast & Barracks, to pioneer sustainable, traceable materials in their work.
Mr Royle said: "The whole re-gen thing is quite important to us, so we have been on this journey looking at all our fabrics."
Kate said: "There is a growing need, isn't there? And some understanding, from the consumer, about where their products come from."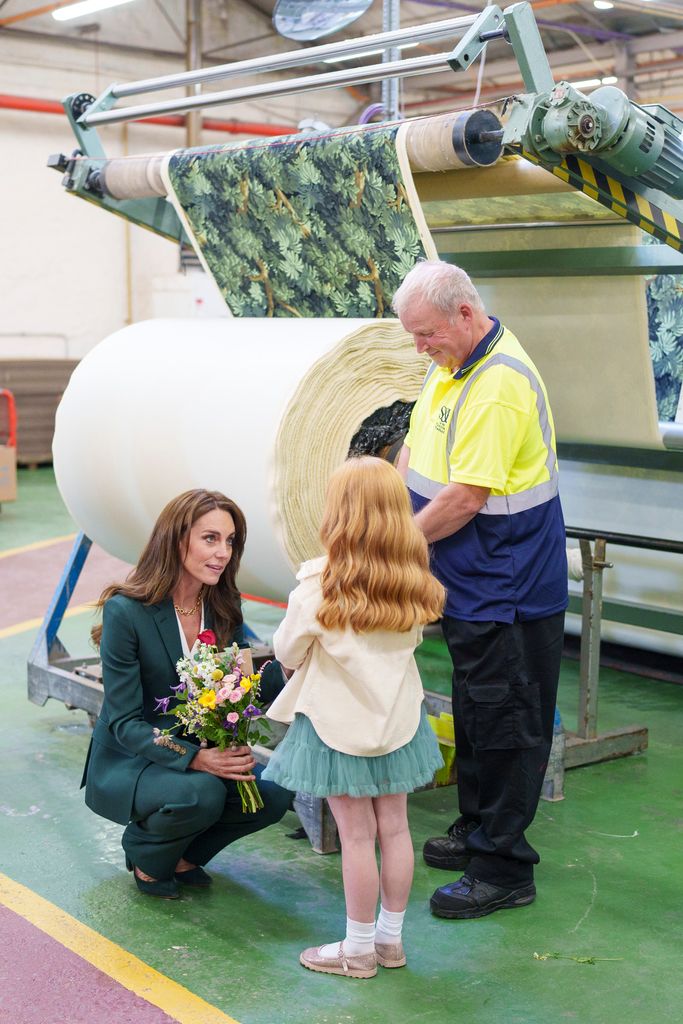 Kate rounded off her tour by meeting Peter Elliston, the factory's longest-serving employee, who will clock up half a century at the firm in November.
His granddaughter, Emily May Catto, seven, handed over a picture she had drawn and a posy of flowers to Kate, who crouched down to speak to the beaming youngster.
Emily shares an interest in dance with Kate's own daughter, eight-year-old Princess Charlotte.
Mr Elliston said: "She asked her about what colours she liked. She said keep up dancing. She told us about her daughter, Charlotte, she likes ballet and tap."