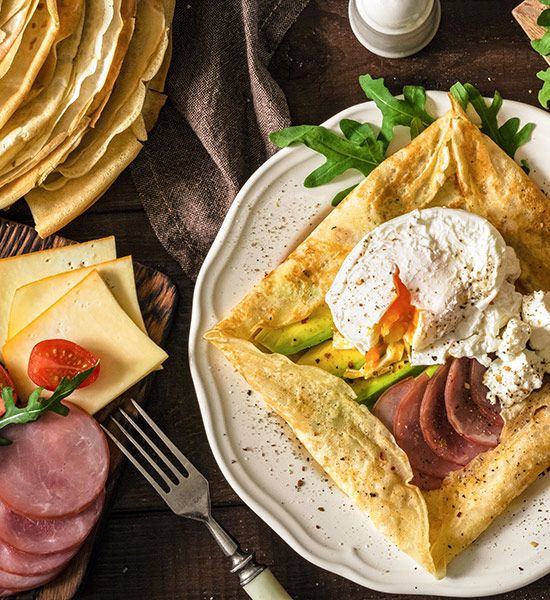 Pancake Day, or Shrove Tuesday, is the one day of the year where eating savoury and sweet pancakes for dinner is not only expected, it's encouraged. But the real question is: what pancake recipe are you going to use? Will you choose a fluffy pancake recipe, American pancake recipe, or even a pink pancake recipe and what toppings will you add?
You can't really go wrong with lemon and sugar or Nutella, but if you're feeling more adventurous this year then we've got the perfect recipe ideas for you to try, including vegetarian and vegan options too.
From strawberry and ricotta rolls to chicken tikka, keep scrolling to see how to take your Shrove Tuesday dinner to the next level...
RELATED: 12 Pancake Day essentials for a flipping brilliant lockdown Shrove Tuesday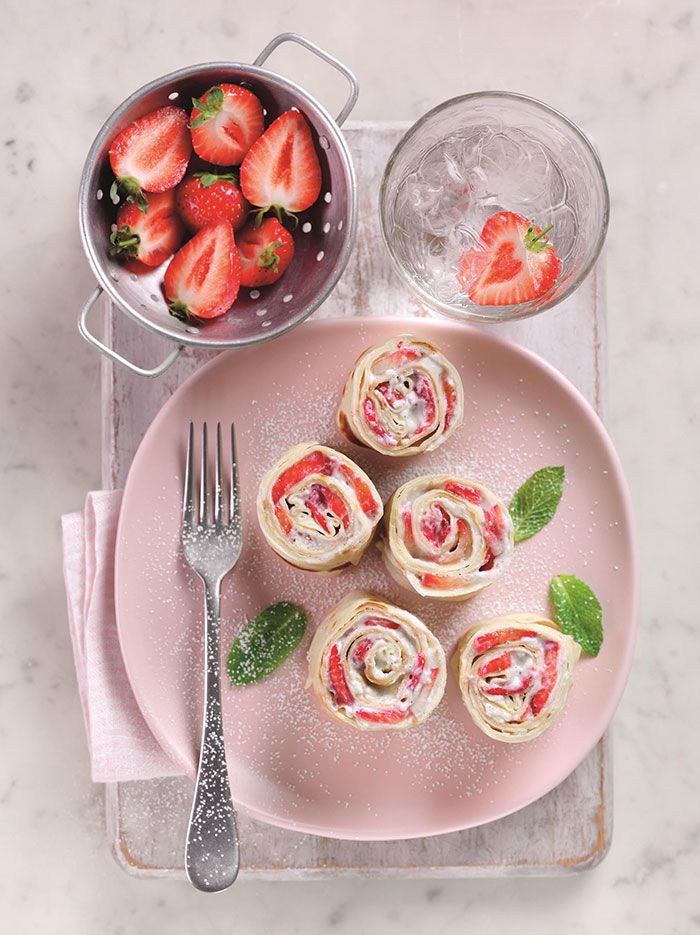 Best Pancake Day recipe...for a refreshing dessert
Strawberry & Ricotta Roll-ups
Serves 2, Preparation time 12 minutes, Cooking time 10 minutes
Ingredients:
• 150g/5oz plain flour
• 2 large British Lion eggs 
• 300ml/1/2pt semi-skimmed milk 
• A little vegetable oil or melted butter
• 1 x 200g tub of ricotta
• Zest of 1 lemon 
• Few drops of vanilla essence
• 1 tbsp honey 
• 150g/5oz strawberries, rinsed, hulled and sliced
• Icing sugar, for dusting
• Few fresh mint leaves, to serve
Method:
1. Sift the flour into a bowl to get rid of any lumps.
2. Add the eggs to the flour along with around a quarter of the milk. Whisk until smooth then gradually whisk in the remaining milk. 
3. Heat a large non-stick frying pan over a medium heat. Add a small amount of oil or butter and, using a few sheets of scrunched up kitchen paper, wipe around the pan so that it is lightly greased. 
4. Pour about 3 tbsp of batter into the pan, then swirl it around so that it thinly covers the base of the pan. Cook for 45 seconds or until golden brown then flip it over using a fish slice and cook for 30 seconds on the other side. Remove from the pan and place between sheets of baking paper and repeat the process with the remaining batter. 
5. Mix together the ricotta, lemon zest, vanilla and honey. 
6. Spread a heaped spoonful of the mixture on the surface of a pancake then scatter with strawberry slices. Repeat the process with another pancake then place it on top of the first one. 
7. Roll the stacked pancake up into a tight roll then cut into 2cm/3/4in thick pieces and serve with a dusting of icing sugar and a few mint leaves scattered around.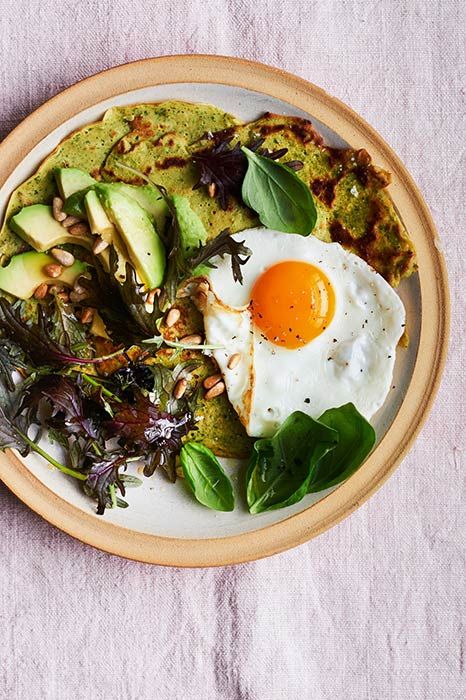 Best Pancake Day recipe...for vegans
Award-winning Chef And Author Anna Jones' Green Chickpea Pancakes 
Makes 12 pancakes, Preparation time 20-25 minutes, Cooking time 5-10 minutes
Ingredients:
• 250g/9oz chickpea flour
• 350ml/12fl oz Rude Health Oat Milk 
• 50g/2oz ready prepared spinach
• A small bunch of fresh parsley 
• Zest of 1 lemon 
• Salt and freshly ground black pepper
• Coconut oil or groundnut oil, for cooking
Variations
Replace the spinach with 1 x medium grated beetroot or 1 x medium grated carrot 
Method:
1. Add all the ingredients to a blender (except the oil) and season well with salt and freshly ground pepper. Blend on high until the mixture is a thin smooth pancake batter. 
2. Heat 1 tsp of the oil in a medium-sized non-stick frying pan over a medium heat. Add a small ladle of the batter to the frying pan. Working quickly swirling it around so the batter covers the base of the pan and cook for a couple of minutes, then flip over and cook on the other side for another 30 seconds. 
3. Repeat for the rest of the batter, adding a little more of the oil each time. Stack on a plate with greaseproof in between each one and keep warm in a low oven. 
4. Top with your favourite sweet or savoury combinations, there are some suggestions below.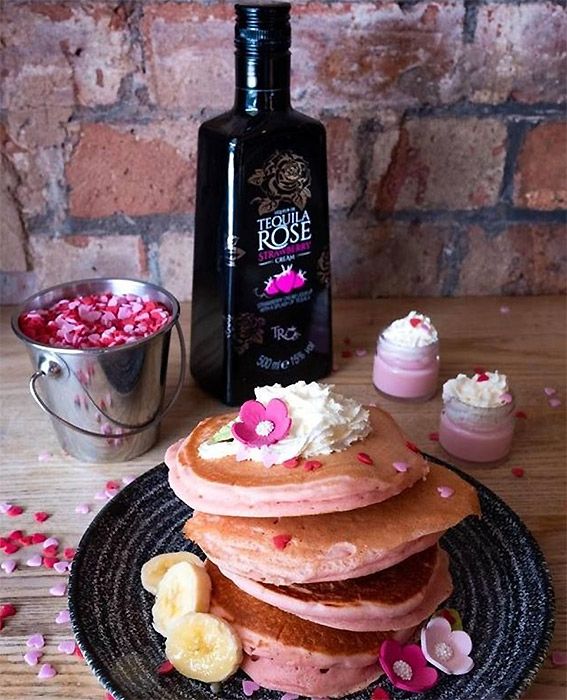 Best Pancake Day recipe...for an Instagrammable dish
INGREDIENTS:
Pink food colouring

Tequila Rose

135g plain flour

1 tsp baking powder

½ tsp salt

2 tbsp caster sugar

130ml milk

1 large egg, lightly beaten

2 tbsp melted butter (allowed to cool slightly) or olive oil, plus extra for cooking
INSTRUCTIONS:
1. Sift the flour, baking powder, salt and caster sugar into a large bowl. In a separate bowl, lightly whisk together the milk and egg, then whisk in the melted butter.
2. Pour the milk mixture into the flour mixture and beat with a fork until you have a smooth batter - let it stand for a few minutes.
3. Add a drop of pink food colouring and mix, add more if needed until desired shade of pink
4. Heat a non-stick frying pan over a medium heat and add a knob of butter. When melted, add a ladle of batter. Wait until the top of the pancake begins to bubble, then turn it over and cook until both sides are golden brown and the pancake has risen to about 1 cm thick
5. Stack the pancakes then decorate with whipped cream, strawberries and drizzle over Tequila Rose, which is priced at £12 and available at all good supermarkets.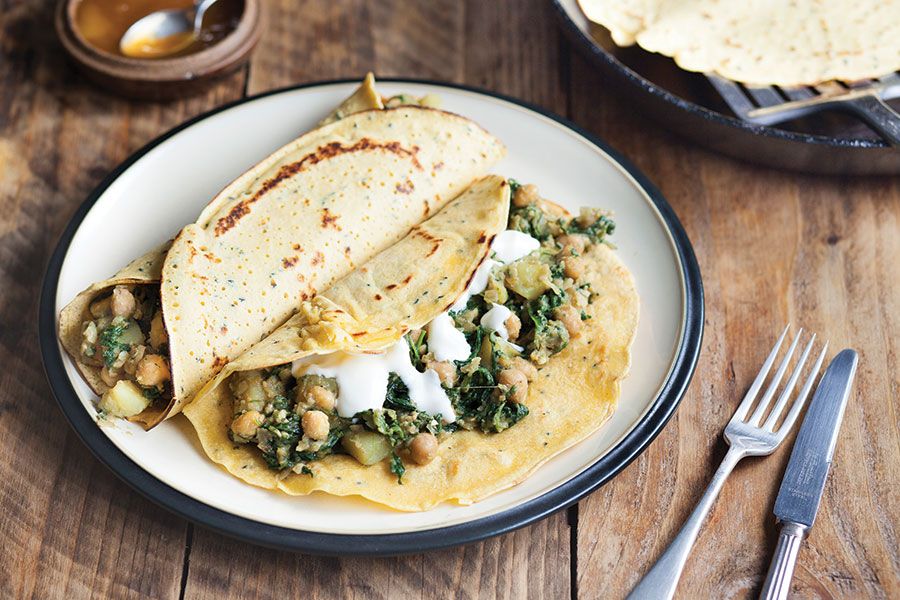 Best Pancake Day recipe...for something different
Spinach and Potato Chickpea Pancakes with Mango Chutney
Serves: 2
Ingredients:
1 baking-sized potato

1 onion

1 garlic clove

300g spinach

1 tin chickpeas

1 ½ tbsp Madras curry paste

150g chickpea flour

1 tsp black onion seeds

Oil for frying e.g. sunflower

1 lemon

2 tbsp mango chutney

120g yoghurt
Method:
1. Put a saucepan of salted water on to boil. Peel the potato and cut into approx. 2cm cubes. Add the potato to the water. Return to a boil and cook for 5-6 mins, until just tender, then drain into a sieve.
2. Meanwhile, peel, halve and finely slice the onion. Peel and finely chop 1 garlic clove. Wash the spinach. Strip the leaves off the stalks. Roughly shred the leaves. Drain and roughly chop the chickpeas.
3. Heat 1 tbsp oil in the saucepan you cooked the potatoes in. Add the onion. Reduce to a low heat. Cook for approx. 3-4 mins, until softened but not coloured.
4. Add the potato, garlic, chickpeas, curry paste (see cook's note) and 2 tbsp water to the onion. Stir over a medium heat for approx. 2 mins, until fully coated in the curry paste. Simmer over a low heat while you cook the pancakes.
5. Sift the chickpea flour into a bowl. Add 220ml water and the black onion seeds. Whisk to combine, then season. Grease a frying pan with a little oil. Add a ladle of batter to the frying pan (see cook's note).
6. Cook the pancake for approx. 1-2 mins, until small bubbles begin to form on the surface. Carefully turn over and repeat on the other side, until golden brown. Continue this process until all the batter has been used - there is enough batter to get 4 pancakes.
7. Add the spinach to the potatoes. Stir for approx. 3-4 mins, until wilted. Add the spinach bit by bit if it doesn't all fit in one go.
8. Slice the lemon into wedges. Divide the pancakes between 2 plates. Fill with the spiced potato mixture. Serve with the chutney, yogurt, and lemon wedges.
For more information visit riverford.com/recipes
MORE: How to make perfect pancake mix
Best Pancake Day recipe...for curry-lovers
Waitrose's Chicken tikka pancakes with mango chutney
Serves: 4Preparation time: 30 minutesCooking time: 20 minutes
Ingredients:125g plain flour1 medium Waitrose British Blacktail Free Range Egg300ml semi-skimmed milk1 green chilli, deseeded and finely chopped1 tsp ground cumin2 tbsp sunflower oil2 x 300g packs Waitrose British Chicken Breast Chunks In A Spiced Tikka Marinade4 salad onions, sliced4 tbsp Geeta's Premium Mango Chutney4 tbsp low fat Greek yogurt
Method:
1. Sift the flour and a pinch of salt together into a bowl. Make a well in the centre and add the egg and half the milk. Whisk together well then stir in the rest of the milk to make a smooth batter. Stir in the chilli and cumin, and set aside for 30 minutes.
2. Reserve 1 tbsp of the oil, then heat a little of the remaining oil in an 18cm pancake pan or shallow frying pan and add a ladleful of the batter. Swirl it around the pan and cook for 1–2 minutes each side until golden. Transfer to a plate and keep warm. Repeat with the remaining mixture to make 8 pancakes, keeping them warm, separated with sheets of kitchen paper.
3. Heat the rest of the oil in a large, non-stick frying pan and cook the chicken for 10–12 minutes, turning occasionally, until cooked through with no pink meat. Divide the chicken between the pancakes, putting it on one quarter of the pancake, and top with the salad onions, mango chutney and yogurt. Fold up the pancakes to make parcels, and serve.
For more information visit waitrose.com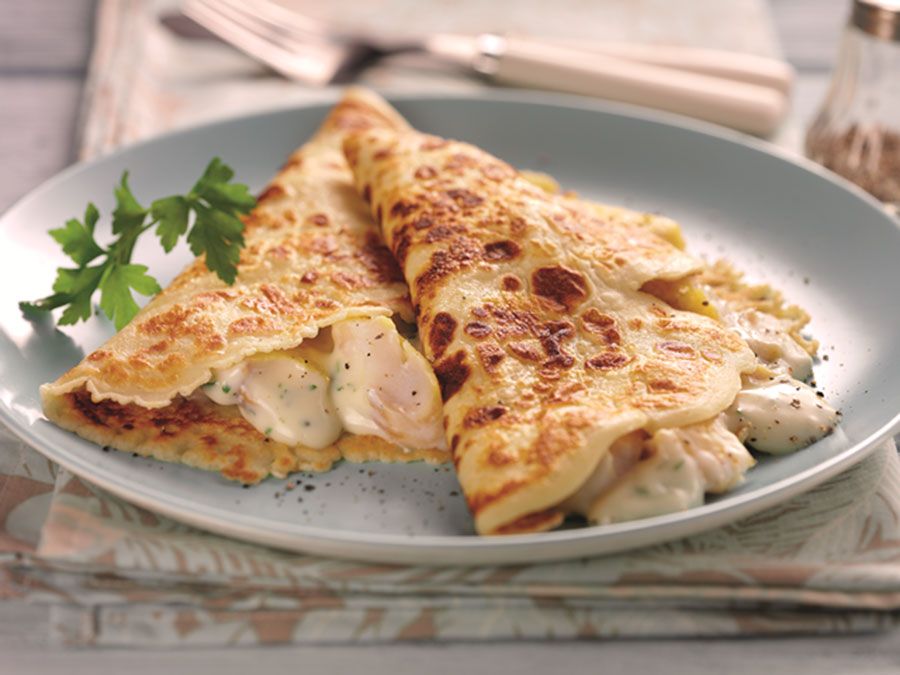 Best Pancake Day recipe...for a savoury delight
Smoked Haddock Pancakes
Serves: 4Cooking time: 25 minutesSuitable for home freezing
Ingredients:
For the pancakes:100g plain flourLarge pinch of salt1 large egg300ml milk2-3 tsp Trex
For the filling:A little Trex, for greasing300g smoked haddock fillets, skinned600ml milk, warmed40g plain flour40g butter3 tbsp Chopped fresh parsleyFreshly ground black pepper75g Mature Cheddar cheese, grated
Method:
1. Sift the flour and salt into a large bowl. Add the egg and milk and beat with a wire whisk or electric hand held whisk to make a smooth batter.
2. Heat a small pancake pan or heavy-based frying pan, then add a tiny knob of Trex, swirling it around the pan until melted. Pour in a thin stream of batter, tilting the pan so that it flows evenly across the surface. Cook over a medium heat until set, then flip the pancake over to cook the other side. Cook 8 small pancakes altogether, adding a little Trex to the pan before cooking each one.
3. Preheat the oven to 180°C/fan oven 160°C/ Gas Mark 4. Grease a large, shallow baking dish with a little Trex.
4. Put the haddock fillets into a frying pan with half the milk. Simmer gently for 6-8 minutes until the fish is cooked. To test that it is done, the flesh should look opaque and will flake easily. Strain the cooking liquid into a saucepan. Flake the fish with a fork, removing any bones.
5. Pour the remaining milk into the saucepan and add the flour and butter. Bring to the boil, stirring constantly with a wire whisk to make a smooth, thick sauce. Remove from the heat and gently stir in the fish and parsley. Season to taste with black pepper. (The fish is salty, so you are unlikely to need any salt.)
6. Lay the pancakes on a work surface and fill them with an equal amount of the fish mixture. 7. Roll them up and lay them in the baking dish. Sprinkle the cheese on top, then bake in the oven for 20-25 minutes, or until piping hot.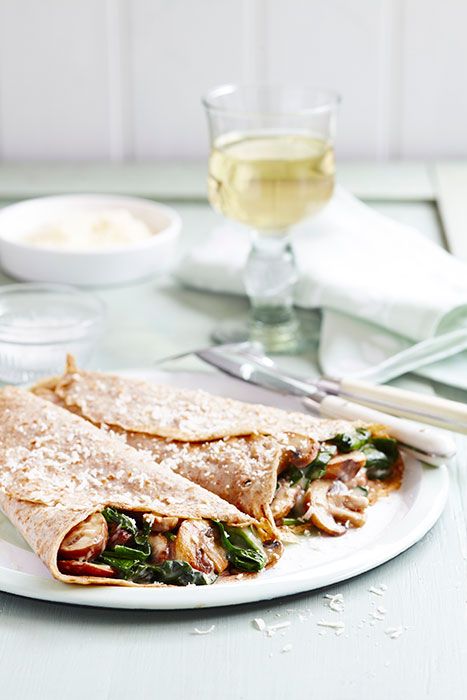 Best Pancake Day recipe...for a veggie hit
Buckwheat Pancakes with Creamy Mushrooms and Spinach
Serves: 4Preparation time: 15 minutesCooking time: 10 minutes
Ingredients:
For the pancakes:275ml Alpro Almond Unsweetened drink1 egg55g wholewheat flour55g buckwheat flour30g butter for frying
For the filling:50g flour50g butter275ml Alpro Almond Unsweetened¼ tsp nutmegA pinch of salt50g grated parmesan100g sliced chestnut mushrooms3 large handfuls of baby spinach leavesOlive oil
Method:
For the filling:
1. Melt 50g of butter in a small saucepan. Add plain flour to the pan and stir to create a paste-like consistency. Continue cooking for a further 30 seconds. Gradually add in the Alpro Almond Original stirring vigorously until you have a smooth white sauce. Make sure to stir continuously to prevent lumps forming.
2. Drizzle the olive oil in a small frying pan on a high heat. Fry the mushrooms until brown. Throw in the spinach leaves and allow to wilt.
3. Stir the mushrooms and spinach into the white sauce and stir.
4. Add in the grated parmesan, nutmeg and season to taste.
For the pancakes:
1. To make the pancakes, place the two types of flour into a large bowl and make a small well in the middle of the bowl. Lightly whisk the egg into the Alpro Almond Original.
2. Pour some of the egg mixture into the middle of the well and begin to whisk. Continue adding the liquid and whisking until you have a smooth batter.
3. Melt the butter in a non-stick frying pan and add in a ladle of the pancake batter. Swirl the pan to evenly coat the base. Flip the pancake to cook both sides until golden. Repeat until all the batter is used.
4. Spoon some of the mushroom and spinach filling into the middle of the pancakes and fold the sides in to create a parcel.
SHOP: 5 best waffle makers for tasty lockdown breakfasts in 2021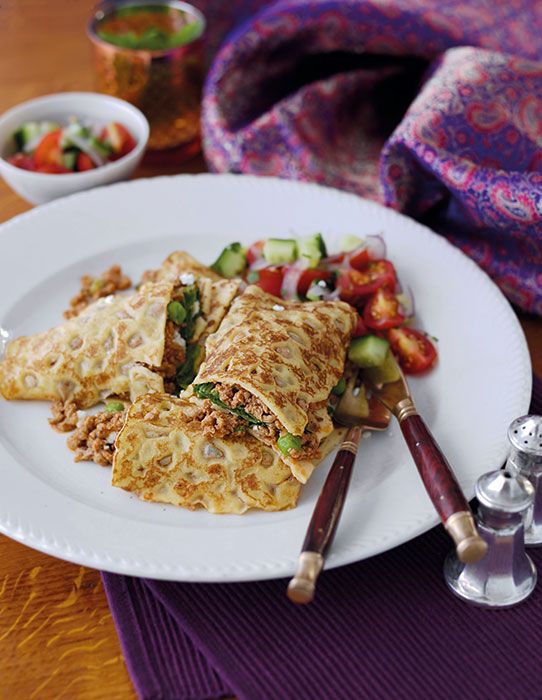 Best Pancake Day recipe...for those craving Indian
Keema-Filled Pancakes
Serves: 4 to 6 peoplePreparation time: 10 minutesCooking time: Under 15 minutes
Ingredients:375g/12oz prepared lamb keema6-8 prepared plain pancakes (You can make these from scratch if you prefer)50-75g/2-3oz baby spinach leaves, roughly torn50g/2oz Feta cheese, crumbledSmall handful freshly chopped flat-leaf parsley or coriander (optional)Extra crumbled Feta cheese, to garnish
Method:
1. Put the prepared keema in a large mixing bowl and stir with a wooden spoon to break up the mixture.
2. Lay each pancake on a clean chopping board and spoon 30ml/2tbsp of the keema mixture down the centre. Add the spinach leaves and top with the feta. Roll up and transfer to a lightly oiled heatproof dish.
3. Cook in a preheated oven at 220C/Gas mark 7 for 10 minutes until piping hot.
4. Transfer the pancakes to warm plates, cut in half, sprinkle with the herbs if used and serve immediately with a cucumber and tomato salad.
For more information visit simplybeefandlamb.co.uk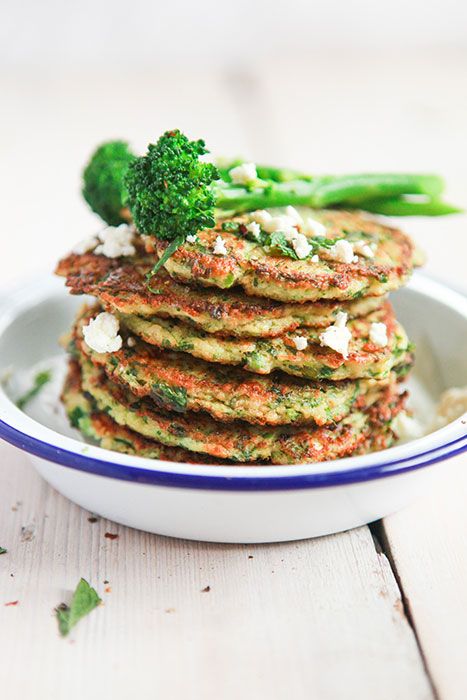 Best Pancake Day recipe...for a healthy dinner
Tenderstem® couscous pancakes
Serves: 6Preparation time: 30 minutesCooking time: 10 minutes
Ingredients:150g Tenderstem®50g raw couscous80g crumbled feta1 clove garlic, finely chopped3 sprigs mint, finely chopped3 sprigs parsley, finely chopped2 pinches dried chilli flakes3 eggs, whisked2 tbsp plain yoghurt, to serve (optional)
Method:
1. Blanch the Tenderstem® in boiling salted water until bright green, drain and leave to cool. Once cooled blend in a food processor until finely chopped.
2. Measure the couscous into a bowl and cover with 60ml of boiling water, which should just cover the couscous. Cover with cling film for 5 minutes until completely absorbed. Once cooked, run a fork through the couscous to fluff it up.
3. Add the chopped Tenderstem®, feta, garlic, mint, parsley, chilli, eggs, salt and pepper to the couscous and mix thoroughly.
4. Heat a non-stick frying pan on a medium heat with some olive oil and spoon one and half tablespoons of the mix into the pan.
5. Fry until golden brown on both sides.
6. Serve with a sprinkle of feta and a couple of pieces of steamed Tenderstem® on top, or add a dollop of yoghurt.
For more information visit tenderstem.co.uk
READ NEXT: How Prince George is celebrating Pancake Day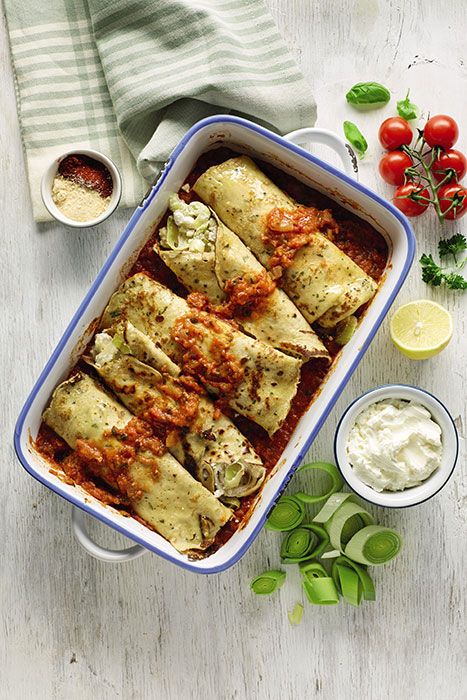 Best Pancake Day recipe...for a flavour sensation
Aldi Leek and Goats Cheese Pancakes
Serves: 4Preparation time: 25 minutesCooking time: 40 minutes
Ingredients:
For the pancakes:100g The Pantry Plain Flour2 medium Eggs250ml Milk1 tsp Stonemill Paprika1 tsp Stonemill Garlic Granules2 tsp Stonemill Dried Parsley10ml Rapeseed oilBlack pepperSunflower oil, to fry20cm frying pan
For the filling:300g Leeks25g Salted butter150g log Goats' CheeseBlack pepper
For the sauce:1 Small onion400ml tin Sweet Harvest Chopped Tomatoes30ml The Pantry Lemon Juice10g Fresh basil20ml Olive oil1 tsp Stonemill Paprika
Method: 
For the pancakes:
1. Whisk the eggs with the milk. Add the paprika, garlic, parsley, rapeseed oil and some black pepper, then whisk well.
2. Sift the flour into another bowl, make a well in the centre and gradually add the milk mix until you have a smooth batter.
3. Make 8 pancakes with the mix and put to one side.
For the filling:
1. Wash the leeks well – dry and slice.
2. Melt the butter in a frying pan – add the leeks and cook stirring for about 5 minutes until just tender.
3. Add the goats' cheese, season with black pepper and cook until melted - put to one side.
For the sauce:
1. Peel, halve and finely chop the onion. In a small frying pan, sauté the chopped onion in the olive oil for a couple of minutes.
2. Add the tinned tomatoes, paprika and lemon juice. Chop the basil and add to the sauce. Heat through then liquidise.
3. Heat the oven to 200°C/400°F/Gas Mark 6.
4. Lay the pancakes out. Divide the mixture between them and roll up.
5. Put into a baking dish, pour over the sauce and bake in the oven for 20 minutes, then serve.
MORE: Phil Vickery's kitchen secrets: This Morning chef shares his top canned food recipes for breakfast, lunch and dinner