You might think that the red carpet is a 21st-century phenomenon, but the glittering world of the Georgian court put on a spectacle long before the likes of Lady Gaga, Lizzo and Billie Eilish became household names.
Crown to Couture is a stunning new exhibition at Kensington Palace, which explores fascinating parallels between the modern day red-carpet and the world of the royal court in the 18th century, including the ever-popular 'get ready with me' behind-the-scenes videos.
 "One of the things that really fascinates me is that today we have all these social media videos of celebrities getting ready and weirdly, it was also quite a public thing in the 18th century," Curator of Collections at Historic Royal Palaces, Polly Putnam, tells HELLO!.
 "Women of a certain social standing would be given amazing silver toilet services, which are far prettier than they needed to be. But they were actually objects which were all about the show. So, it was actually kind of a public event, but also quite a power play."
 HELLO! got to check out the Crown to Couture exhibition ahead of its opening on 5 April, and we got an even closer look at some of its contemporary pieces, including Beyonce's 2017 GRAMMYs dress and Katy Perry's Moschino chandelier creation worn at the 2019 Met Gala. Let us take you on a tour...
Nearly four years in the making, it is the biggest exhibition ever staged at Kensington Palace.
It brings together more than 200 items – ranging from gowns to handbags and jewellery – many of which are instantly recognisable.
CELEBRITY STYLE:  14 show-stopping red carpet looks from the 2023 CMT Music Awards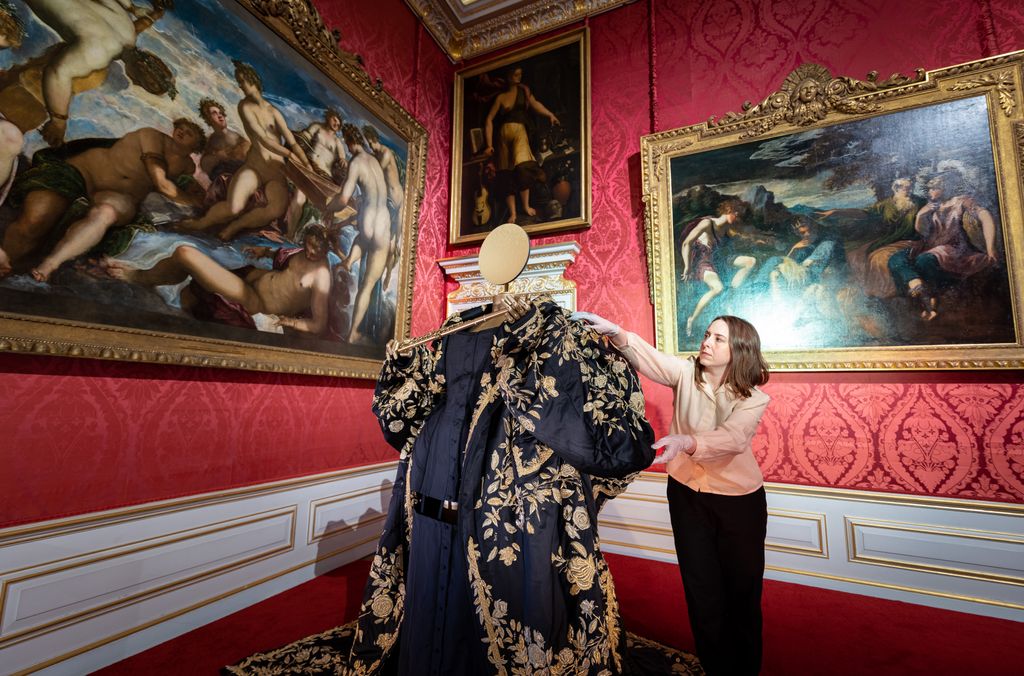 The exhibition opens with an iconic piece – Audrey Hepburn's white lace dress adapted by Givenchy and worn to the 1954 Oscars, where she won an award for Best Actress. It's displayed alongside the historic Silver Tissue gown, on loan from the Fashion Museum Bath, and is believed to have been worn by Lady Theopila Harris in the 1660s.
 The past influencing the present is a continuous theme throughout the exhibition, with Kendall Jenner having her own My Fair Lady moment at the 2021 Met Gala in a sheer sparkling Givenchy gown, which is displayed opposite a silver dressing toilet set.
 Meanwhile, Phoebe Waller-Bridge's blush plunging Monique Lhuillier worn to the 2019 Grammys is posed in situ among the couture gowns in the Queen's Gallery, which also includes pieces by Erdem, Louis Vuitton and more.
The King's Gallery, which once formed one of the central spaces "to see and be seen" at the Palace is now filled with a stellar line-up of pieces on display. There's Lizzo's black and gold two-piece worn to last year's Met Gala, alongside Lady Gaga's voluminous green ball gown by Christopher John Rogers and horned face mask from the 2020 VMAs.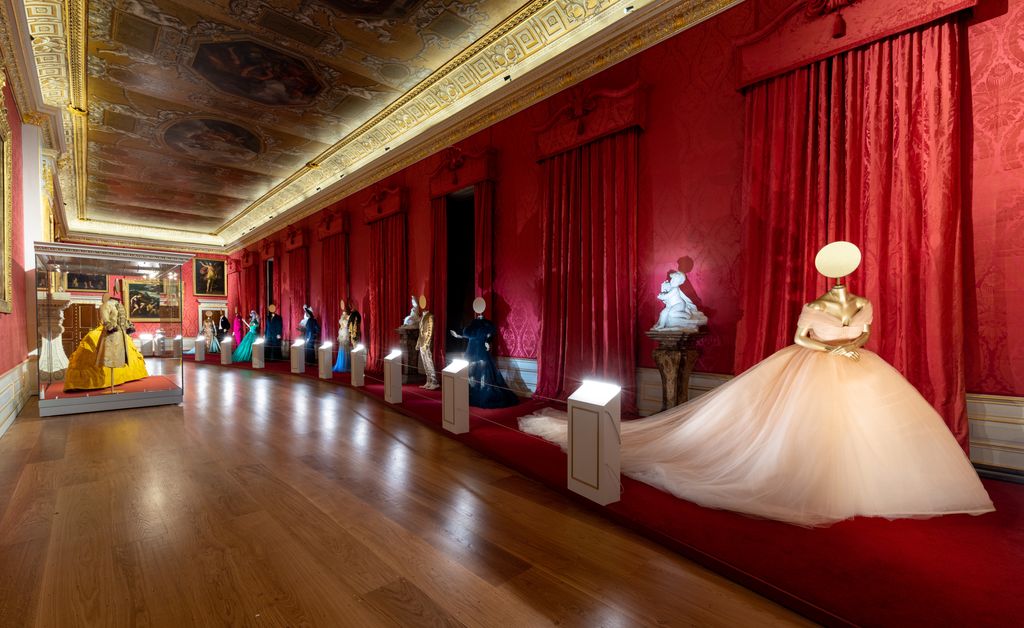 Another stand-out piece is Billie Eilish's showstopping custom tulle corset gown by Oscar de La Renta for her Met Gala debut in 2021, featuring a 15-foot train.
 Making a statement through fashion has existed for centuries and despite the length of Billie's gown, it is practically dwarfed by its neighbour in the glass cabinet opposite – one of the widest court dresses in existence, which was worn in 1760.  
 The exhibition ends with a look to the future of the red carpet, with celebrities and stylists now trying to find ways to be more sustainable.
 There's a 1950s Dior gown, designed by Saint Laurent and worn by Bella Hadid at the Prince's Trust Gala in New York last year. It sits with Cate Blanchett's 2018 caped Stella McCartney number and a dress coveted by Emma Watson at the 2021 Earthshot Prize Awards, which was created by Harris Reed, who used wedding dresses found in Oxfam.
 Crown to Couture is at Kensington Palace from 5 April to 29 October, and is included in general admission, visit hrp.org.uk for tickets.
Want to keep up to date with the latest stories? Sign up to our HELLO! Newsletters today.