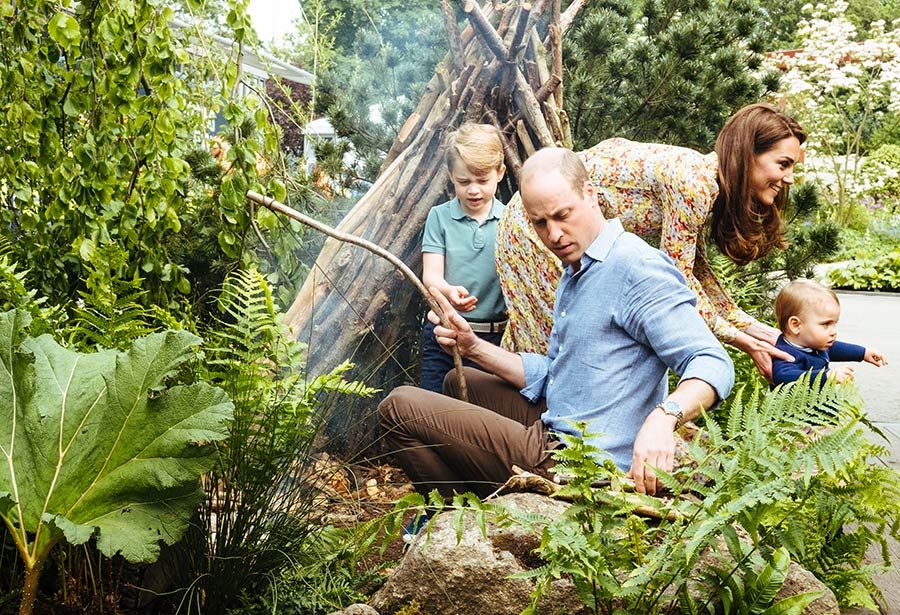 It's a double celebration in the Cambridge household as Prince William is toasting his 38th birthday on Father's Day! In honour of this special occasion, here at HELLO!, we take a look back at some of the royal's memorable moments as a doting father.
GALLERY: 7 heartwarming photos of royal dads kissing their children
There's no denying that both he and the Duchess of Cambridge are completely devoted to their children, determined to give their them as normal an upbringing as possible. They rarely take Prince George, Princess Charlotte and Prince Louis on official engagements and have a very hands-on approach to parenting. However, over the years, the Cambridges have surprised fans with the occasional high-profile outing – including Trooping the Colour and at last year's Chelsea Flower Show.
MORE: Who are Prince William's most trusted friends?
At that event, William showed off his paternal side, cooing over baby Louis and asking his daughter Charlotte to push him on a rope swing. The Duke also sweetly chatted to his eldest child George, asking the youngster what he thought of the Back to Nature garden Kate had co-designed. "Twenty out of ten," George said, rating his mum's garden. "That's pretty good, I think mummy's done well," William said. Sitting on the swing, William then turned his attention to his daughter and said: "Charlotte, give me a push," as the little girl ran over to him.
Let's take a look at more of William's cutest bonding moments with his kids…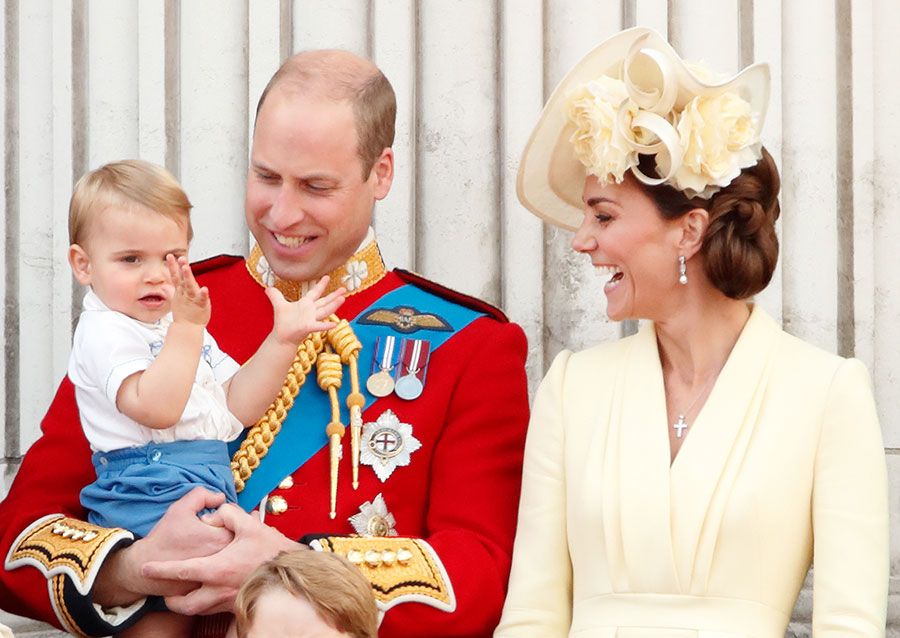 On 8 June 2019, Prince William and Kate's youngest son, Prince Louis, attended his very first Trooping the Colour as he joined the royal family in celebrating the Queen's official birthday. Prince William lovingly carried their son in his arms whilst watching the spectacular RAF flypast from the Buckingham Palace balcony.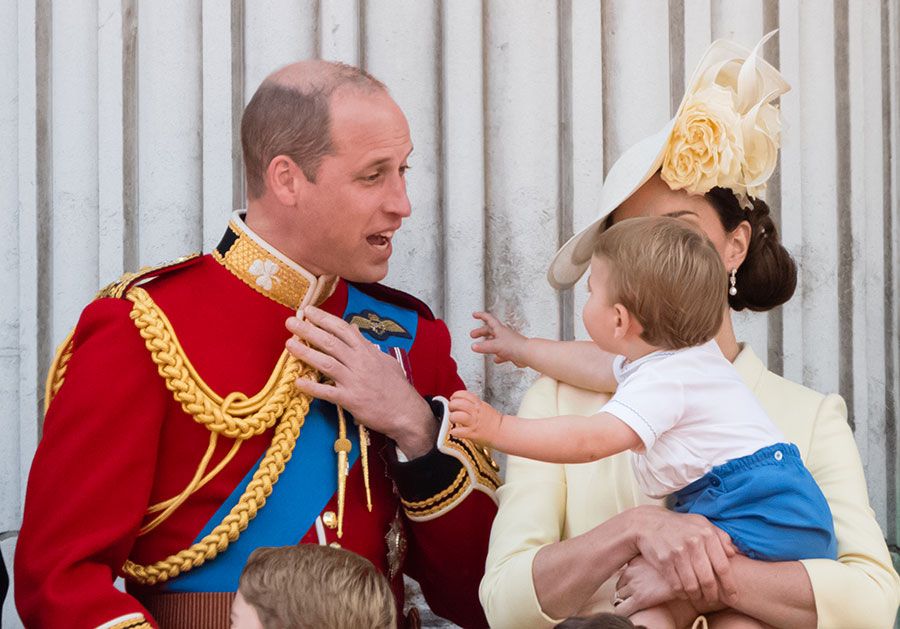 At one point, when Louis was in his mother's arms, the young royal appeared to want his father's attention – William dotingly obliged.
Click through the gallery to see more pictures...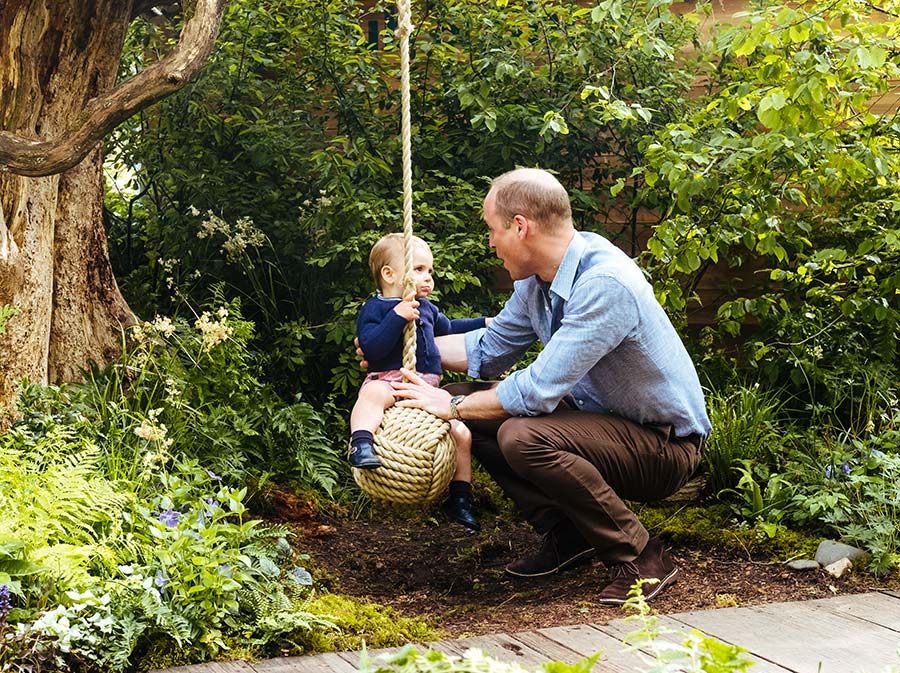 We love this photo of William entertaining little Louis!
MORE: All the times Kate has shared her personal photos of her three young children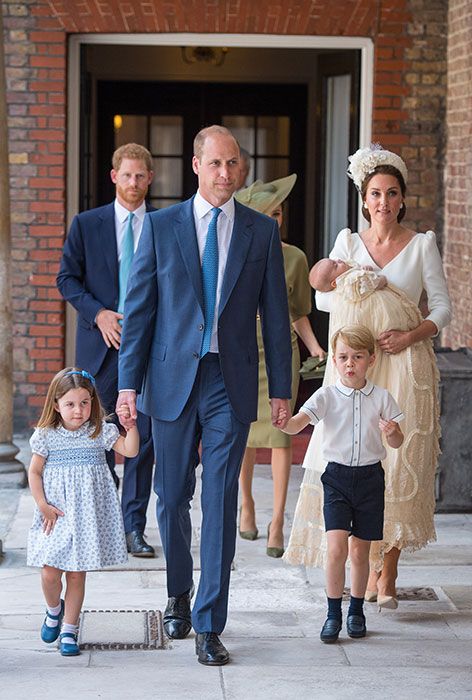 Prince William was the sweetest dad, taking care of his elder children, Prince George and Princess Charlotte, on Prince Louis' big day back in July. Louis was christened in The Chapel Royal at St James's Palace.
MORE: Craig Revel Horwood reveals a BIG change for Strictly this year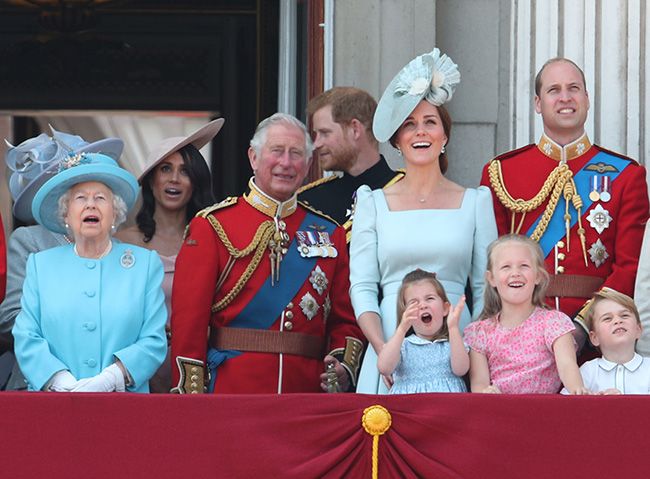 The Duke and Duchess of Cambridge looked animated as they watched the flypast with George and Charlotte. Louis was absent as he was too young to take part in the celebrations. Prince William and Kate's children were the picture of happiness as they stood on the balcony of Buckingham Palace in June 2018.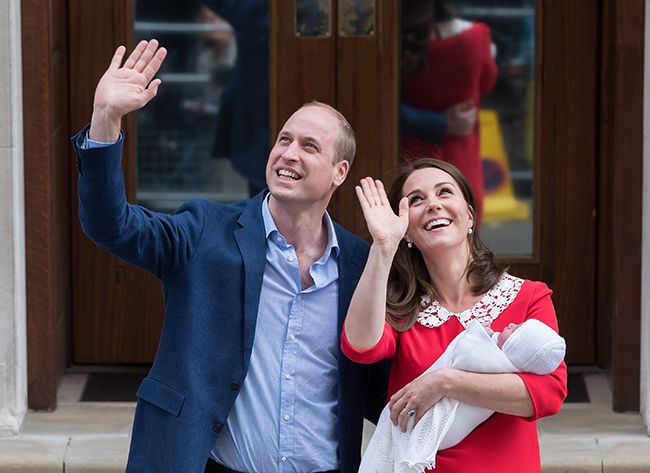 The Duke of Cambridge introduced Prince Louis to the world on the steps of the Lindo Wing at St. Mary's Hospital on 23 April 2018. The royal couple looked elated as they cradled their bundle of joy, who was born weighing 8lb 7oz.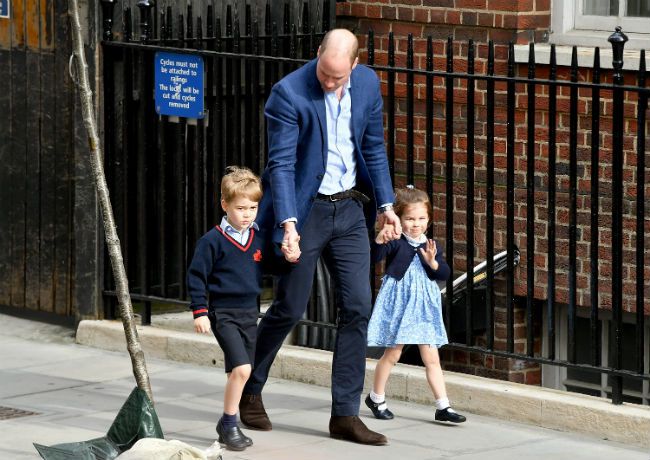 In April 2018, Prince William brought George and Charlotte to visit their mum in hospital shortly after Prince Louis' arrival. The doting dad briefly left the hospital to pick them up after George finished school, and the youngsters were photographed holding hands with William while making their way to the hospital, with little Charlotte turning around to give the crowds an adorable extra wave.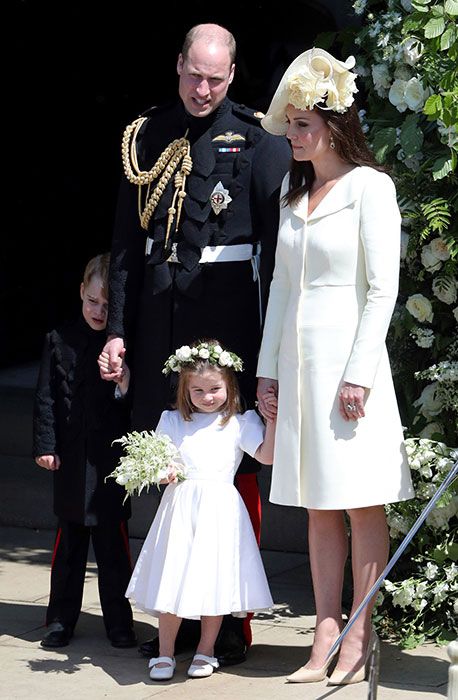 It may have been Prince Harry and Meghan's big day on 18 May, but Prince William and Kate made a sweet appearance with little George and Charlotte, who were pageboy and bridesmaid.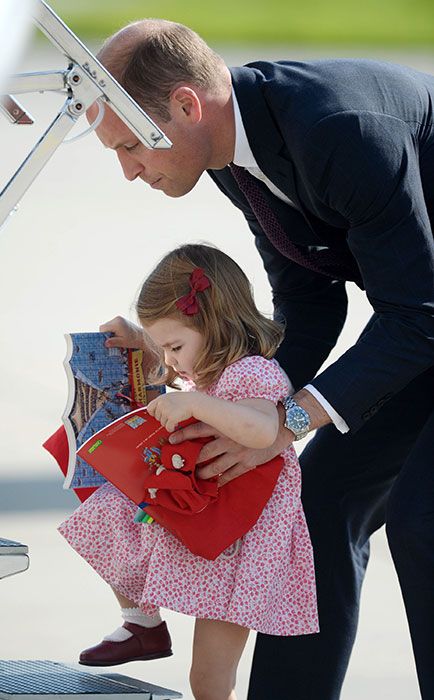 In July 2017, William carefully took Charlotte inside their private plane at Hamburg airport on the last day of their official visit to Poland and Germany.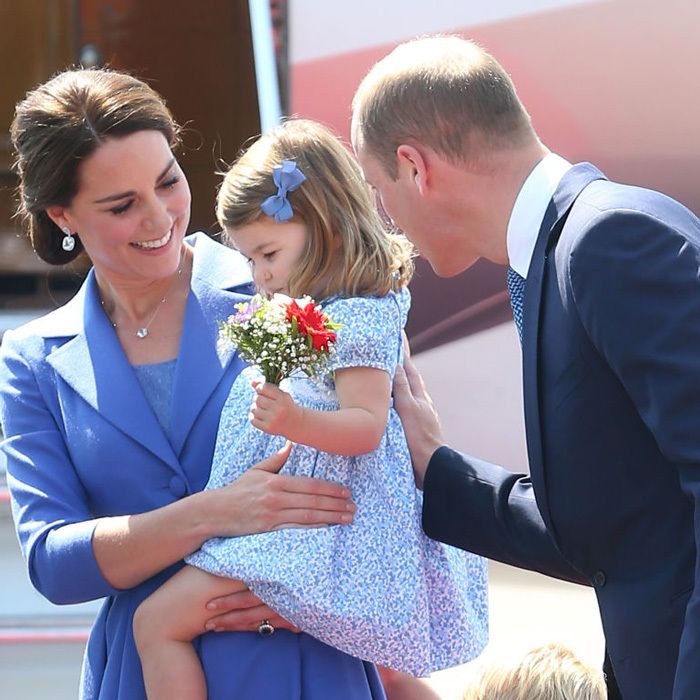 As Princess Charlotte held on tight to her bouquet, William patted his daughter's back once they got off the plane.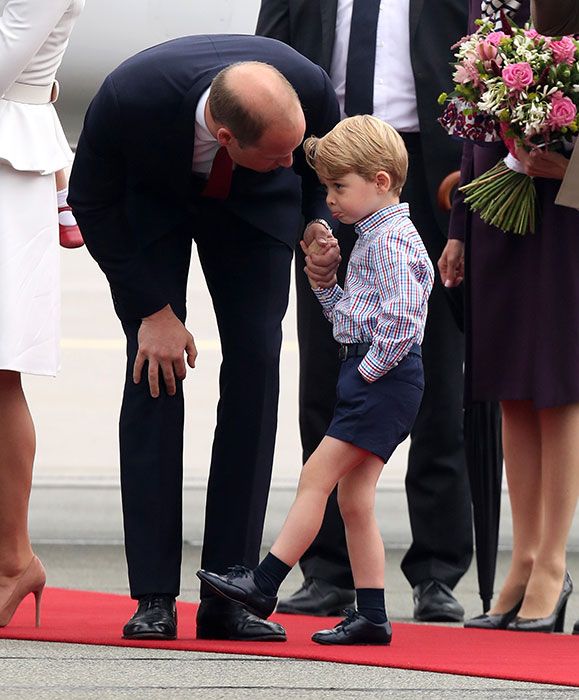 Upon their arrival in Poland, young George looked overwhelmed when emerging from his private plane. After a little encouragement from his father Prince William, the young royal perked up.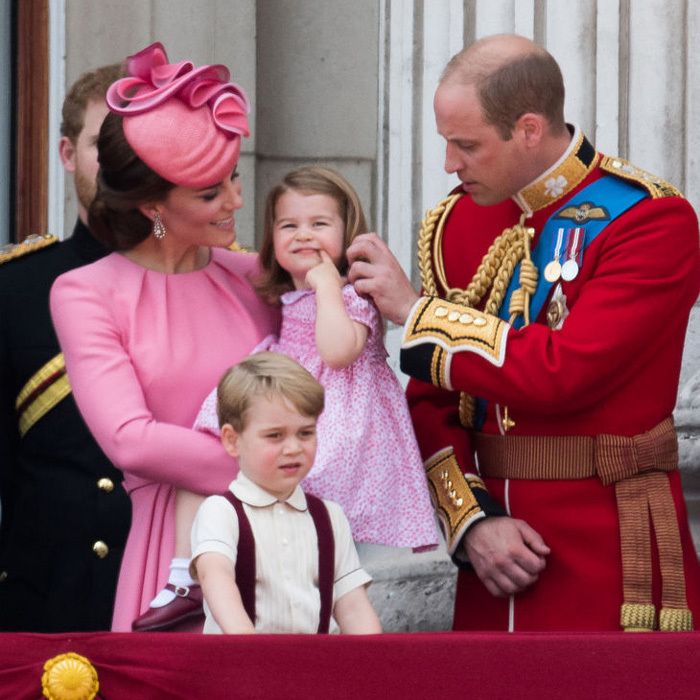 In 2017, proud parents William and Kate appeared to be in great spirits as they attended Trooping the Colour with Charlotte and George, who seemed in awe of the annual parade. Prince William made sure his little girl was enjoying the festivities as he tucked her hair behind her ear.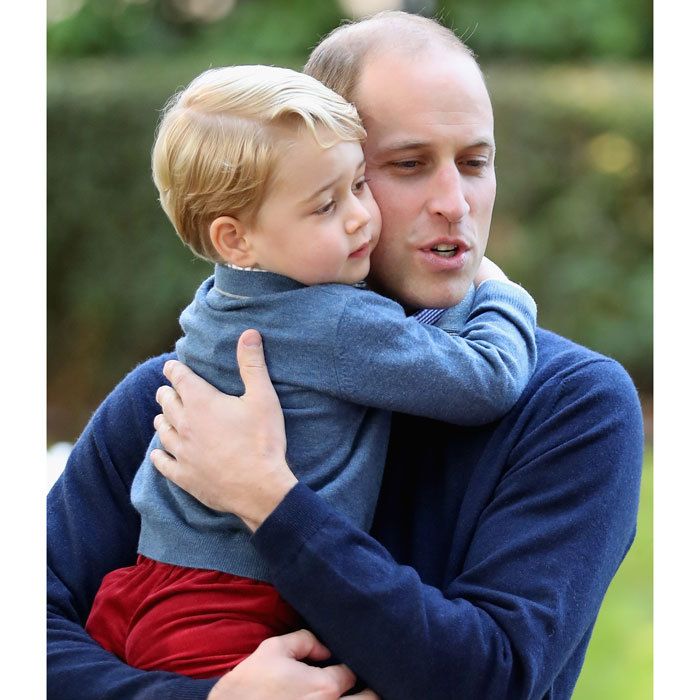 George's love for his father was on full display during the Cambridge family's royal tour of Canada in 2016.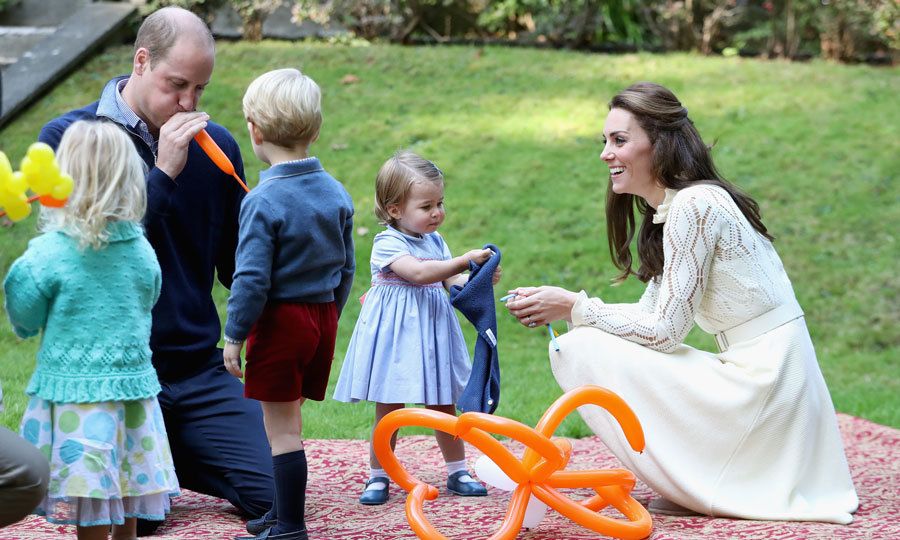 The Duke proved to be just like every other dad as he blew up a balloon for his son Prince George.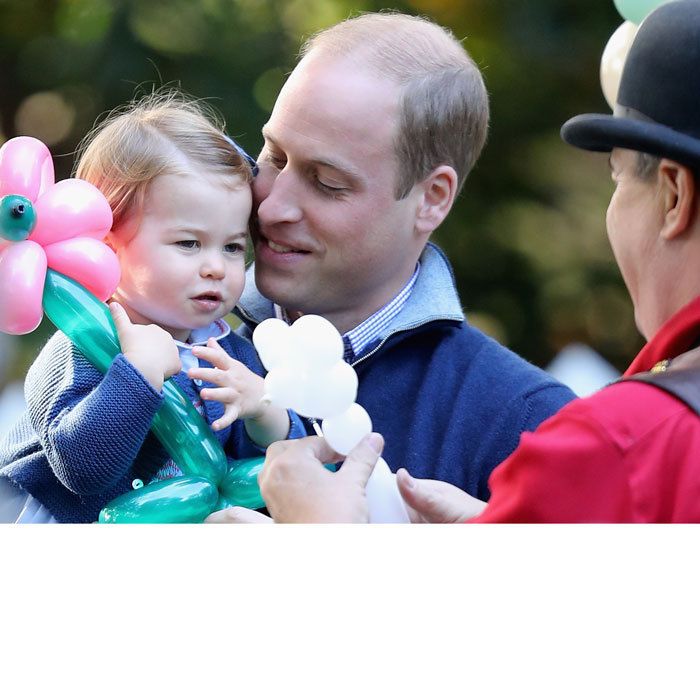 Prince William cradled his little girl, Princess Charlotte, at a children's party held for military families during their 2016 royal tour of Canada.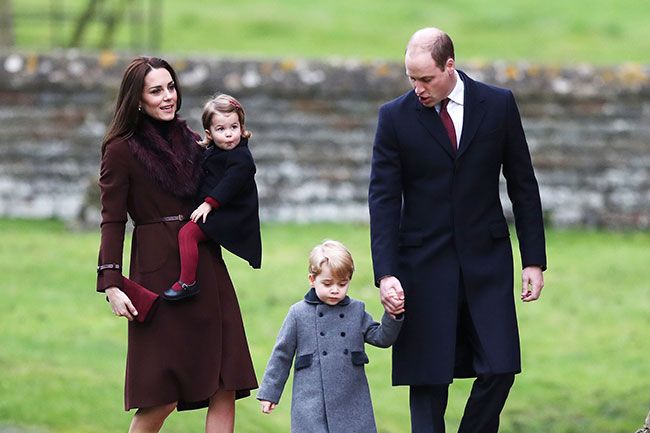 The royal children joined their parents at the Christmas Day service at St Mark's Church in 2016.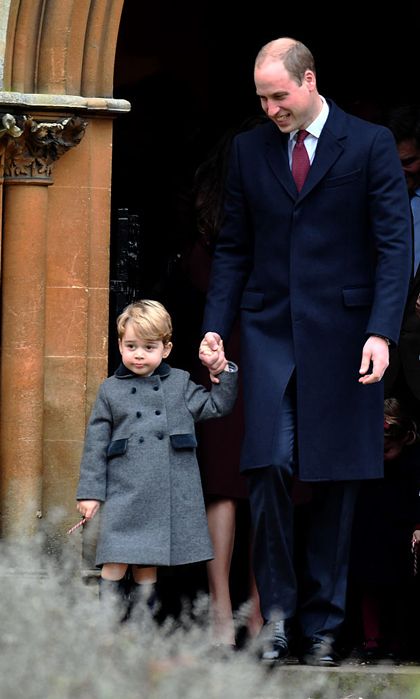 The Prince held on to George's hand as they left church after a Christmas service. As they made their way out, the little royal also held on to his candy cane in the other hand.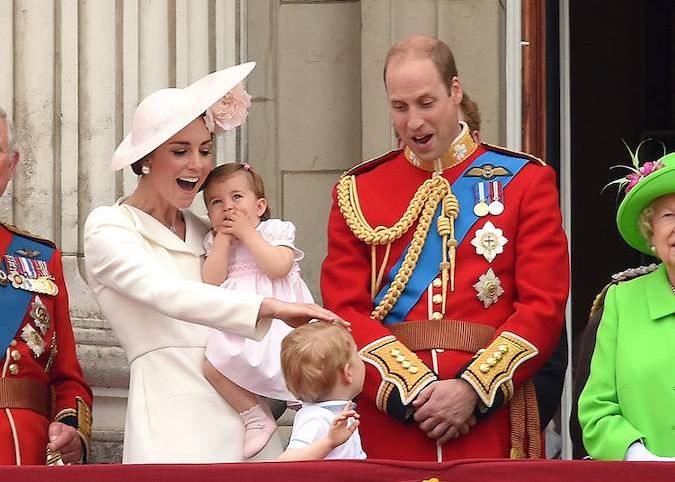 William was the proud father as he stood on the balcony with his family at Trooping the Colour in 2016.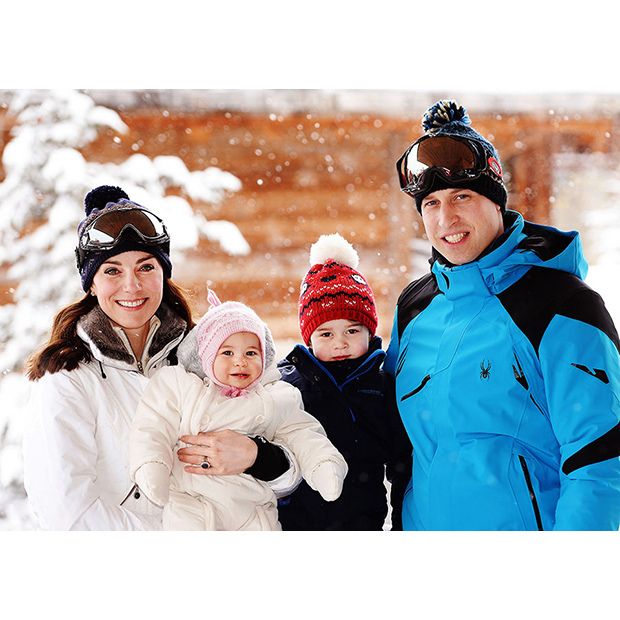 The Duke of Cambridge is passing down his love for skiing to his kids.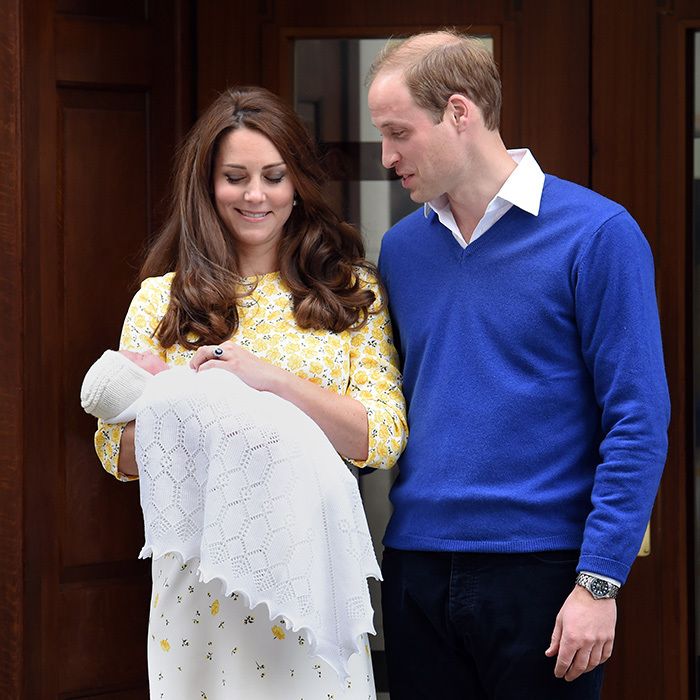 The royal couple greeted well-wishers outside St. Mary's Hospital following Charlotte's birth in May 2015. The new father couldn't keep his eyes off his newborn daughter and second child.
With a kiss on the forehead from dad, Prince George was ready to go inside St. Mary's Hospital to meet his newborn baby sister.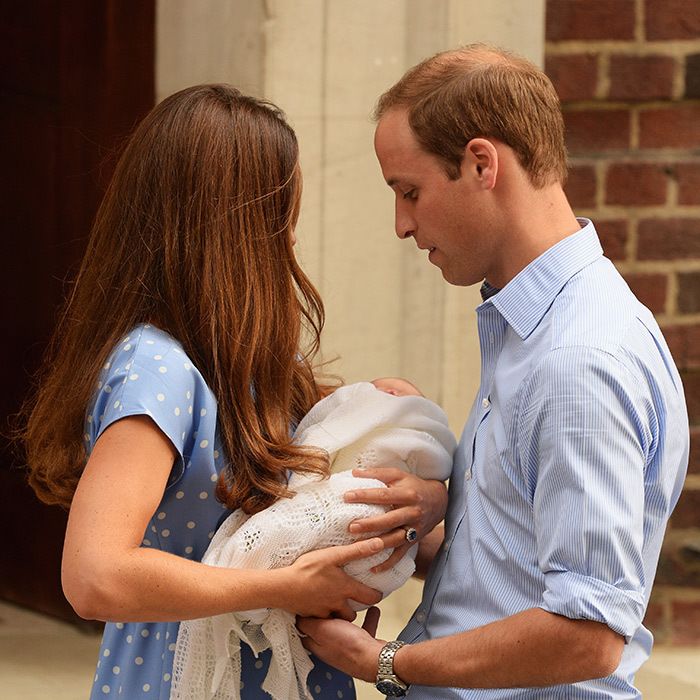 Kate gently passed her newborn son to his father outside the Lindo Wing at St. Mary's Hospital after his birth on 22 July 2013.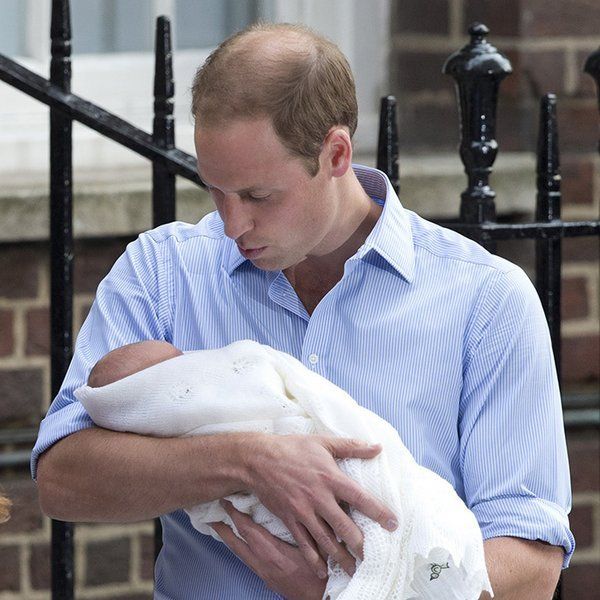 After years of wanting to be a dad, Prince William relished his new role of father when Prince George was born.
Prince George's christening at the Royal Chapel at St. James's Palace in October 2012 marked his second appearance in public.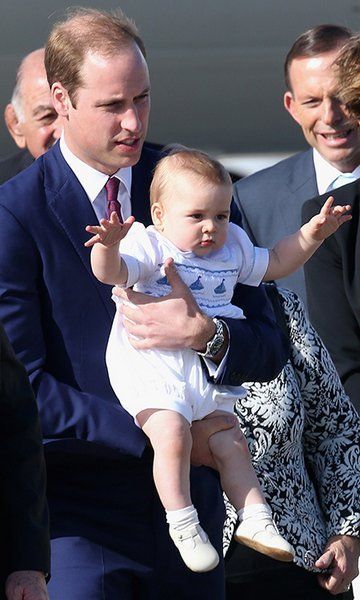 William kept a strong hold on his son upon their arrival in Australia.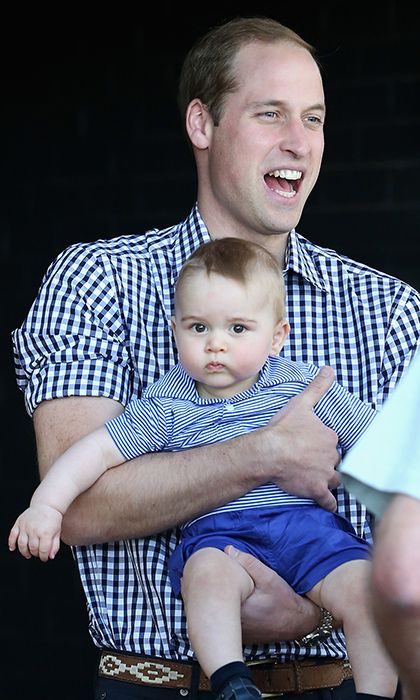 William was thrilled to be able to experience a tour Down Under with his nine-month-old son, who was the same age William was when he travelled through New Zealand and Australia with Prince Charles and Princess Diana in 1983.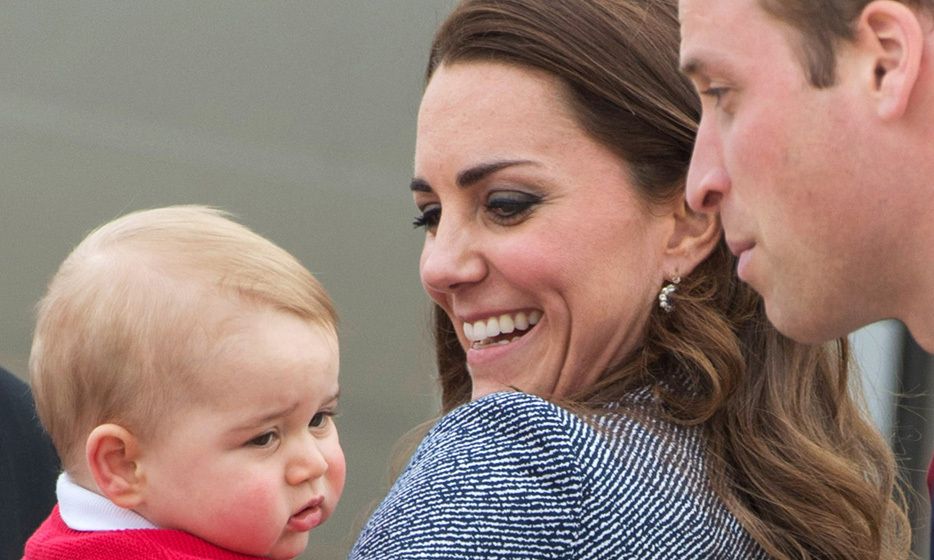 Much to the delight of his mum and dad, George was a hit during the Duke and Duchess of Cambridge's tour of Australia and New Zealand in 2013.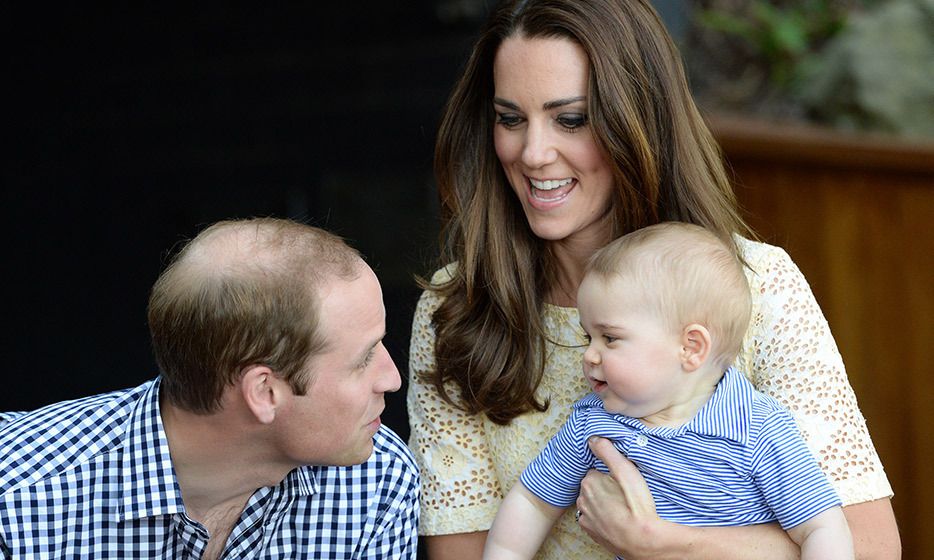 The Duke of Cambridge shared a moment with his own little monkey during a visit to Sydney's Taronga Zoo in 2013.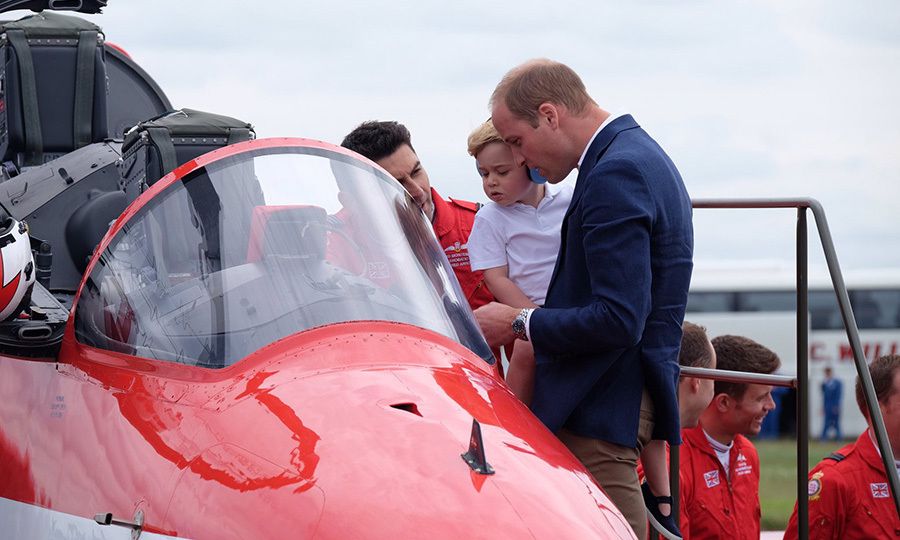 It was hard to tell who was more fascinated as the father-son team checked out a Red Arrow jet during George's first ever UK royal engagement in July 2016.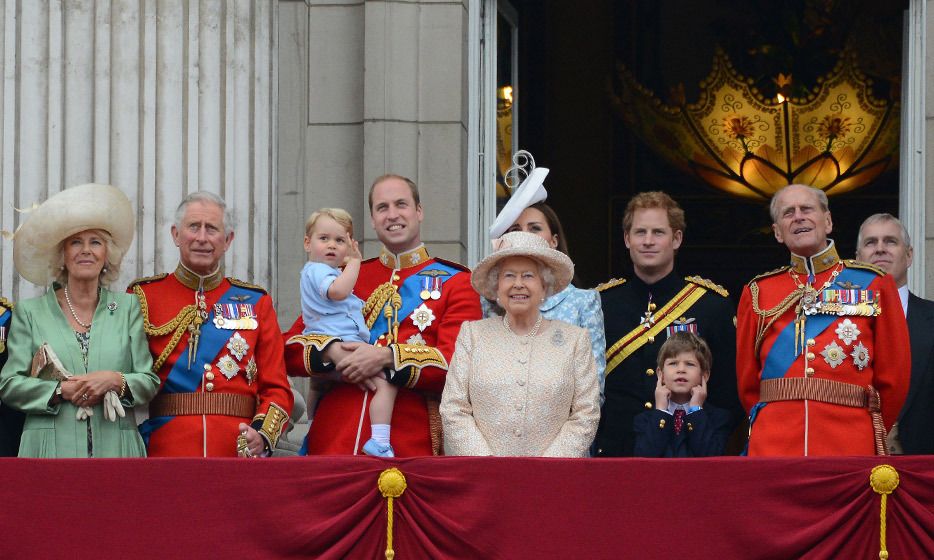 Safe in the arms of his father, Prince George made his debut at 2015's Trooping the Colour celebrations.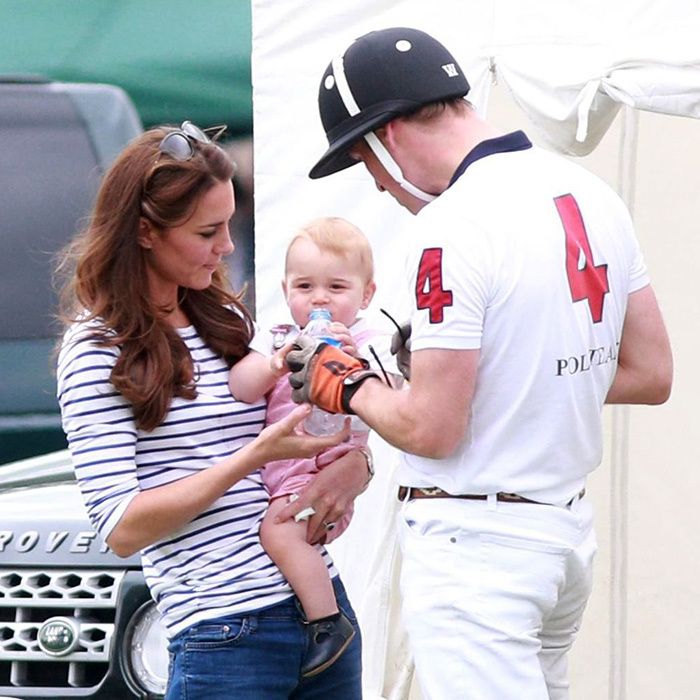 In 2013, William marked his first Father's Day by competing in a charity polo match and spending time with his number one fans.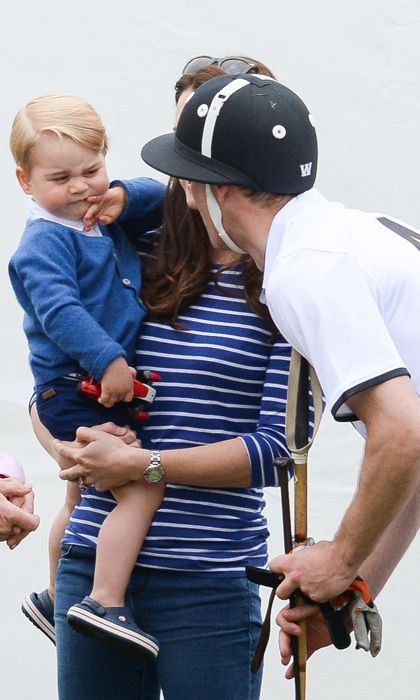 Prince William checked in with his nearly two-year-old boy during a charity polo match in June 2015.