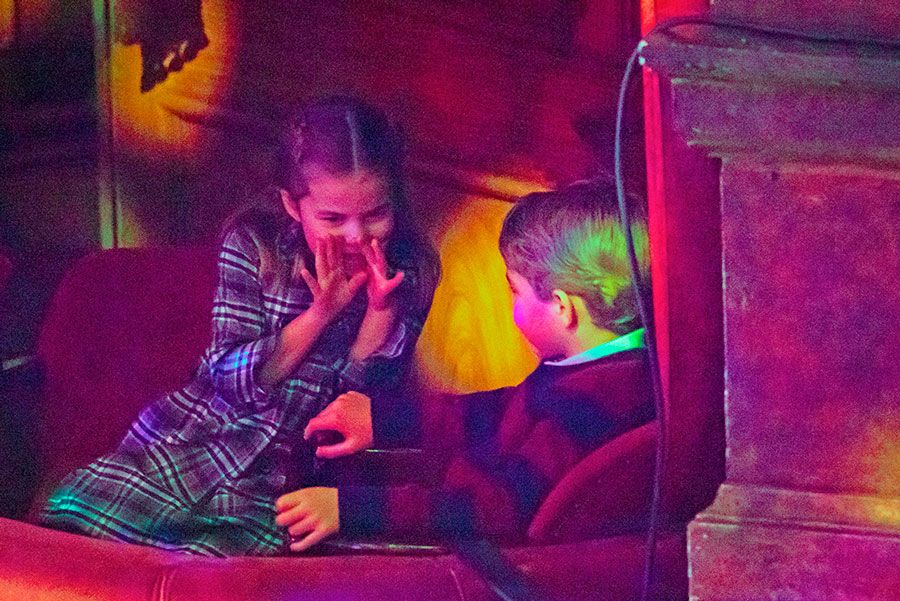 The Duke and Duchess of Cambridge's three children are enjoying the autumn half-term break like thousands of other children across the country.
With Prince George and Princess Charlotte both pupils at Thomas's Battersea school and Prince Louis at Willcocks Nursery school, this week gives them the perfect chance to catch up on some quality time with each other.
There's no denying that the royal siblings have also shared many cute moments together at official royal engagements such as on the balcony at Trooping the Colour, family outings and royal tours. The trio clearly have the same close bond, just like their parents have with their own siblings. Here at HELLO!, we take a look at George, Charlotte and Louis' best moments together throughout the years.
READ: 12 sweet royal sibling moments! From Princess Charlotte and brothers to William and Harry
The Duke and Duchess took their children along to see a Christmas pantomime at the London Palladium in December 2020, with George, Charlotte and Louis making their red carpet debut. During the show, George and Charlotte could be seen having a cheeky natter in their seats.
WATCH: The sweet moment the royal children clapped for the health heroes
Clap for our Carers
George, Charlotte and Louis joined the nation as they clapped for NHS workers amid the ongoing coronavirus pandemic. The footage, taken by their parents William and Kate outside, showed Princess Charlotte, four, and George, six, clap enthusiastically, while their then one-year-old brother Louis, stood in the middle of his older siblings.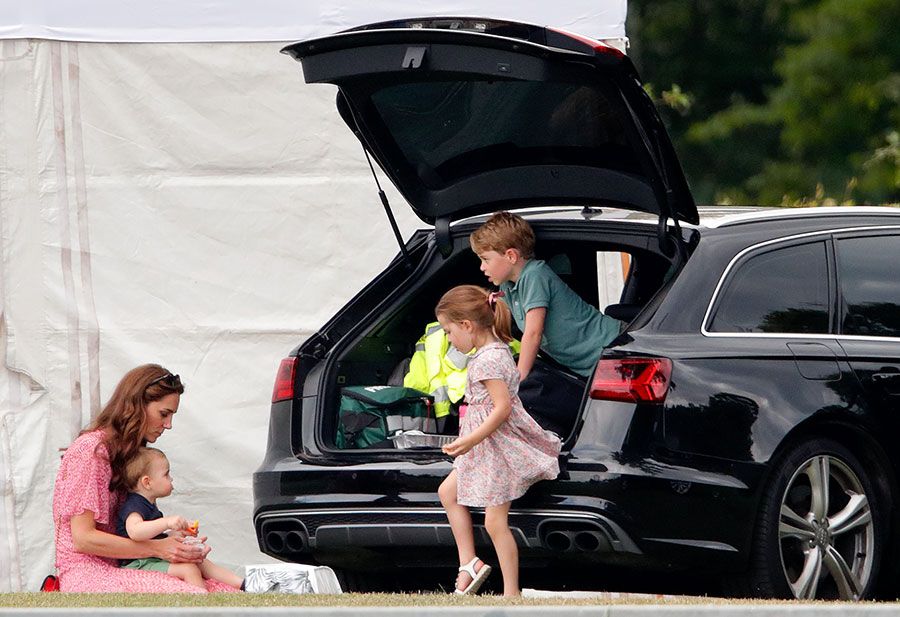 King Power Royal Charity Polo Day
Last year, the royals were out in full force to watch Prince William and Prince Harry participated in the King Power Royal Charity Polo Day for the Khun Vichai Srivaddhanaprabha Memorial Polo Trophy, which was held at Billingbear Polo Club in Berkshire. The heartwarming pictures saw Kate dote on little Louis as she sat down to enjoy a picnic with George and Charlotte.
Click through the gallery to see more pictures...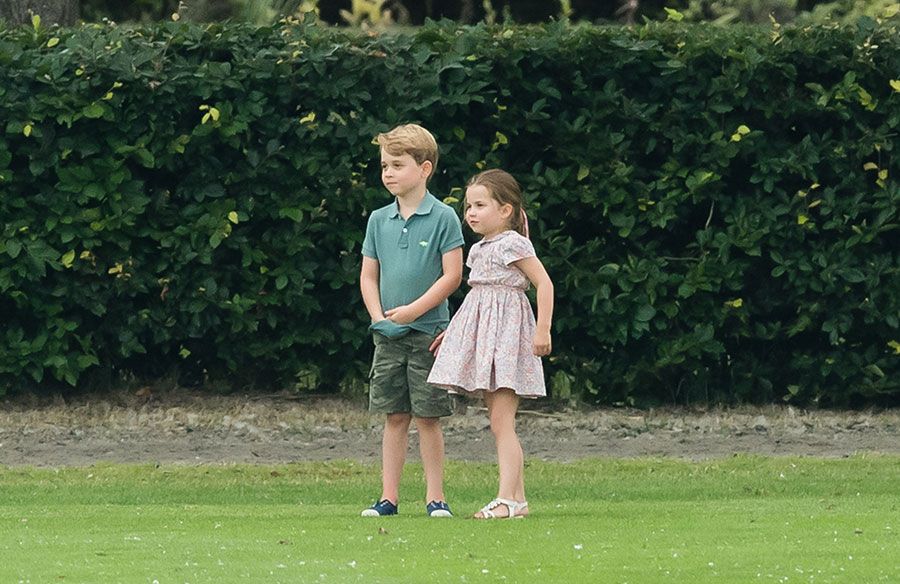 George and Charlotte also had a brilliant day playing football and croquet on the sidelines as their dad William played in a charity match with uncle Harry.
GALLERY: Prince William's cutest dad moments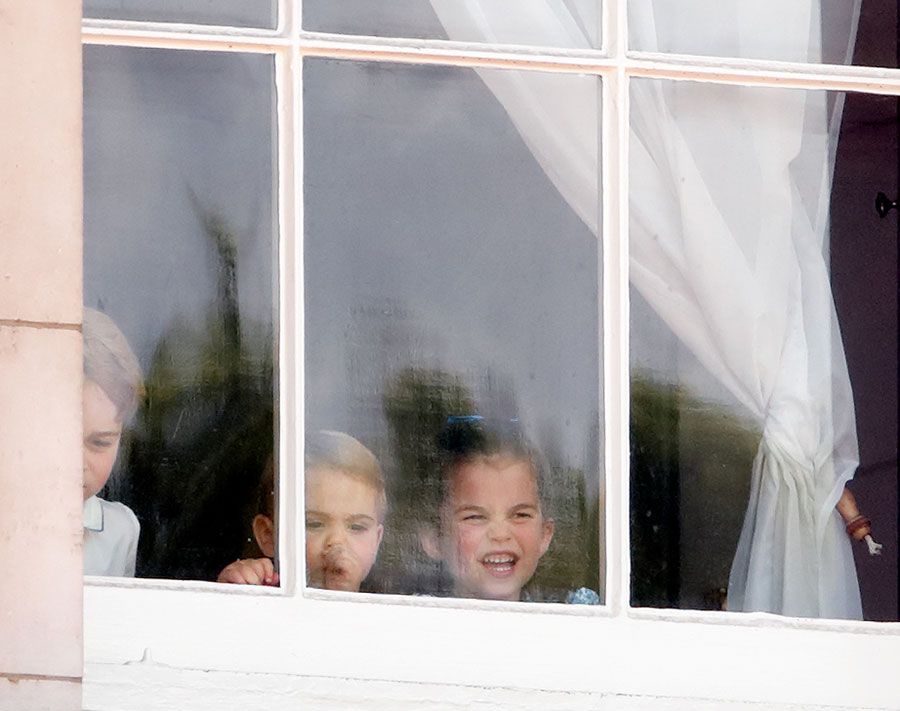 Trooping the Colour 2019
Ahead of his debut at Trooping the Colour, little Louis had been spotted with his two elder siblings earlier that day, peering out of a window to watch his parents and the rest of the royal family return to the palace following the carriage procession along the Mall.
GALLERY: 8 photos that prove just how close Kate Middleton and the Countess of Wessex are
Maserati Charity Polo Match
Charlotte and George had the best day playing in the sun at the Maserati Charity Polo Match in June 2018. The royal youngsters were caught in this cute moment together, as they jumped off a wooden ledge.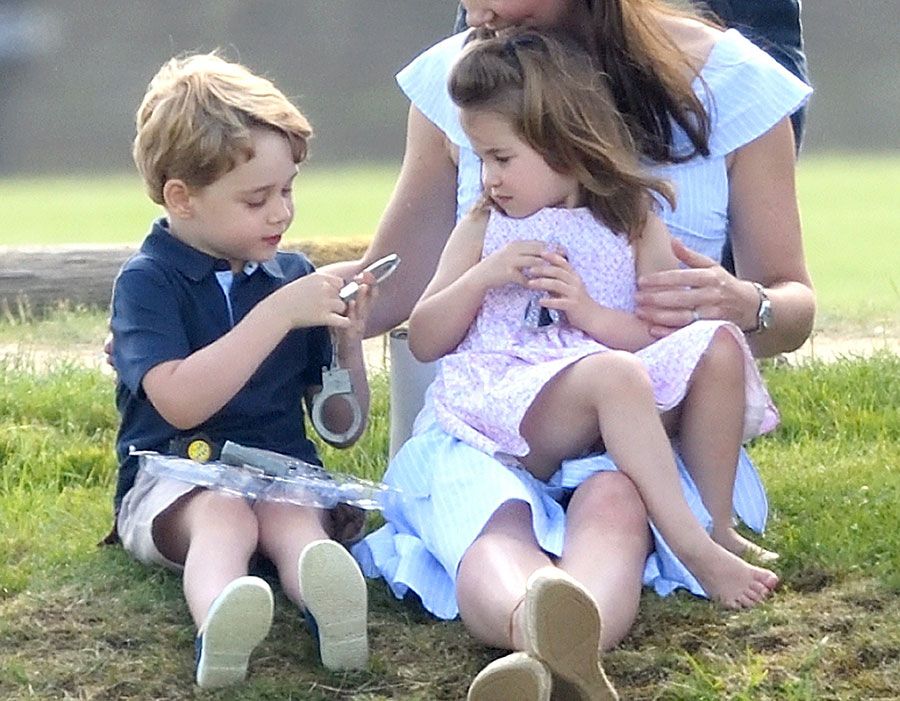 Maserati Charity Polo Match
George played with some toys, as Charlotte, sitting on mum Kate's lap, looked on in amusement.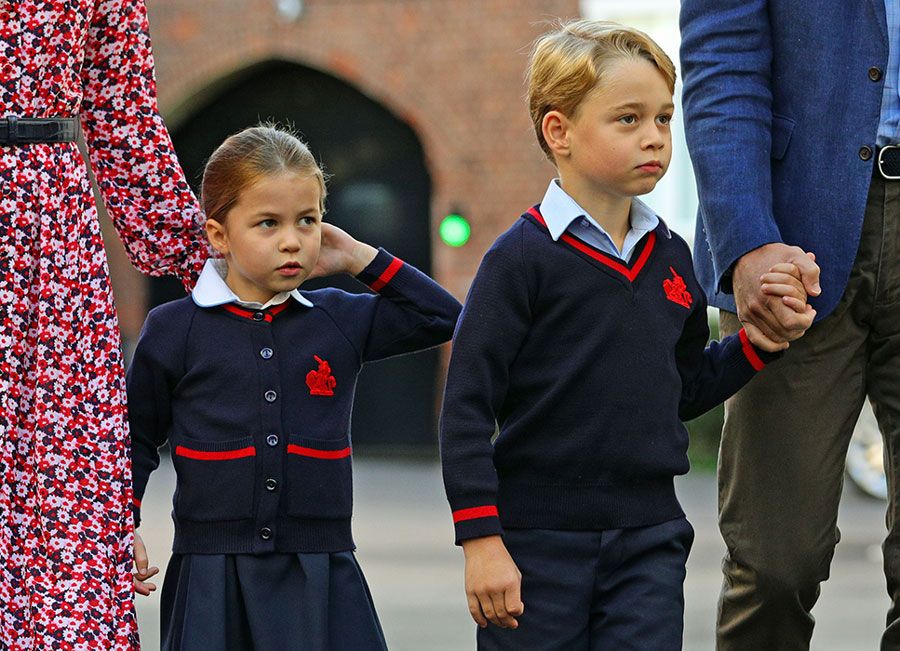 Princess Charlotte's first day at school
In September 2019, Prince William and Kate released an official photo to mark their daughter Princess Charlotte's first day of school at Thomas's Battersea. The young royal posed with her big brother Prince George at their home in London, Kensington Palace. The Duchess also told her daughter as she was walked to her new classroom: "George will show you the way." Aww! 
MORE: All the times Kate has shared her personal photos of Prince George, Princess Charlotte and Prince Louis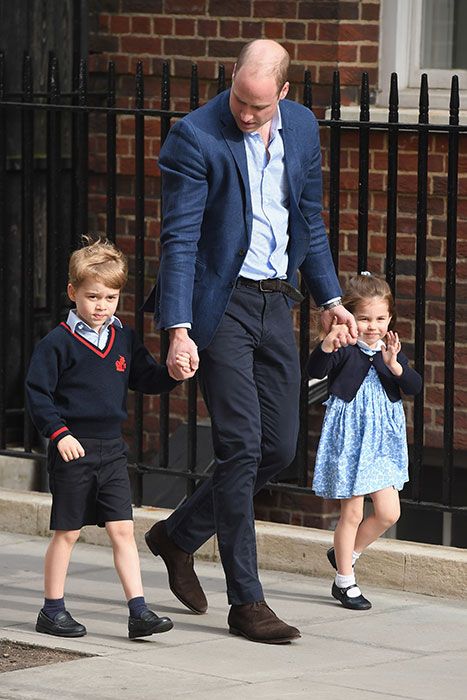 George and Charlotte meet their new baby brother Louis, April 2018
George and Charlotte looked excited to be on their way to meet their new baby brother Louis following his birth at the Lindo Wing in 2018. William held his children's hands as they passed the world's media waiting for the first glimpse of the new royal baby, and Charlotte even gave a couple of cute waves.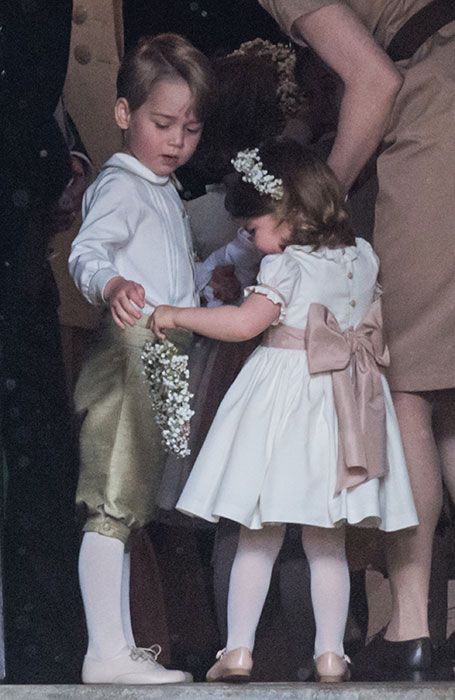 Pippa Middleton and James Matthews' wedding
George and Charlotte had starring roles as page boy and bridesmaid at their auntie Pippa's wedding in Berkshire in May 2017.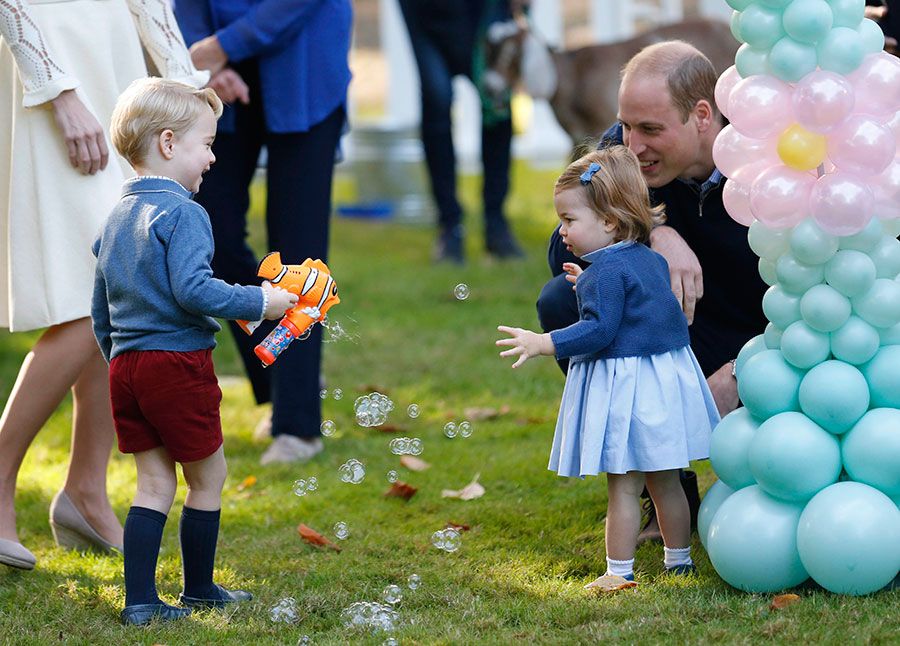 Royal tour of Canada 2016
There were plenty of adorable moments as the Cambridges went on their first overseas tour as a foursome to Canada in 2016. During a children's party at Government House in Victoria, George and Charlotte had tonnes of fun playing with a bubble gun and balloon arches.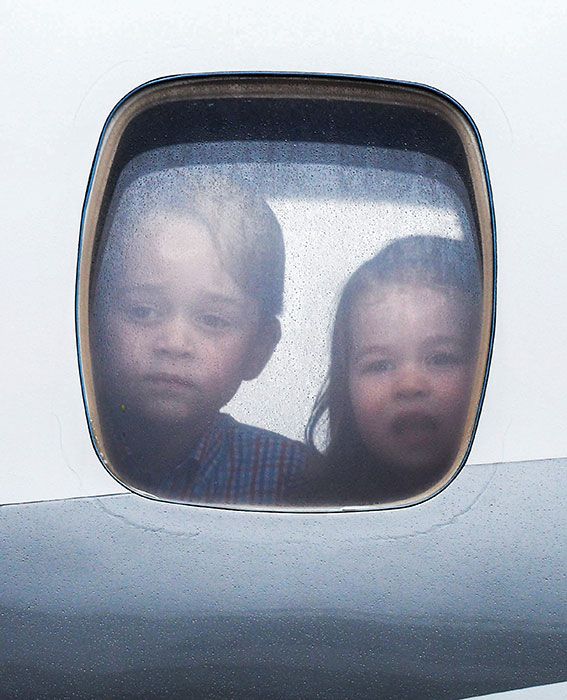 Warsaw's Chopin airport
On the Duke and Duchess of Cambridge's royal tour of Germany and Poland in July 2017, the siblings stole the show before they'd even disembarked from the plane, by peeking out of the window. It marked the second overseas tour that Kate and William had taken George and Charlotte on, after travelling to Canada the year before.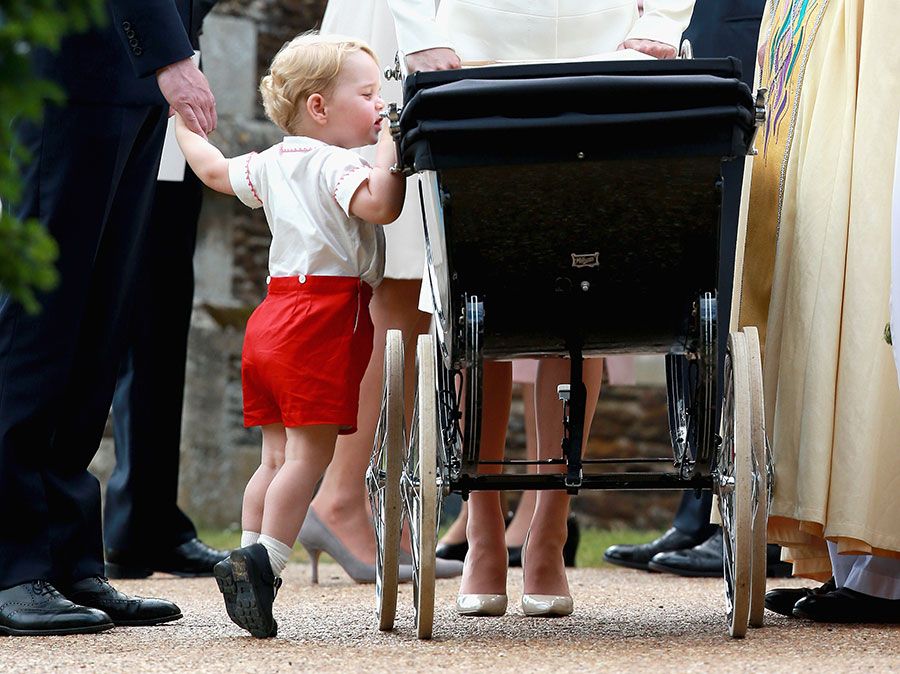 Princess Charlotte's christening
George couldn't resist checking in on his baby sister in her vintage pram, as the Cambridges arrived for Charlotte's christening at the Church of St Mary Magdalene in Sandringham, Norfolk in July 2015. The then two-year-old wore a near-identical outfit to the one his father Prince William donned to visit Prince Harry in hospital when he was born. The £85 embroidered shirt with red shorts by British designer Rachel Riley flew off the shelves.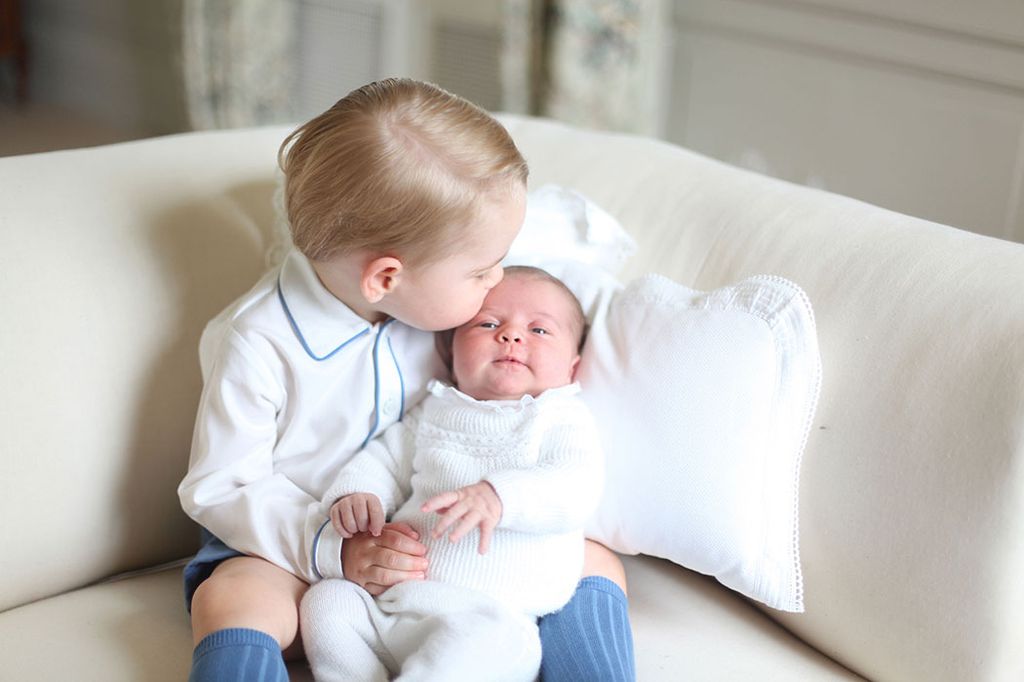 Princess Charlotte's birth
Back in 2015 proud brother George delicately kissed the head of his then 1-month old sister. The adorable pictures were snapped by keen photographer and mum, Kate.
Photo: Duchess of Cambridge
Make sure you never miss a ROYAL story! Sign up to our newsletter to get all of our celebrity, royal and lifestyle news delivered directly to your inbox.