If you ask anyone to think of major A-list actresses who have held their position at the top of the Hollywood food chain for over ten years, Angelina Jolie and Megan Fox are probably both up there. Both stars have carved a space for themselves in the spotlight and they are more similar than you think.
You've got the obvious, the consistent sartorial prowess of both actresses. And then the more obscure moments where the two famous faces align – remember their mutual love of their respective partners' blood?
We break down some of our favourite moments from when the pair channelled the same vibe and pulled it off seamlessly…
A ray of sunshine
They are our sunshines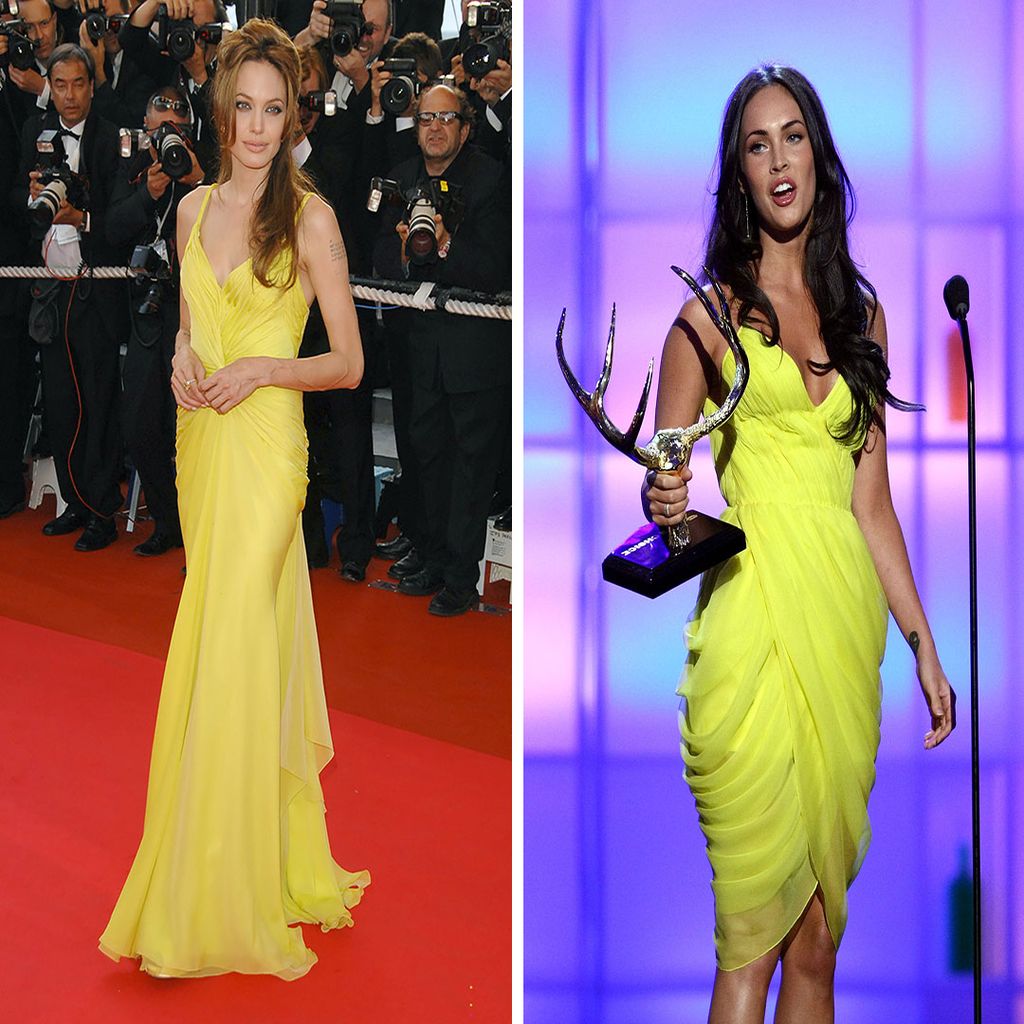 The Expend4bles star, 37, and the Maleficent actress, 48, have both been seen rocking a pop of yellow on the red carpet. Angelina paired a stunning yellow pleated gown with a plunging V-neck with a messy updo at the Cannes Film Festival premiere of Ocean's Thirteen in 2007.
Megan similarly rocked the sunny shade in a shorter cut a year later at the 2nd Annual Guys Choice Awards in California. She also went for a V-neck cut but with a more casual feel and her long brunette locks in neat curls.
A backless moment
A look we can get behind
Fans of both Megan and Angelina will know that the ladies are not afraid of making a statement on the red carpet. This has meant showing off their ink in a backless moment to die for. Angelina was seen at the World Premiere of Disney's Maleficent: Mistress of Evil in 2019 wearing a glamorous black gown with a bare back revealing her ink, an aesthetic Miss Fox can get onboard with.
Megan opted for a backless style in 2009 at the UK Premiere of Transformers: Revenge Of The Fallen. Where Angelina sported a modern updo, Megan went for tight waves – a classic late 2000s style.
Those blood vials
A bloody good time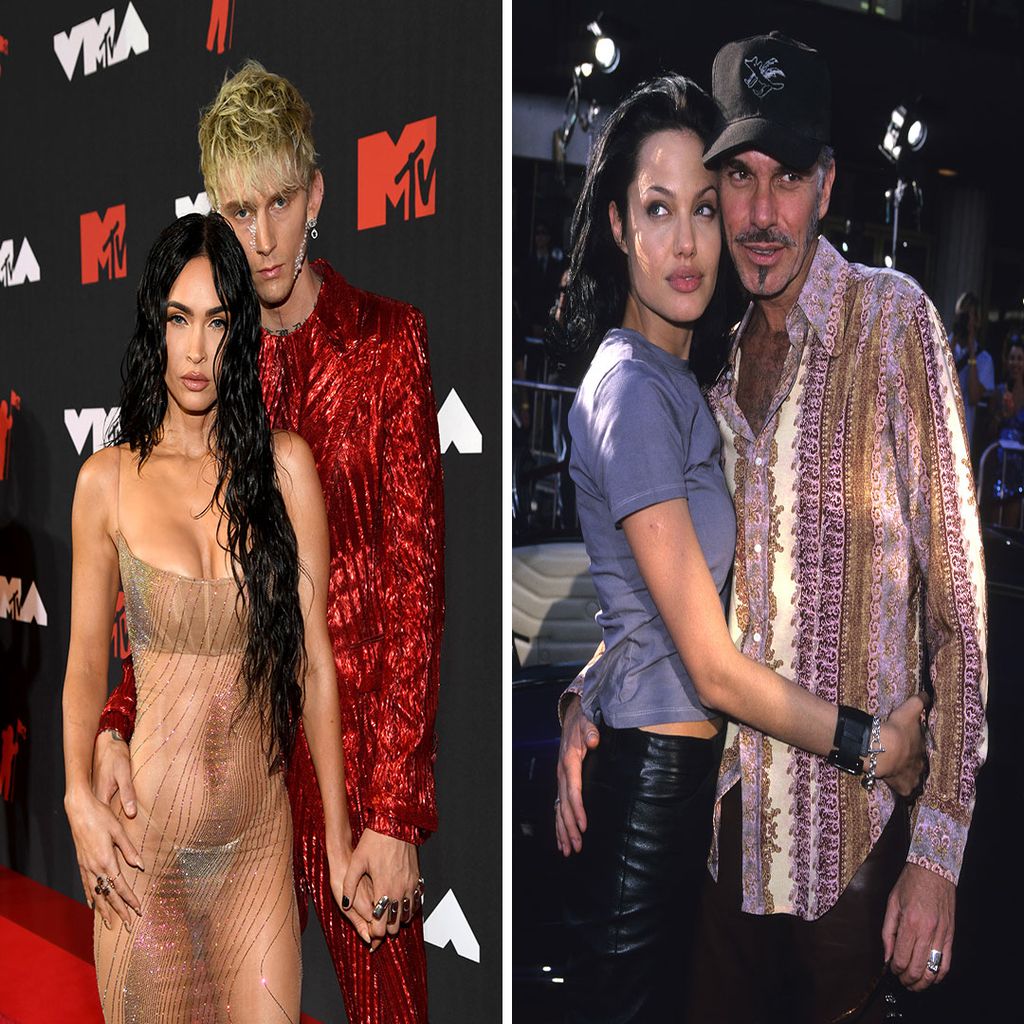 A common ground between the actresses, and certainly an odd one, is their penchant for their partners' blood. Angelina wore a vial of her then-husband Billy Bob Thornton's blood around her neck and vice versa in the early 2000s as a public display of their love. Speaking at the time about the unusual ritual, Angelina said: "It was like a flower press. It was like a slight cut on your finger, and you pressed your fingerprint in. It was kind of a sweet gesture. I thought it was kind of romantic! I still love him dearly and think the world of him, and I am proud to have been his wife for a time."
Megan has too taken to the bloody ritual. She revealed to Glamour UK that she occasionally drinks her on-off boyfriend Machine Gun Kelly's blood. "So, I guess to drink each other's blood might mislead people or people are imagining us with goblets and we're like Game of Thrones, drinking each other's blood," she said. "It's just a few drops, but yes, we do consume each other's blood on occasion for ritual purposes only."
She explained the reasoning behind this, saying: "It's a passage or it is used for a reason. Expanding on this, she added: "He's much more haphazard and hectic and chaotic, where he's willing to just cut his chest open with broken glass and be like, 'Take my soul'. "
Gothic energy
Addams Family chic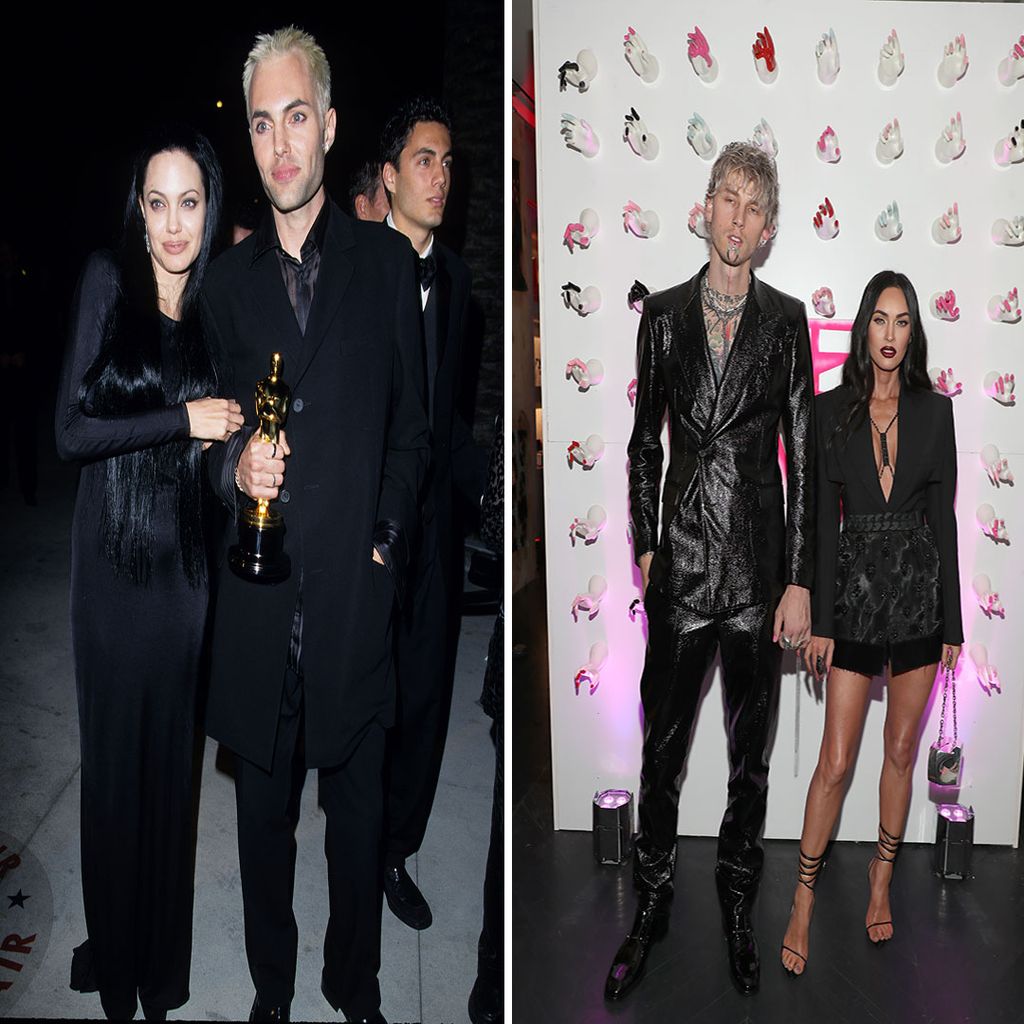 Blood rituals aside, both women are not afraid of the dark side and have been seen wearing some killer black looks. Angelina was spotted alongside her brother James Haven at 72nd Annual Academy Awards in 2000 channelling a Gothic energy we couldn't get enough of. She paired a long black jersey dress with equally long black hair for a Morticia Addams feel. James opted for the same vibe wearing an all-black shirt and trouser ensemble with a longline black coat. Angelina's cool-toned makeup featuring milky white skin added to the effect.
Megan and MGK channelled a similar Gothic duo vibe when they attended his UN/DN LAQR Launch Event in December 2021. The Till Death star wore a black single-breasted blazer as a dress with a metal chestpiece detail. MGK wore a matching black outfit comprised of a vinyl suit with the added detail that fans couldn't get over – his wearing an acrylic fingernail with a chain attaching him to Megan's acrylic fingernail.
Not afraid of feathers
Never the ugly duckling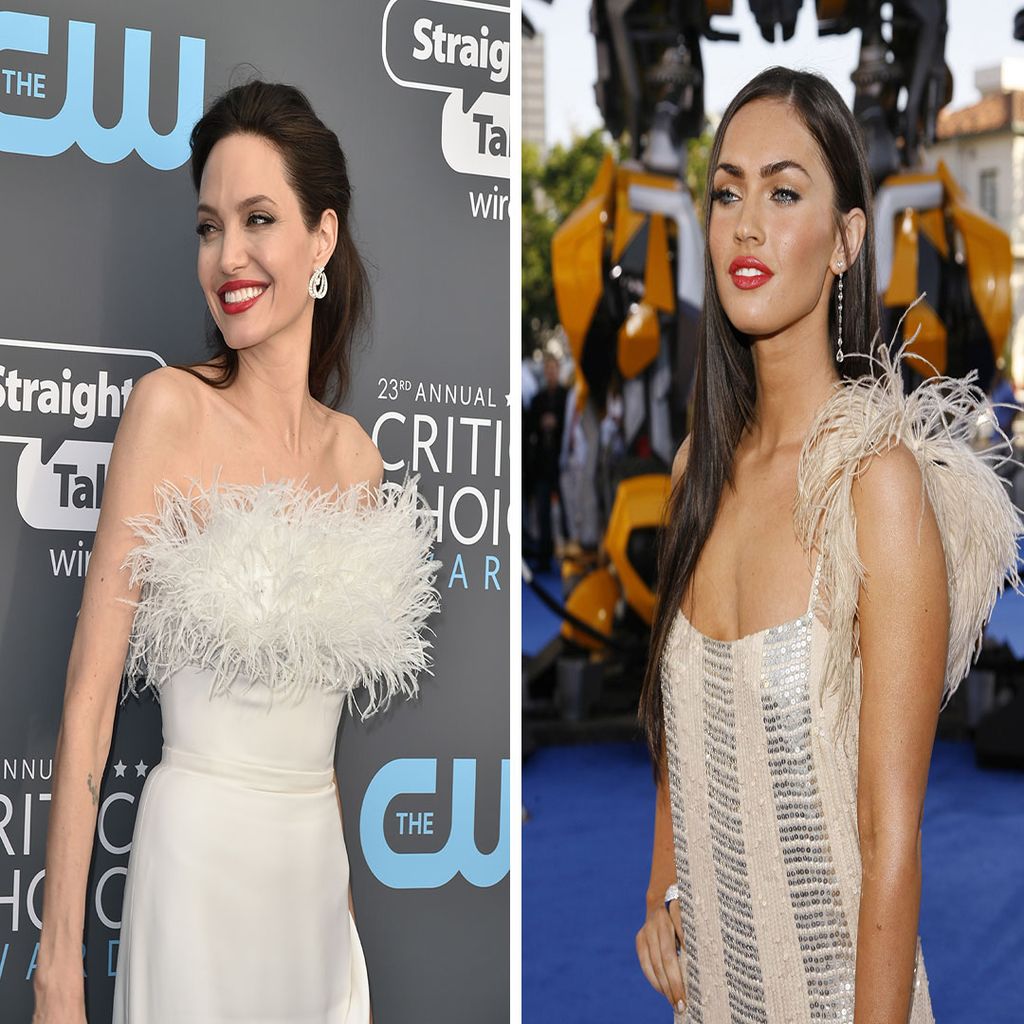 A trend that we are seeing entering party season this year is feathers. But it seems Angelina and Megan were rocking feathers before it was on our 2023 style checklist. The Mr and Mrs Smith actress looked simply stunning in 2018 when she attended the 23rd Annual Critics' Choice Awards wearing a white bodycon midi dress adorned with Swan Lake-esque feathers around the neckline. Her classic red lip tied the look together perfectly.
The Midnight in the Switchgrass actress channelled a similar energy at the Transformers Los Angeles premiere in 2007. The star wore a nude dress with similar feather detailing to Angelina's except Megan's came with the added aspect of sequins. What's not to love?
The timeless leather skirt
A classic for a reason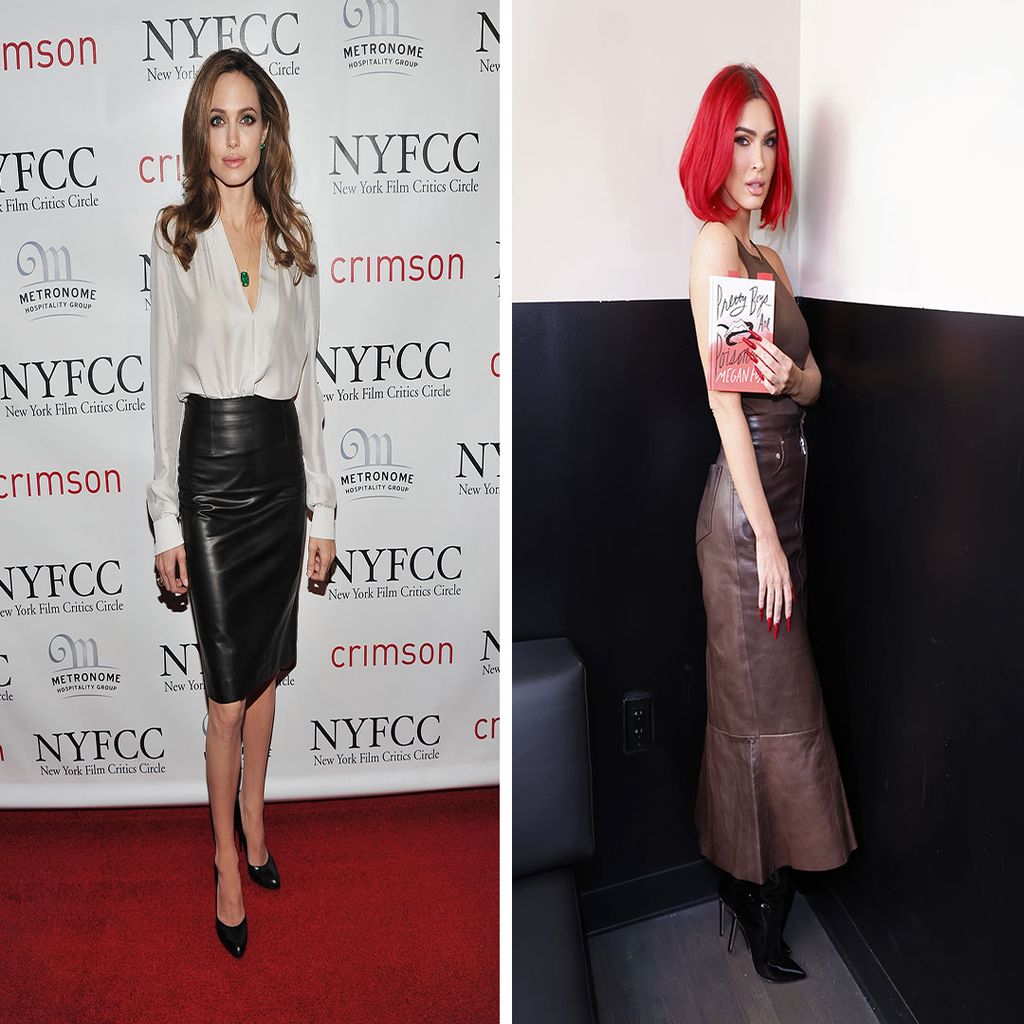 Megan Fox has soared to the top of our style watchlist of late, owing mostly to her fabulous leather skirt moment when she sat down with Bustle's Samantha Leach to discuss her new book, Pretty Boys are Poisonous. The actress paired a chocolate brown leather skirt with a sheer tank top in the same hue for an uber-chic look.
Angelina Jolie has shown her love for leather over the years. She pulled off a black leather pencil skirt with a pointed-toe heel just like Megan, except she opted for a white long-sleeve blouse over a tank top when she wore a leather pencil skirt to the 2011 New York Film Critics Circle Awards.
Red hot
Rouge and ready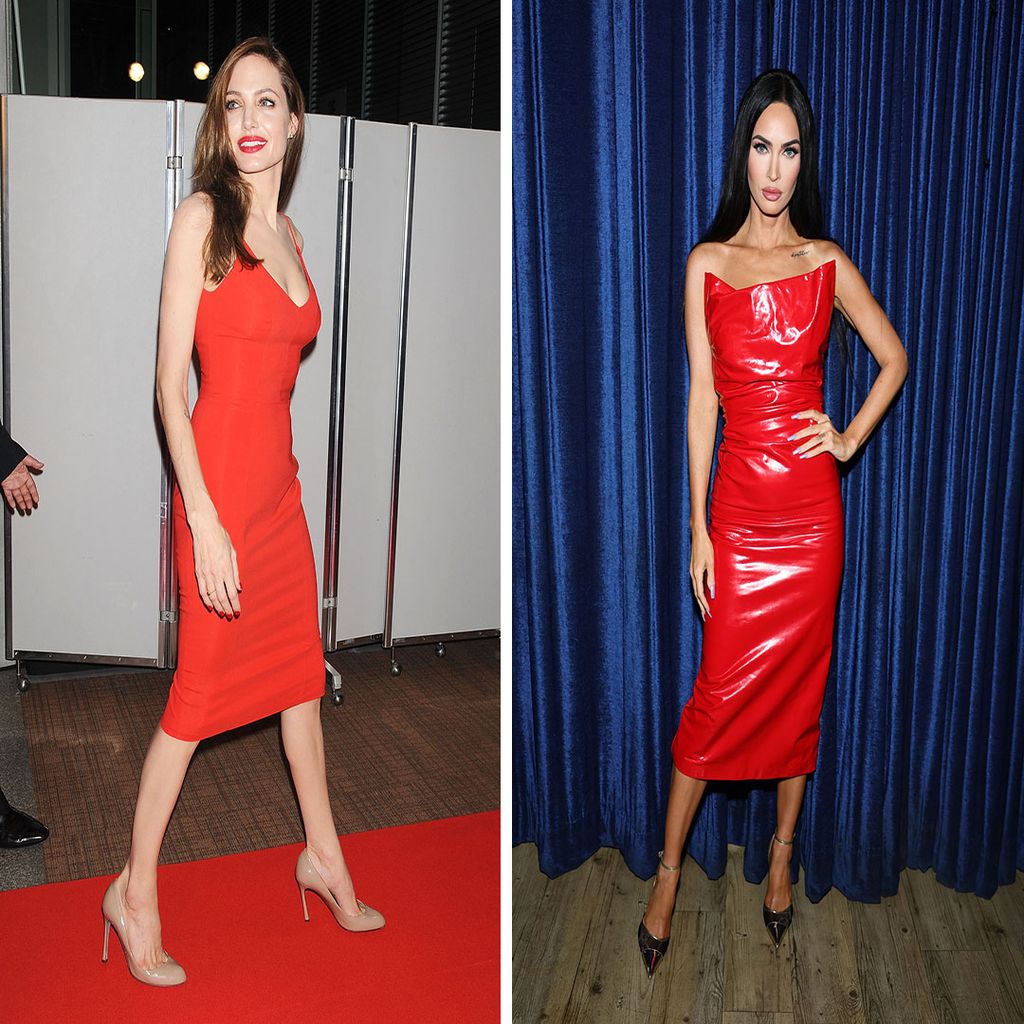 Megan Fox's fans have come to know and love her in red. The actress is partial to a red-hot outfit and the strapless vinyl number she wore to the Blaze premiere during the 2022 Tribeca Festival last summer. She styled the showstopping fiery number with a pair of metallic pointed-toe heels and wore her jet-black locks in a straight style for a striking look.
Red was also Angelina's colour at the Moneyball premiere in 2011. The Lara Croft star rocked a red midi dress like Megan's, minus the vinyl finish, also with a neutral heel and her hair trailing over her shoulders.
DISCOVER:  Angelina Jolie and Brad Pitt's daughter inundated with support as she embarks on bold new chapter in personal life