King Charles has been crowned sovereign in a historic ceremony held at Westminster Abbey. A day of many milestones, from the crowning to the procession and the Royal Family's balcony appearance, the coronation was truly a landmark occasion. We're taking a look at the biggest moments from the festivities. 
King Charles and Queen Camilla comfort each other during the coronation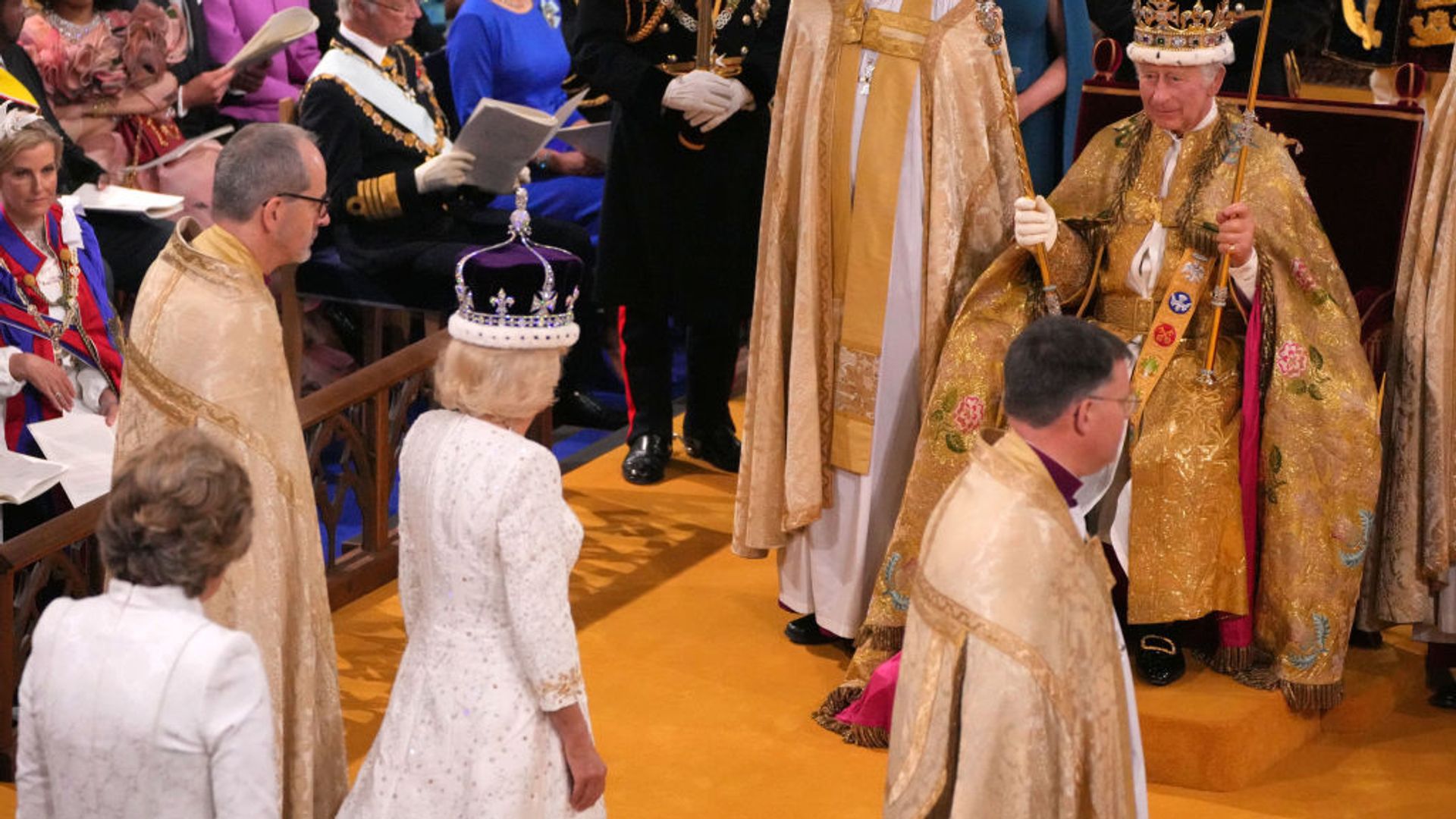 King Charles and Queen Camilla exchanged comforting looks
In a sweet moment, King Charles and Queen Camilla exchanged comforting looks as they were crowned at their joint coronation service. Later, Camilla, 75, was seen looking over at her husband proudly after she was crowned with Queen Mary's Crown by the Archbishop of Canterbury.
Princess Charlotte is the best big sister to Prince Louis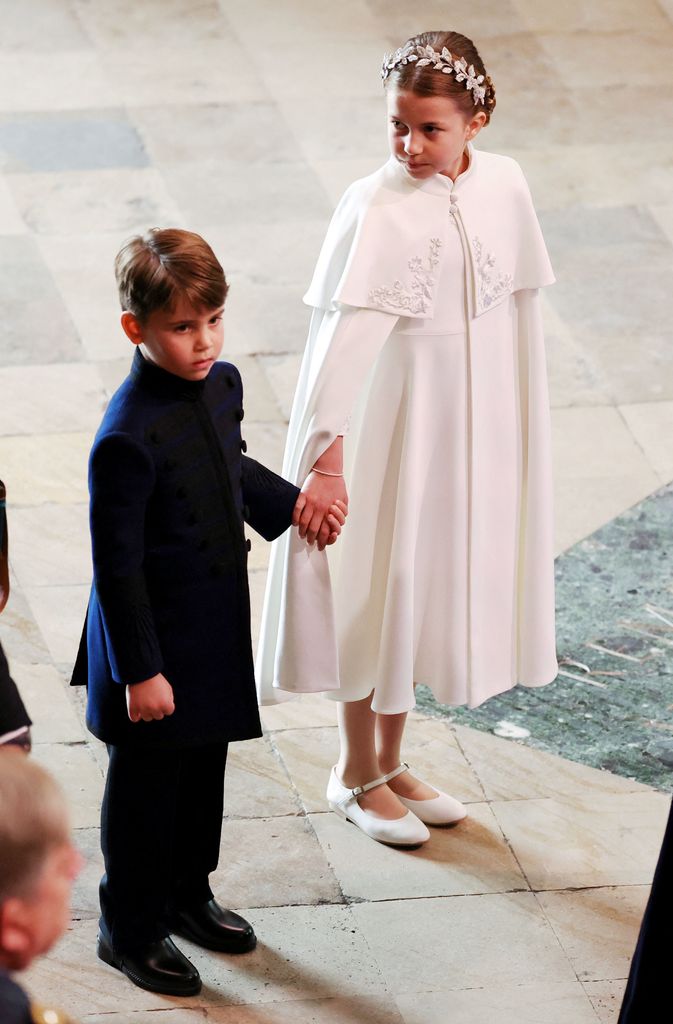 Princess Charlotte of Wales stood beside her younger brother, Prince Louis of Wales
Princess Charlotte took good care of her younger brother Prince Louis as they entered Westminster Abbey. The pair sweetly held hands as they walked behind their parents Prince William and Princess Kate into the Abbey. 
Prince Harry exits early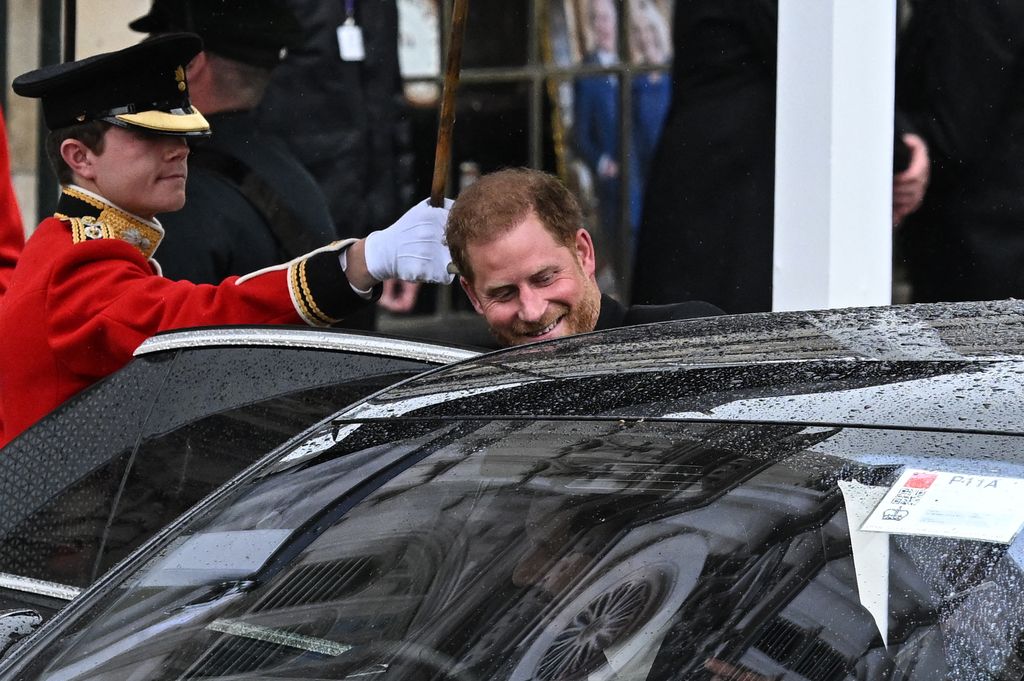 The Duke wanted to be back home in Montecito to celebrate son Archie's 4th birthday
While Prince Harry was in attendance at the coronation, during the ceremony he was caught confirming his swift exit from the UK. HELLO! consulted a lipreader who confirmed he said: "I will be straight to the airport," while chatting with Princess Eugenie's husband Jack Brooksbank. 
Keeping his visit brief, the father-of-two is already headed back to his home in Montecito, where his wife Meghan Markle will be celebrating their son Archie's birthday. Prince Harry did not join the rest of the Royal Family on the balcony at Buckingham Palace, and instead travelled to Heathrow Airport. 
Prince Louis leaves the coronation midway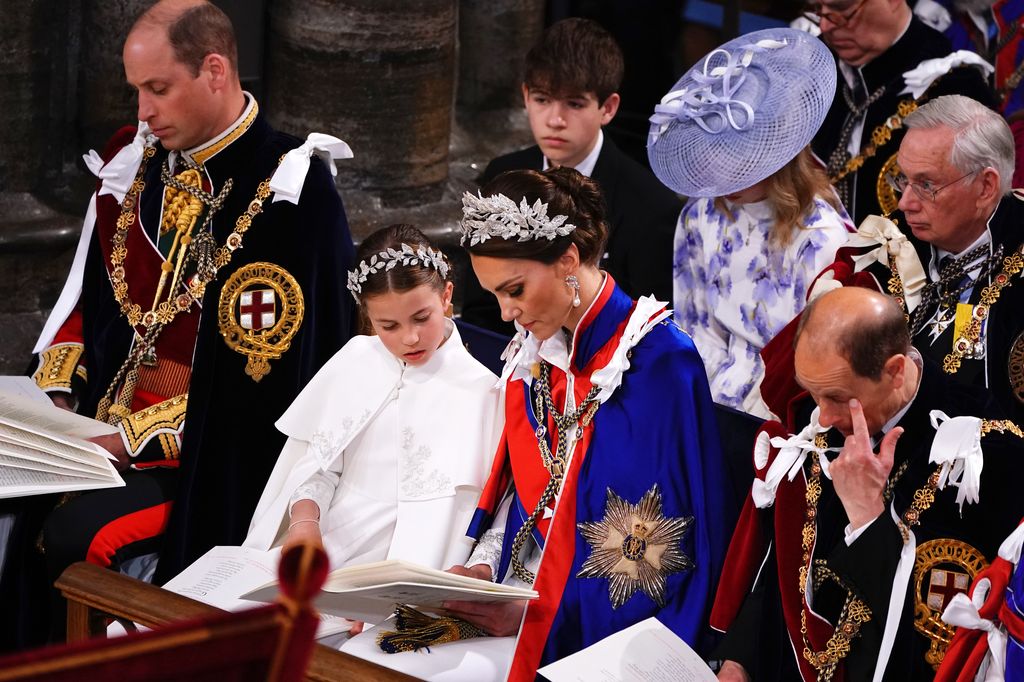 The five-year-old's departure was planned
Prince Louis temporarily stepped away from the coronation. While royal fans were left wondering where he'd gone, it turns out that his exit was actually planned. The religious and solemn ceremony is two hours long, and therefore due to his young age, the five-year-old quietly left the service alongside his nanny, Maria Teresa Turrion Borrallo.  
Princess Kate gives her first curtsey to King Charles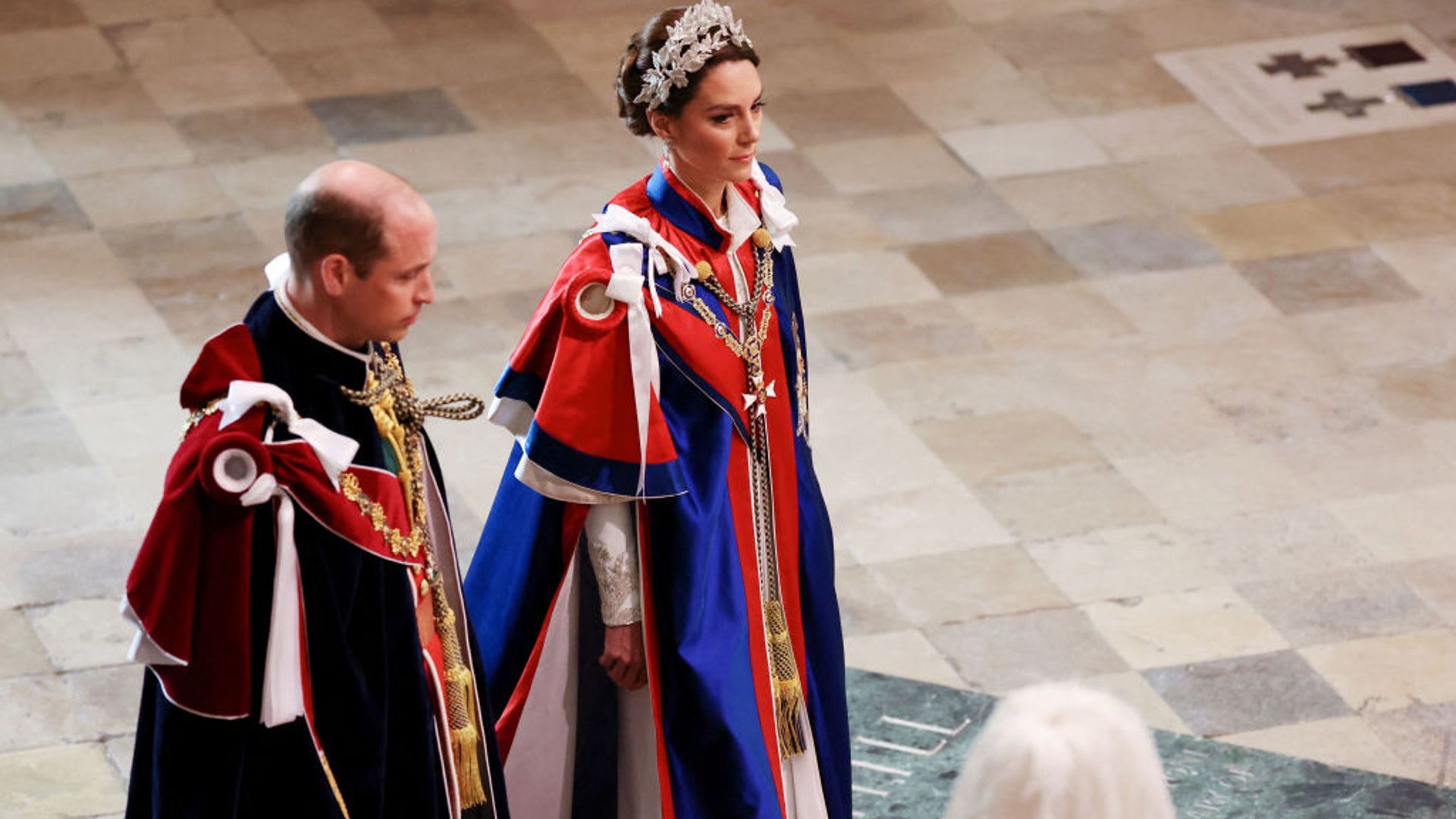 Princess Kate nailed her first bow to King Charles following the coronation ceremony
In a heartwarming moment, Princess Kate gave her first curtsey to King Charles. Showing her respect to the newly crowned monarch as he walked down the aisle at Westminster Abbey, Kate remained poised and elegant as she took a regal bow. 
Prince Louis makes some cheeky expressions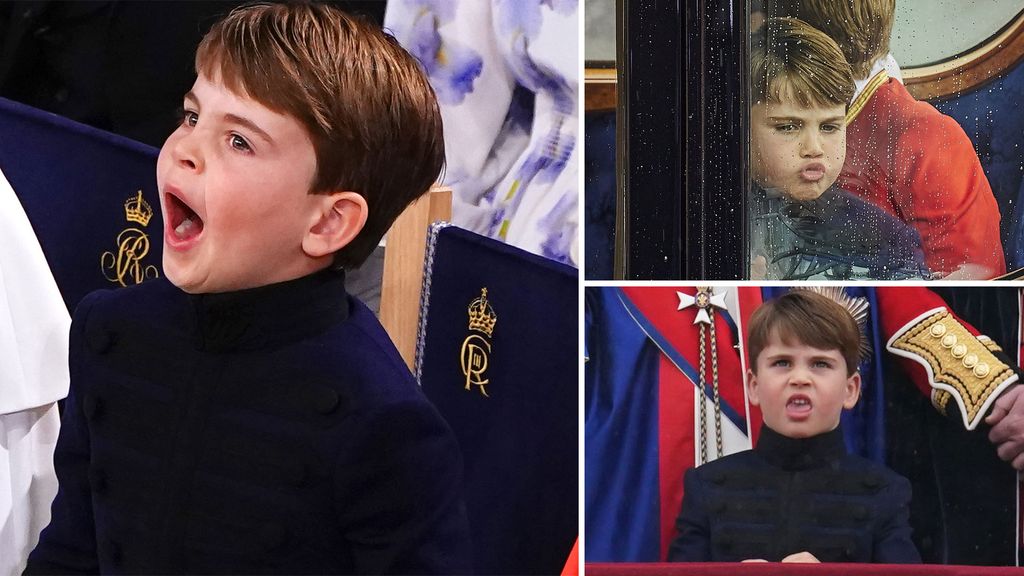 Prince Louis pulls cheeky expressions at King Charles' coronation
Prince Louis never fails to entertain! The five-year-old made some hilarious expressions during the occasion which was broadcast worldwide on TV. Throughout the service, he was spotted yawning, looking up distractedly towards the ceiling, and pointing out things of interest to his sister Princess Charlotte, eight.  
Princess Anne helped her husband Tim in a tender moment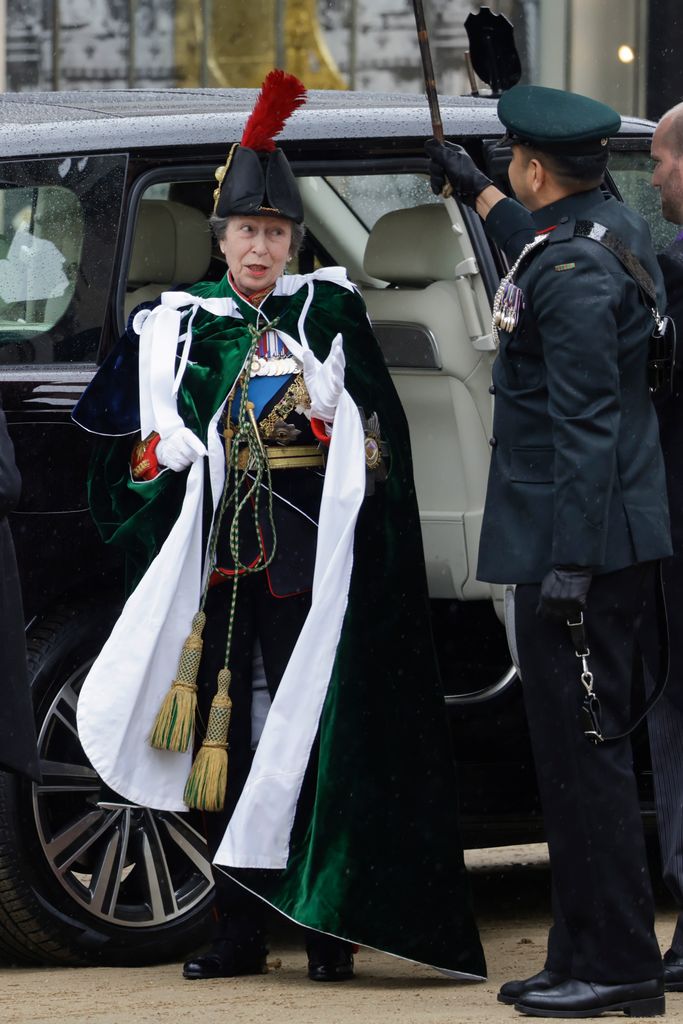 Princess Anne arrives at the coronation
Princess Anne offered a helping hand to her husband Tim, after she spotted him struggling during the service. As the 68-year-old attempted to grab his glasses, Anne leaned over to help him out asking "Can you read this?" as she showed him the order of service. The Princess Royal was dressed in her Blues and Royals uniform for the event. 
Queen Camilla paid tribute to her pups Beth and Bluebell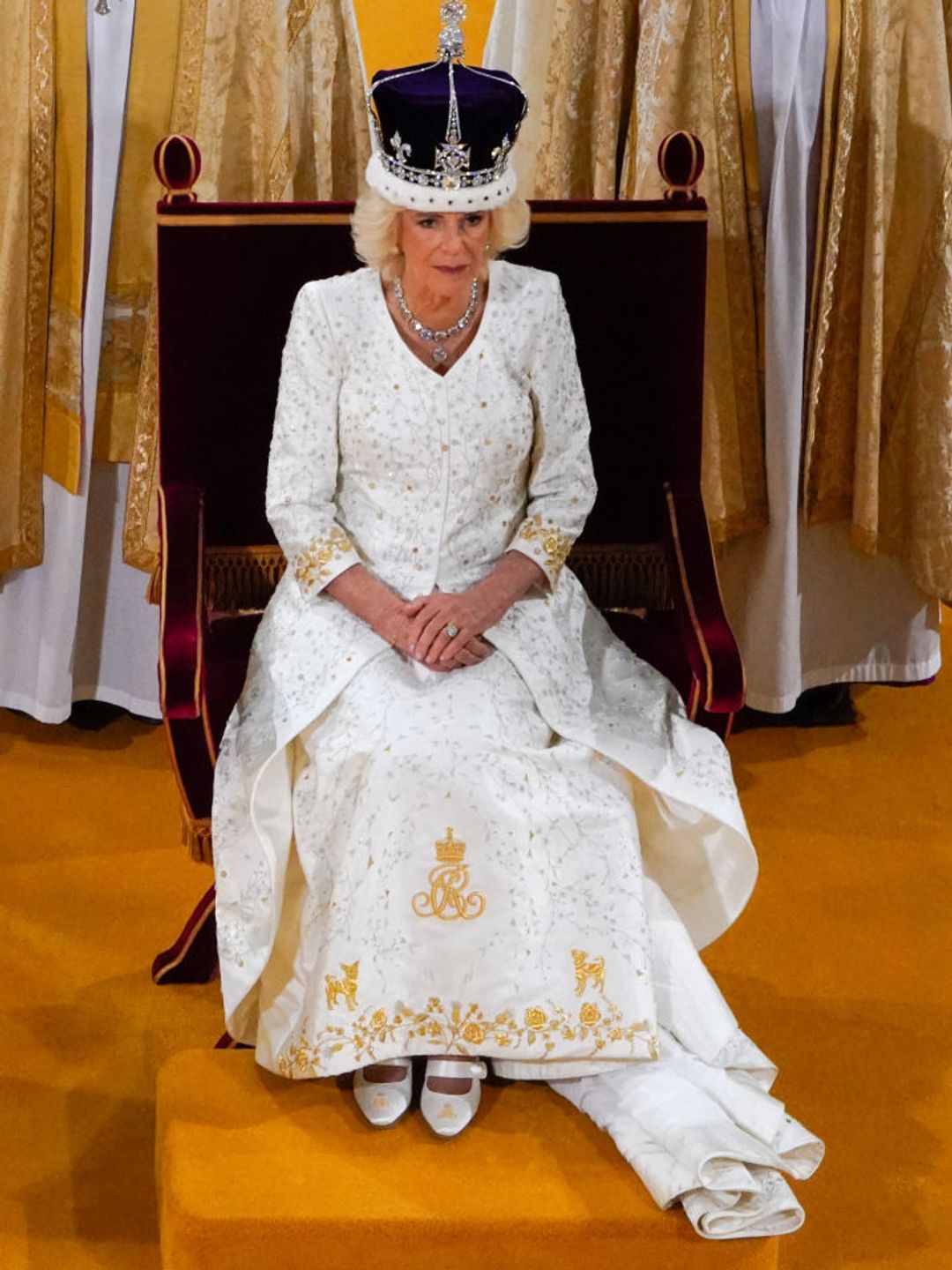 Queen Camilla's dress had been embroidered with two terriers in golden thread
Fashion fans quickly realised that Queen Camilla's coronation dress featured an adorable tribute. Embroidered in golden thread, at the bottom of her custom-made Bruce Oldfield gown were two terrier pups. They're thought to represent Beth and Bluebell – Charles and Camilla's rescue dogs from Battersea Dogs' and Cats' Home. The royals adopted them in 2017. 
Royal photographer Chris Jackson revealed a behind-the-scenes moment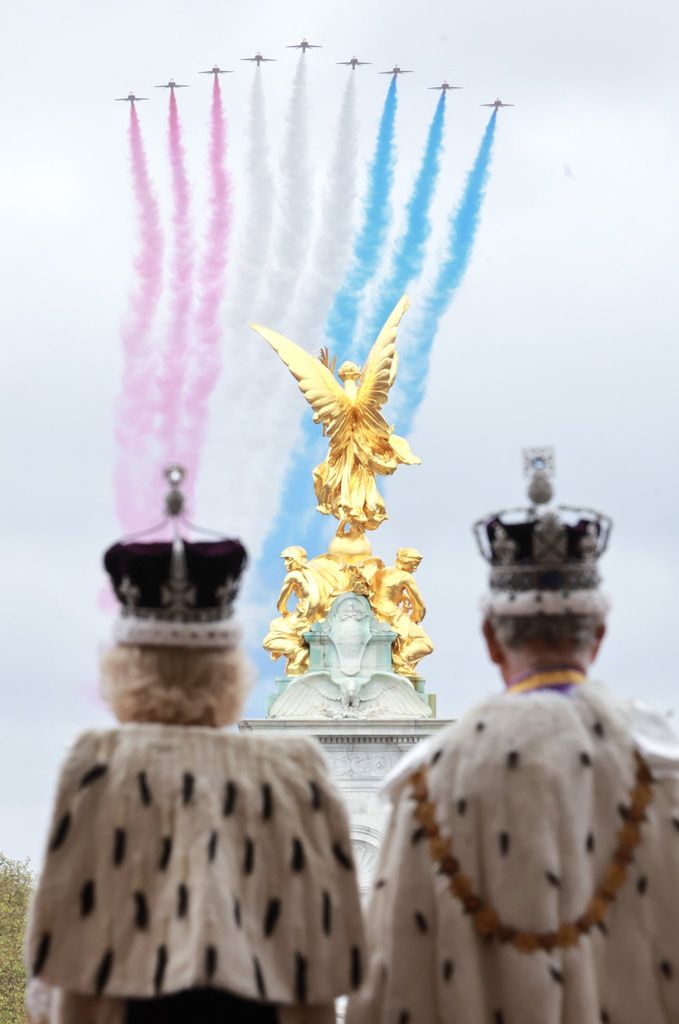 King Charles and Queen Camilla were photographed by royal photographer Chris Jackson from inside the palace
Royal photographer Chris Jackson was on hand to capture some candid moments from the coronation. During the Royal Family's balcony appearance at Buckingham Palace, the award-winning photographer snapped an incredible behind-the-scenes photo of King Charles and Queen Camilla. 
Princess Anne stopped for a quick outfit change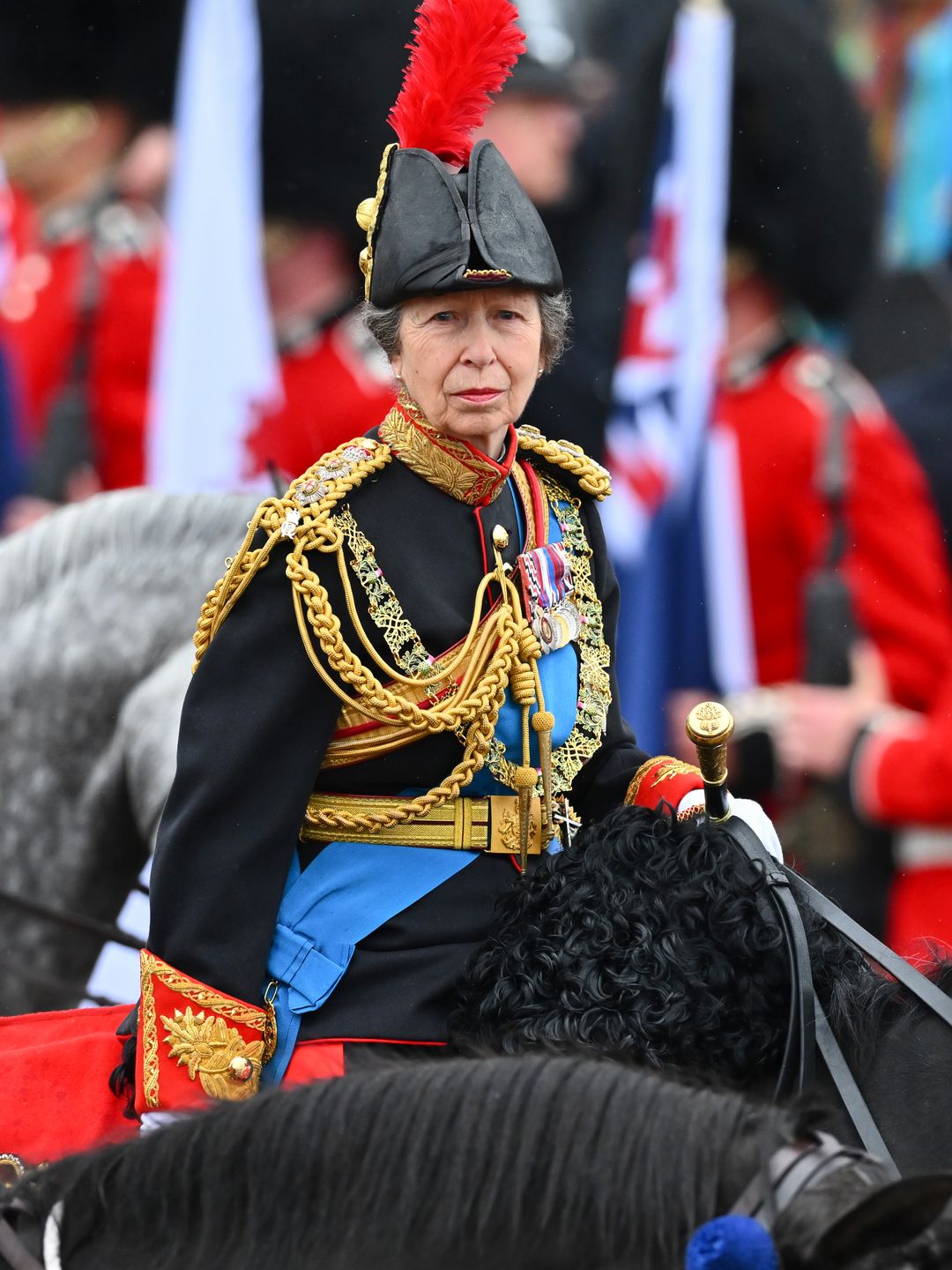 Following the service at Westminster Abbey, Princess Anne quickly changed out of her robes
Following the service at Westminster Abbey, Princess Anne quickly changed out of her coronation robes to take part in the procession. Reappearing on horseback in the parade, the Princess Royal took on the role of Gold-Stick-in-Waiting, meaning that she was King Charles' personal bodyguard for the procession. 
Princess Kate's stunning headpiece was revealed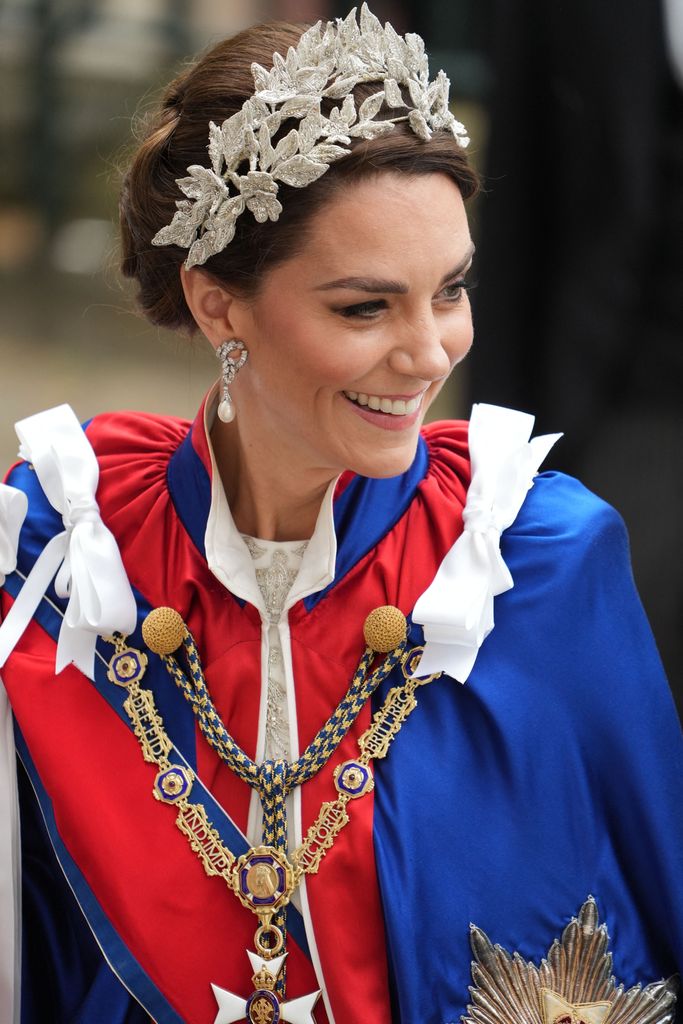 Kate wore an embellished headpiece by Alexander McQueen
Living up to her fashion icon status, Princess Kate opted for a bespoke headpiece that totally stole the show. The statement accessory was identified as a silver bullion, crystal and silver threadwork three-dimensional leaf embroidered headpiece by milliner Jess Collett and her long-trusted fashion house Alexander McQueen.
It had previously been assumed that Kate would wear a tiara – as is the historic custom for British royal coronation attire – however, it was later reported that she'd be eschewing tradition and opting for a floral crown instead, which many thought would be made with fresh blooms. But the final reveal truly surpassed our expectations! 
The King's sweet words to son William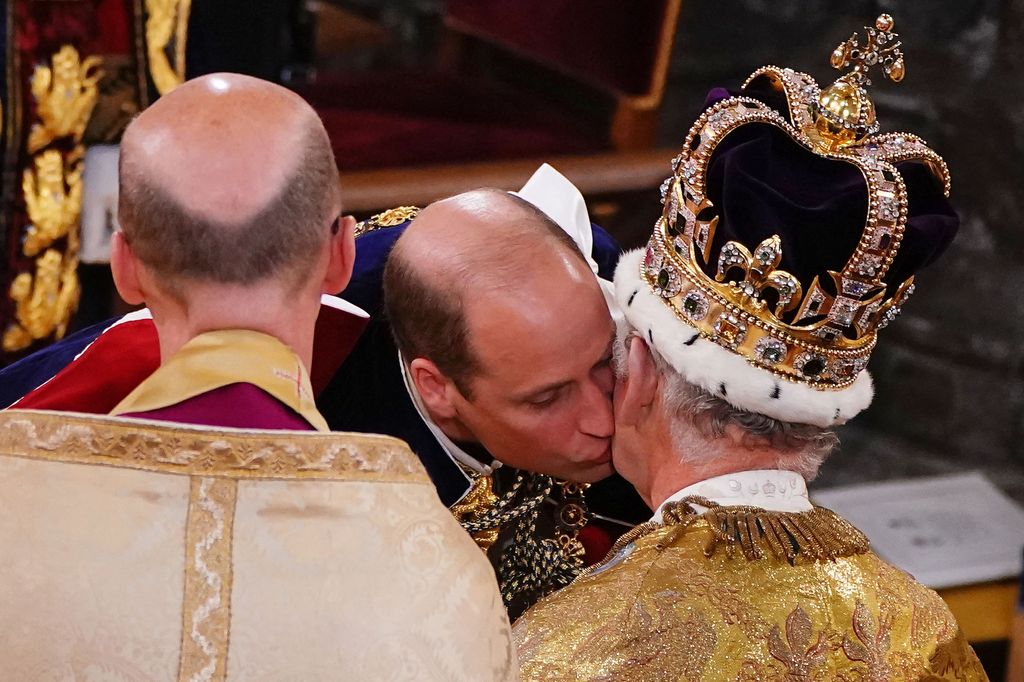 Prince William kisses King Charles after being crowned
Prince WIlliam had a pretty important role to play as he pledged his allegiance to the new King. During the ceremony, he recited: "I, William, Prince of Wales, pledge my loyalty to you and faith and truth I will bear unto you, as your liege man of life and limb. So help me God."Charles appeared to get emotional during the touching moment that he shared with his son, and he shared some sweet words with William, the heir to the throne. Charles said: "Thank you, William," after his son pledged his allegiance. Very sweet!
Like this story? Sign up to The Royal Life newsletter to get your weekly dose of royal lifestyle inspiration, from the must-see fashion moments to sneak peeks into royal homes and wellness news.